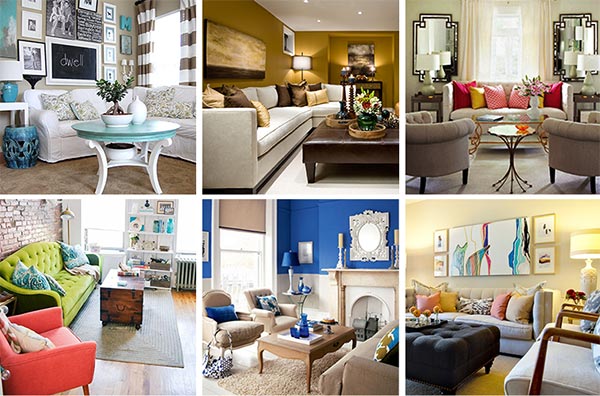 The living room of your home is an area where family members can spend time together and entertain guests. While having a larger living room is ideal, it may feel impossible to extend your living room if you have a small space to begin with. This shouldn't be a problem, as there are many ways you can decorate your living room. You just have to have the right vision of what you want to achieve, along with how you intend to use your space. Below, we've compiled a few ideas to get you started:
1. Eclectic Style
A living room with an eclectic style can have wild and varying decor while still remaining a harmonious, elegant space. You can place golden leather ottomans and a glass coffee table on top of a driftwood floor.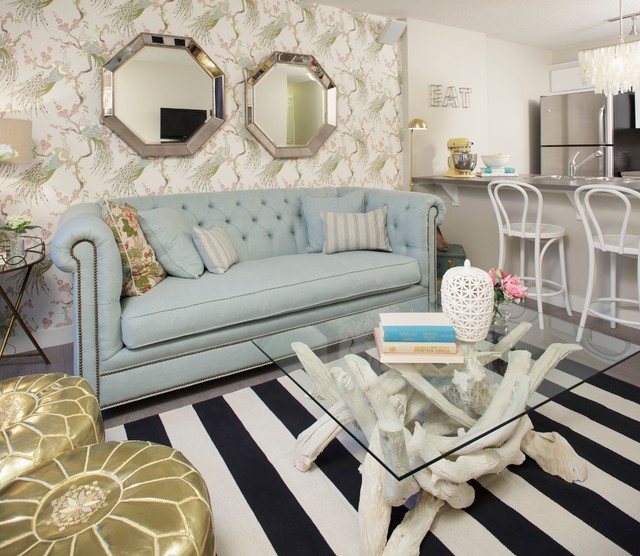 Source: interiorsbycolor.com
2. Conceivable Delight
You can still achieve a great look for your small living room, even if you're on a limited budget. A simple cutout from a piece of broadloom can make your living room look elegant, unlike ordinary carpets.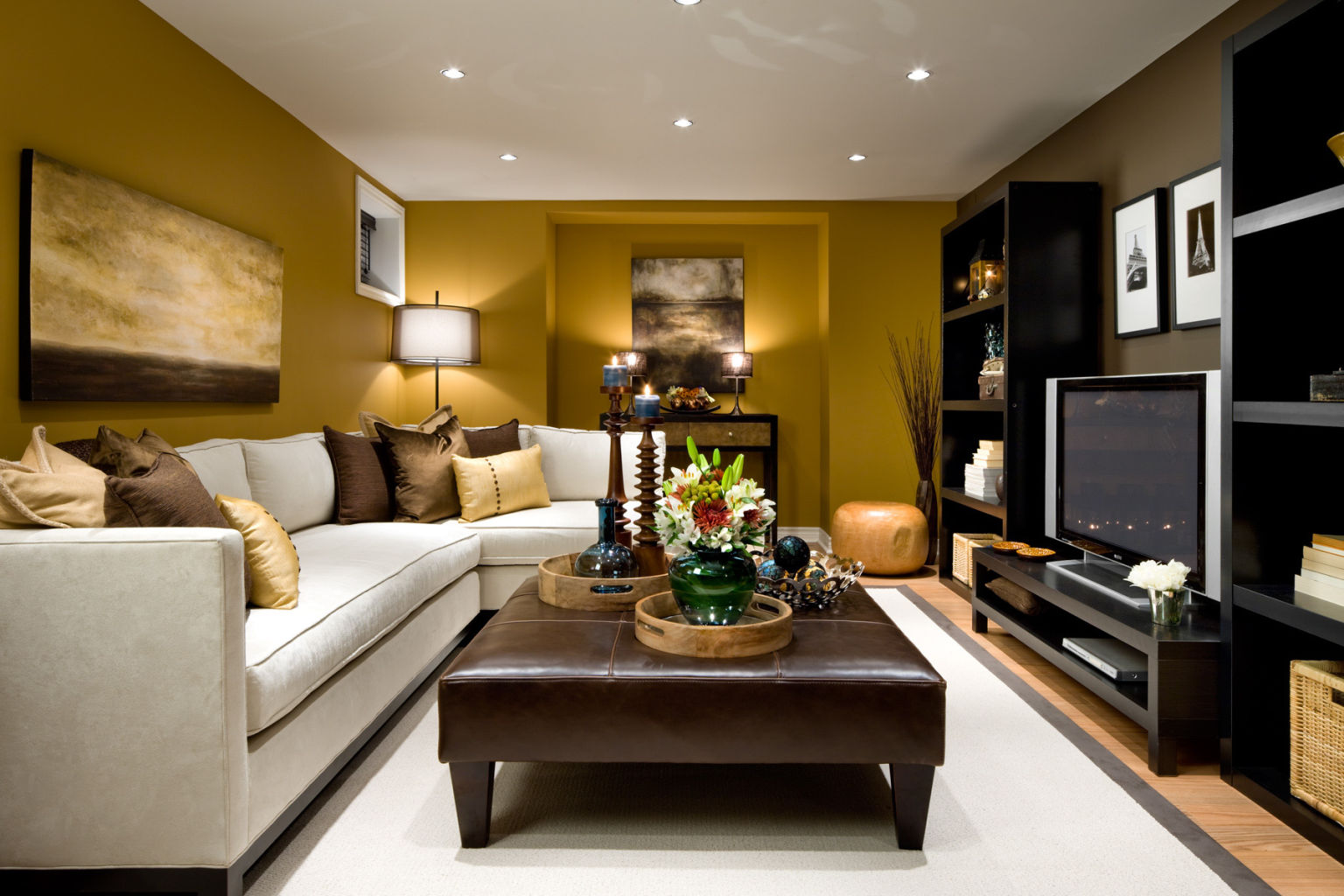 Source: chumfm.com
3. Get Inspired
There are plenty of small living room design ideas that you can find in magazines. It doesn't have to be a perfect copy, but the idea is to make your living room feel more personal.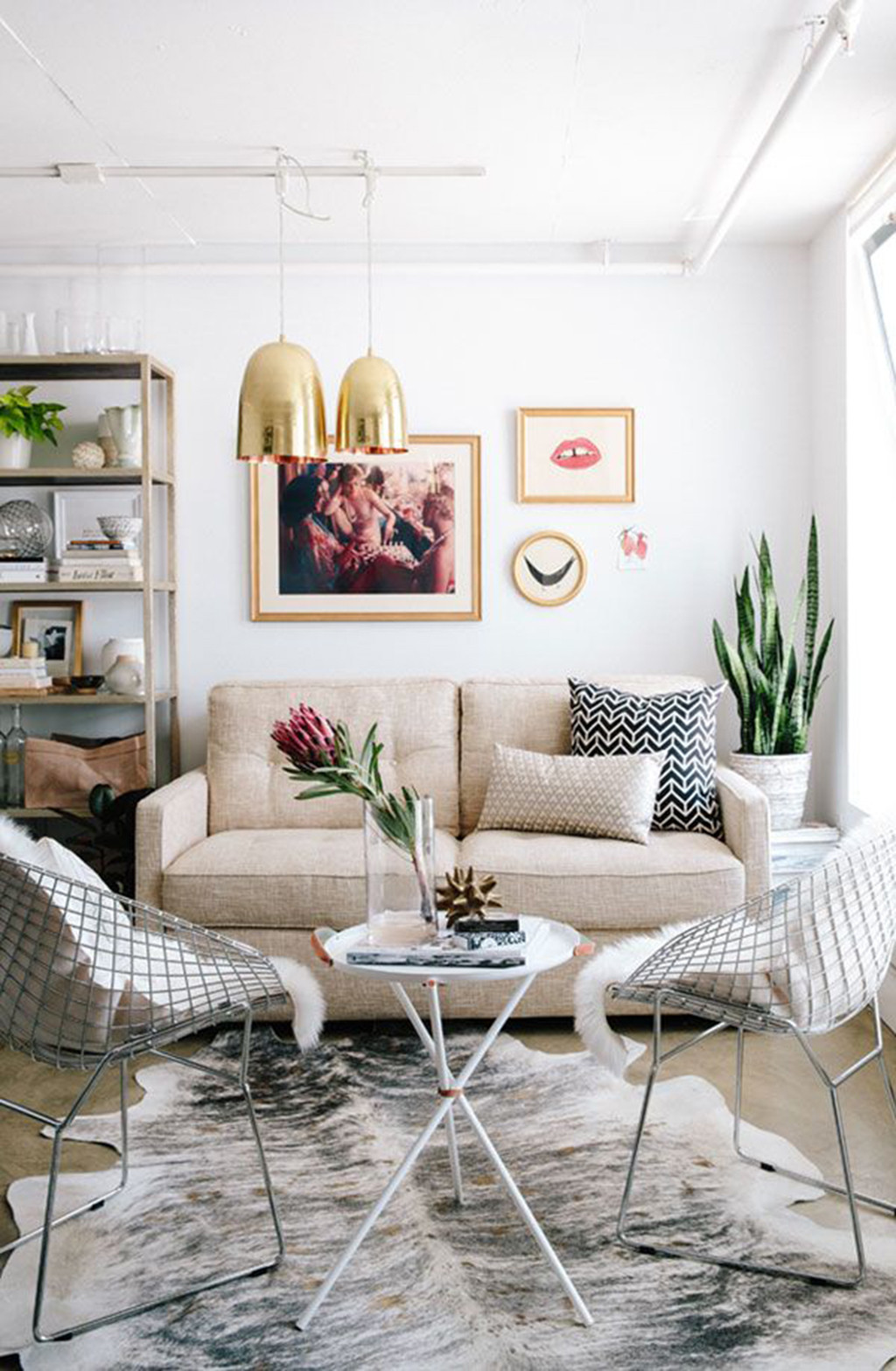 Source: ultrainspiredliving.com
4. Highlights
If your small living room looks dull, you may use striking colors to highlight the break of the plainness of the room. These accents will create uniqueness in your living room.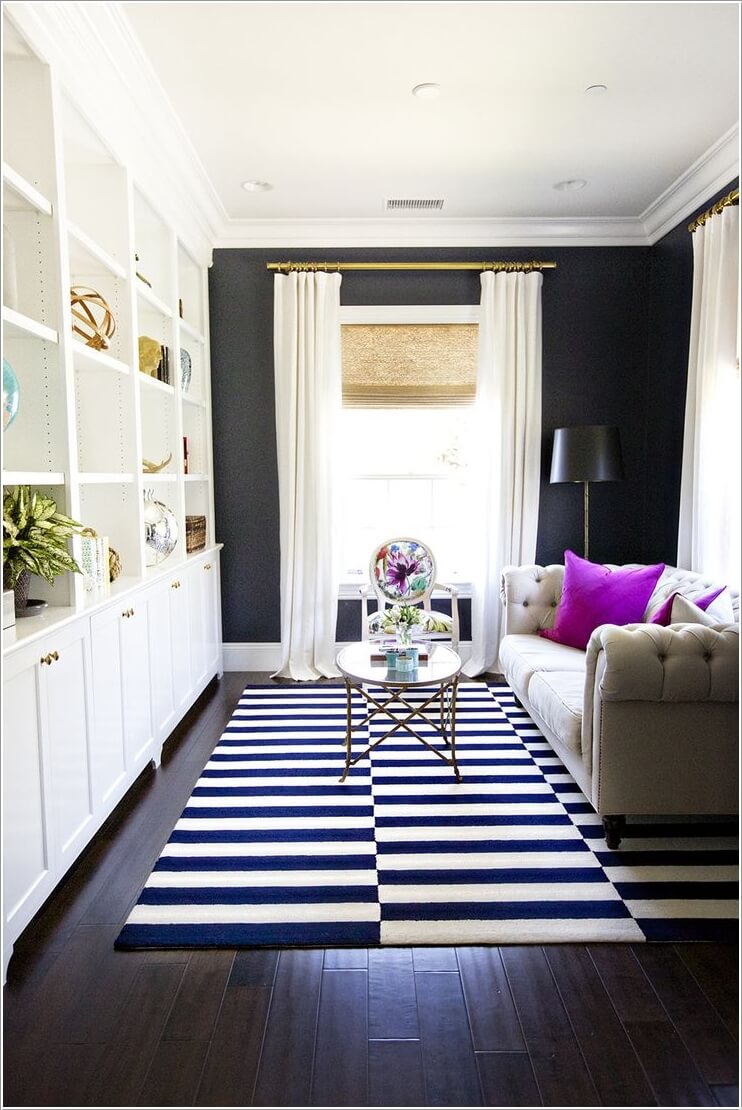 Source: weltderdekoration.com
5. Form and Function
Executing a design that follows form and function can be tricky. Each piece in the living room should have its own function, and try not to make the room look messy.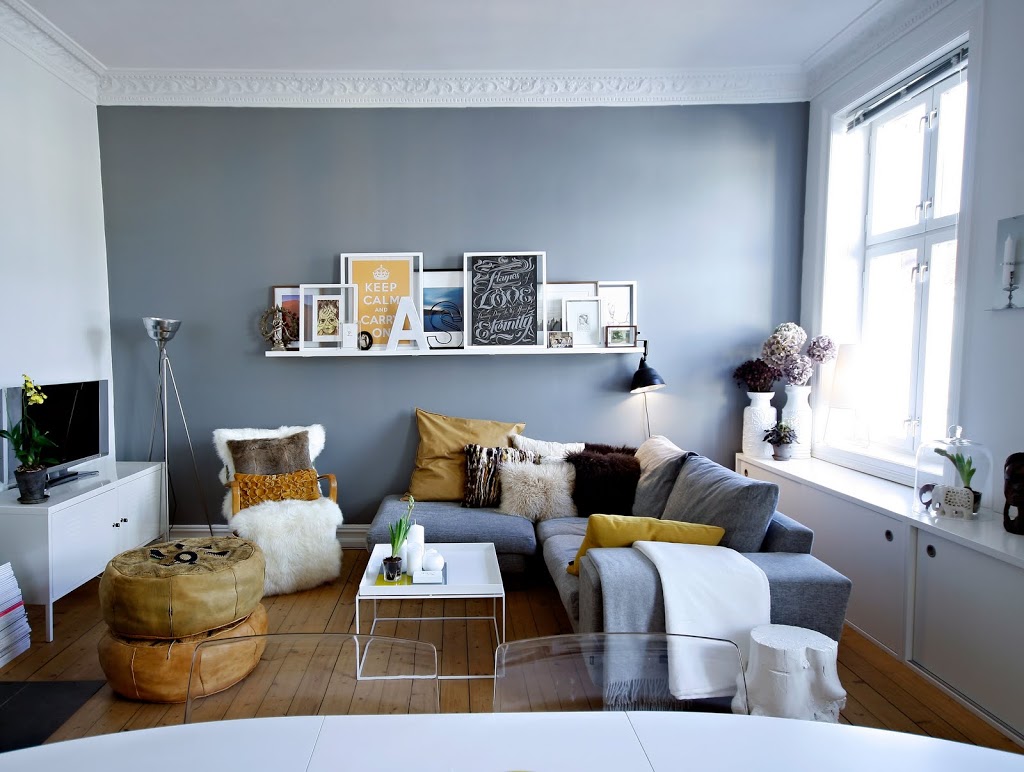 Source: melodijolola.com
6. Combination of Styles
This applies to couples living together. To avoid conflict, try to integrate your partner's ideas and yours rather than to push for a single idea.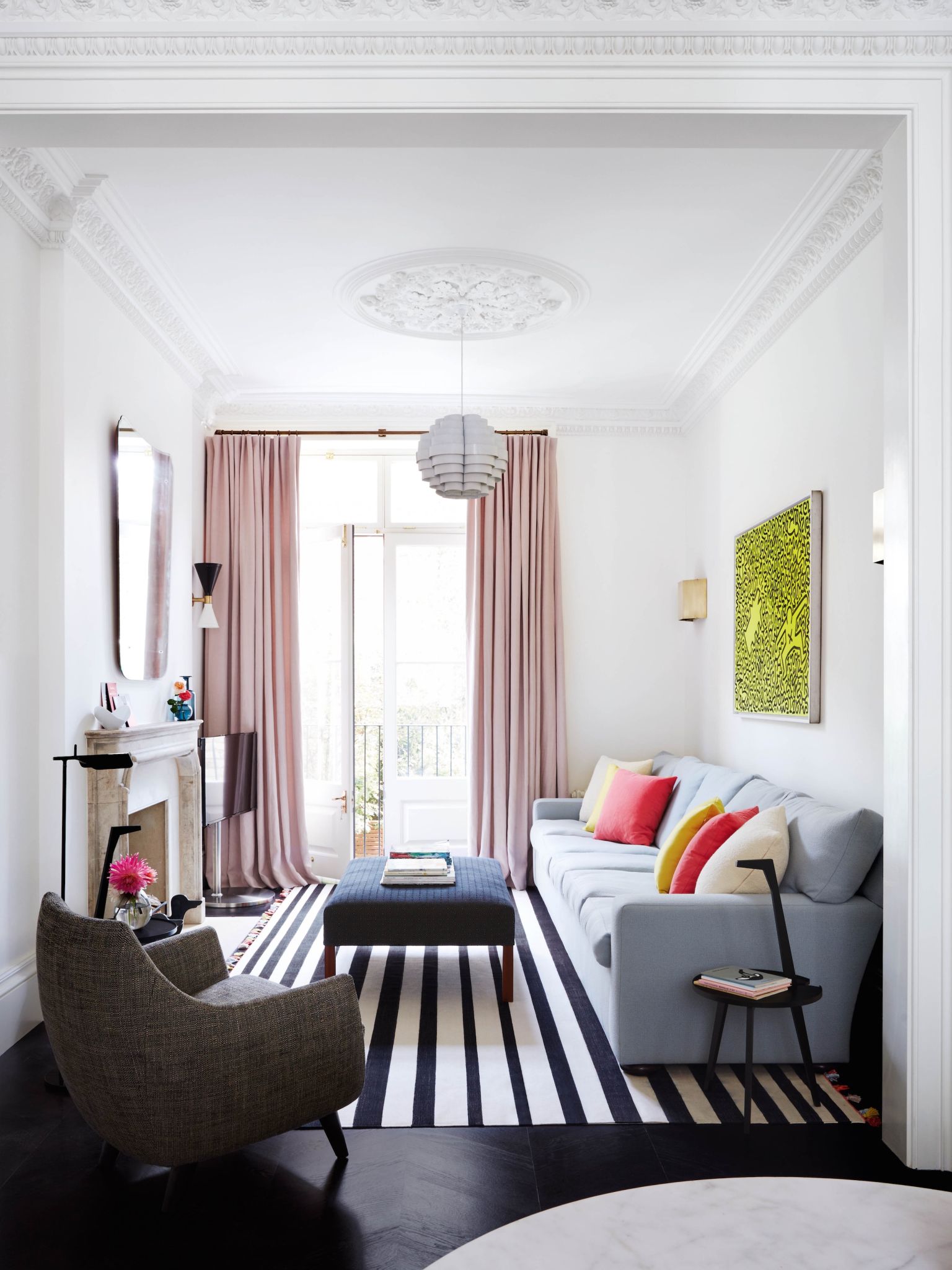 Source: suzyhoodless.com
7. Use Wood
Using wood can bring balance to the shape and color of your living room. Earthy color schemes like untreated dark oak floorboards provide elegance and calmness.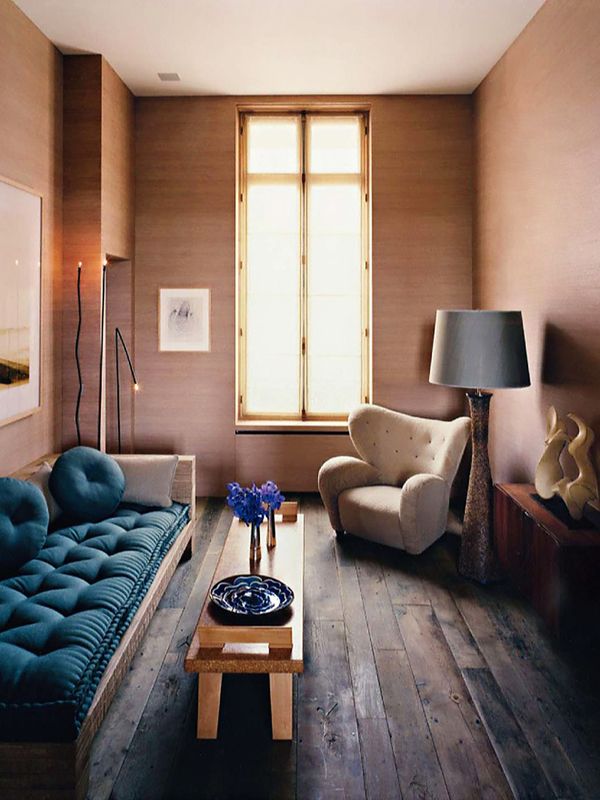 Source: elecxonstudios.spotlife.se
8. New York Style
A small New York-style living room can achieve a great design by contrasting a blank brick wall with plain white animal busts, a sofa with loud colors, and a simple armchair to match the walls and ceiling's earth tone.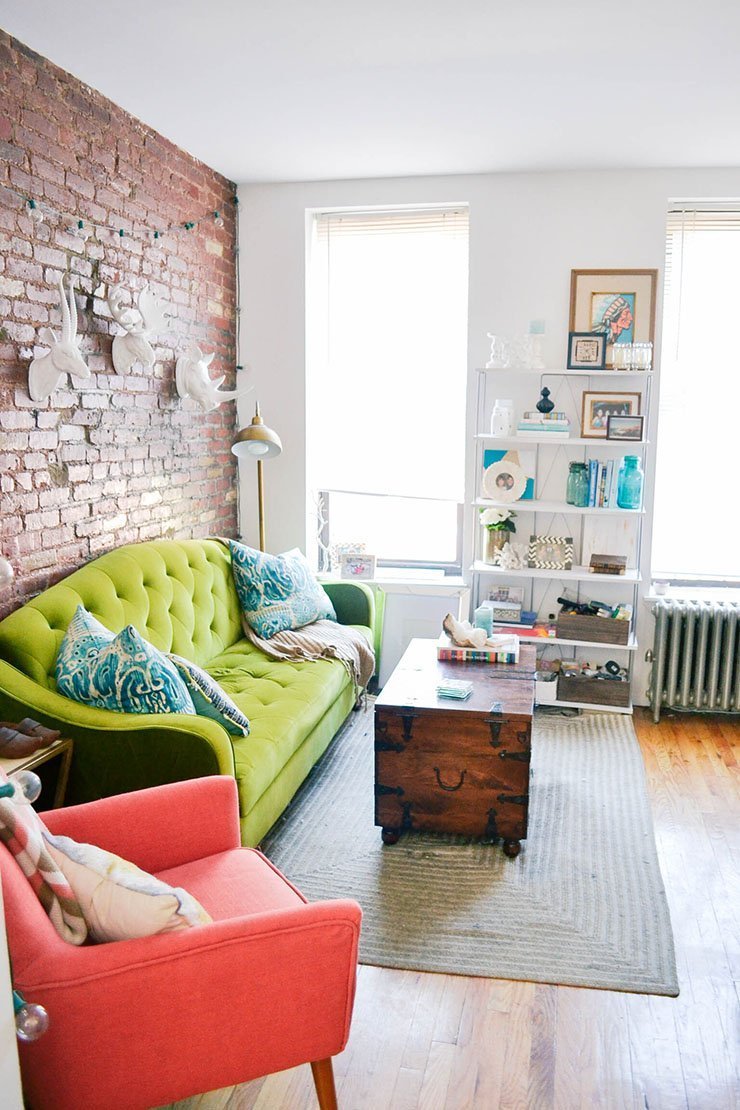 Source: apartmenttherapy.com
9. Black and White
Using black, grey, and white as the primary colors of your living room demonstrates detachment from the usual. It draws attention to specific locations in the room, which creates a large impact on the users.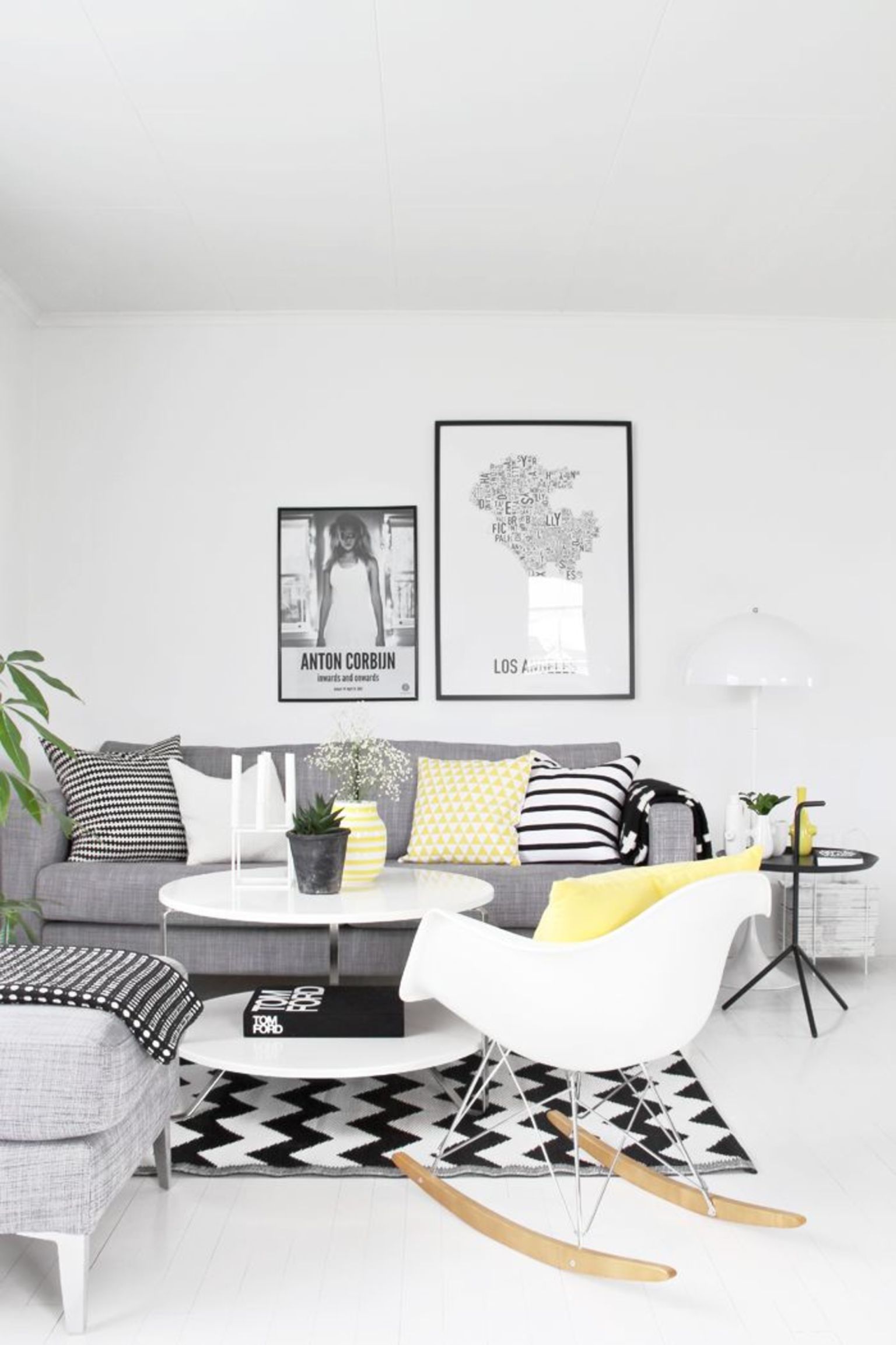 Source: ininhome.com
10. Balance with Mirrors
Installing mirrors around a cramped space would make it look larger. It also transforms other furnishings with how they look and function.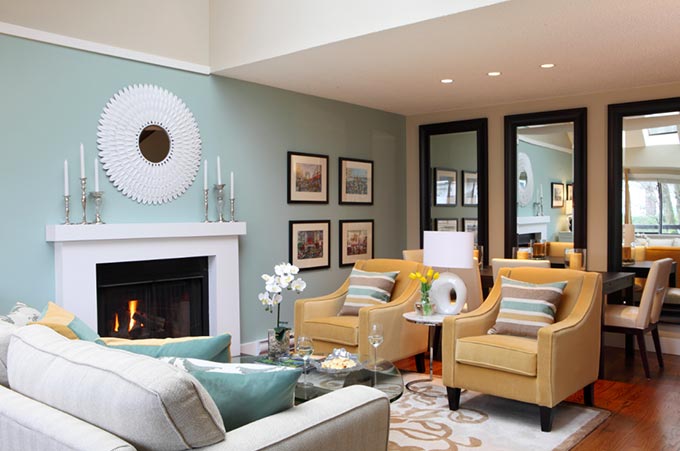 Source: mariakillam.com
11. Oceanic Theme
A feather painting on the wall with a blue rug on the floor will give your small living room an oceanic theme. You may also add pieces of art that resembles the nature around the beach.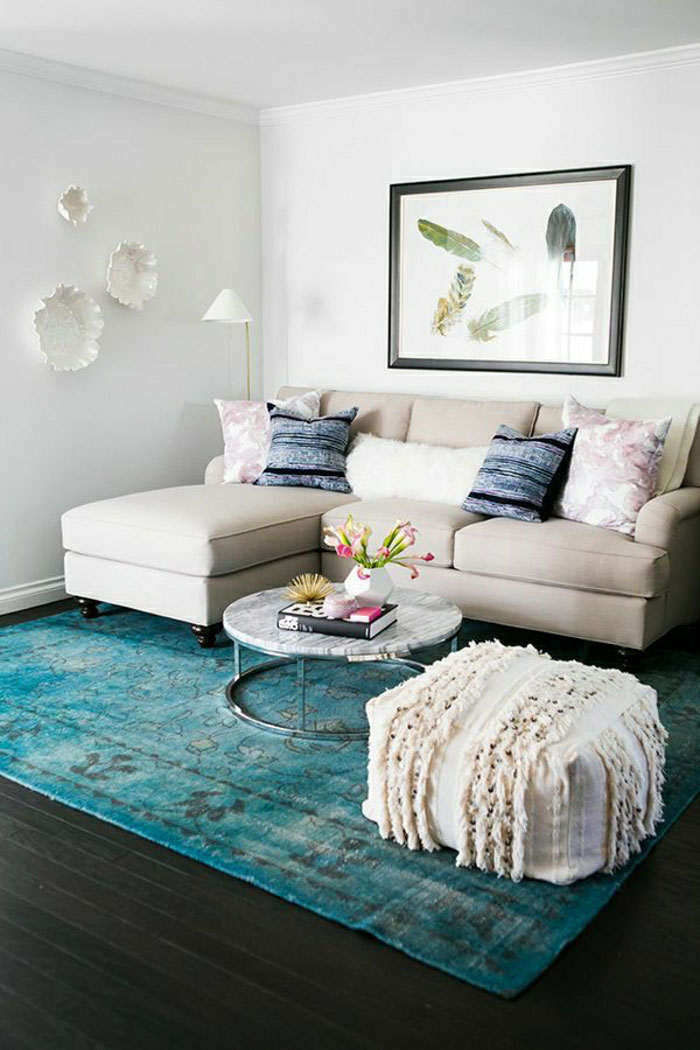 Source: archzine.net
12. Studio Space
With a studio space, you can have the living room serve as one focal point that includes the dining area, the bedroom, and office space. Vertical stripes on accent walls can create an illusion of a larger space.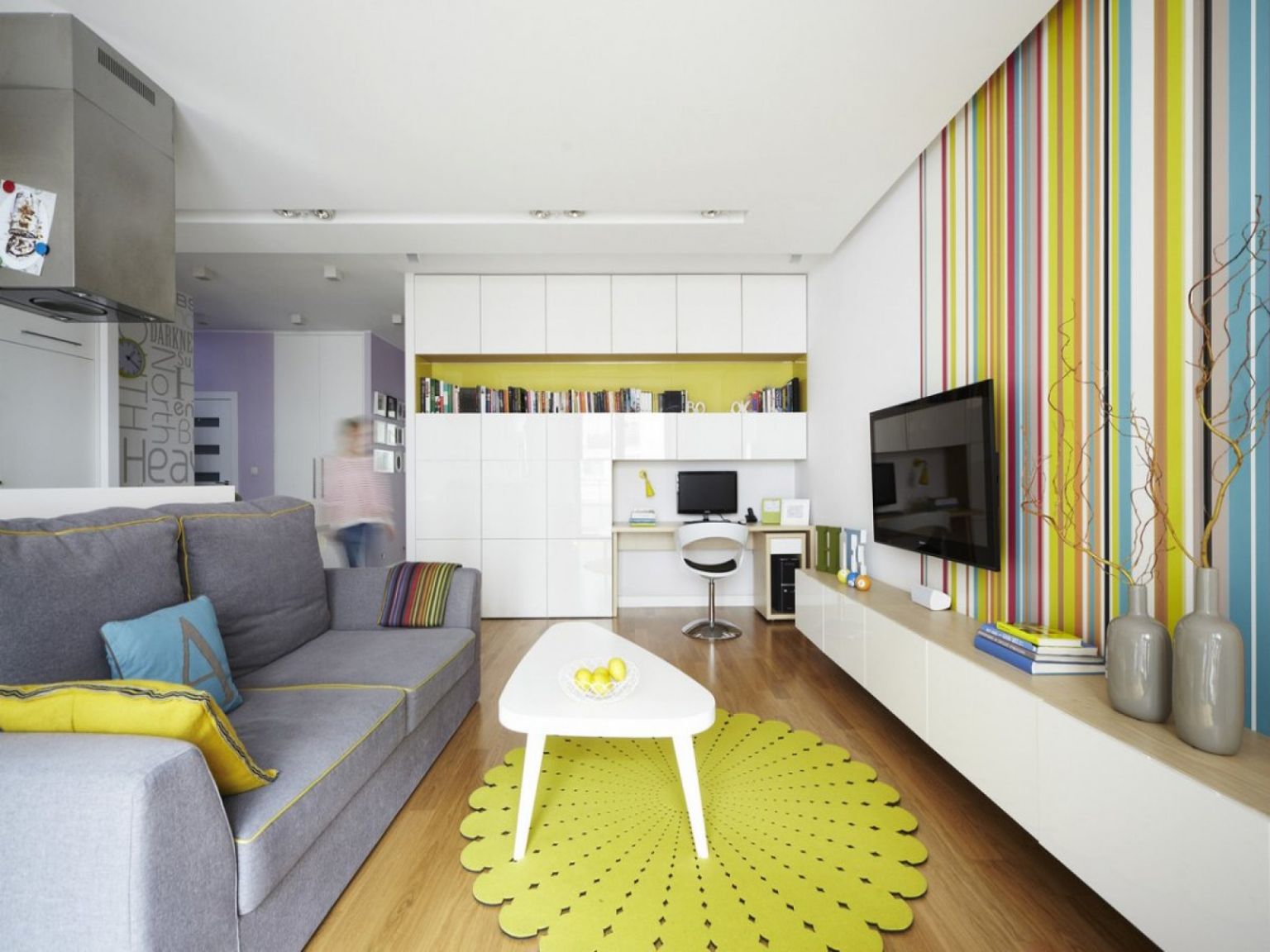 Source: glubdubs.com
13. Rustic With Print
Incorporating polygonal and round elements shows a rustic design, with an eye-catching print on a blank wall with a motto message. This design brings balance and contrasts with your small living room.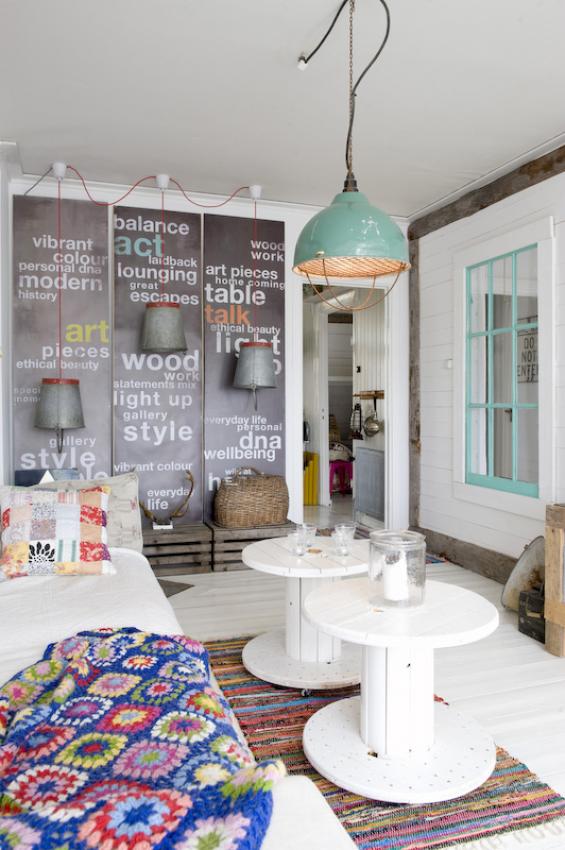 Source: moderndesignlife.com
14. Urban Challenge
Designing a small living room poses a big challenge. You may experiment on a variety of materials such as wood, glass, and metal to create neutral tones.
Source: rebaldesign.com
15. Make it Clean
Using grey can give a dull design to your living room. However, you can balance by placing gentle color palette furnitures to make the room brighter.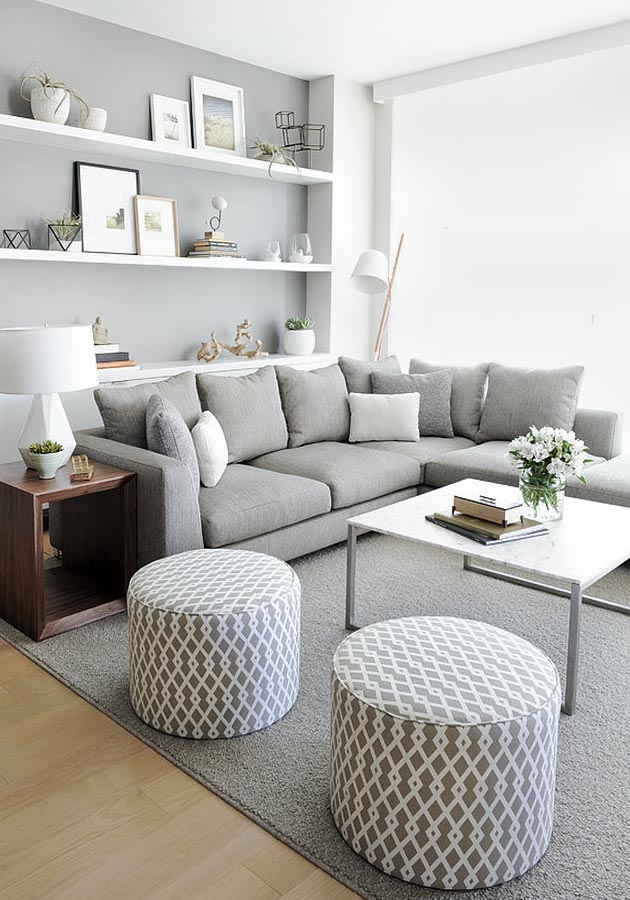 Source: chic-deco.comr
16. Fun With Tea
Bright colors make a small living room look fun to stay in and notice the tea set collections that you have. White spaces are present to bring balance to the bright colors.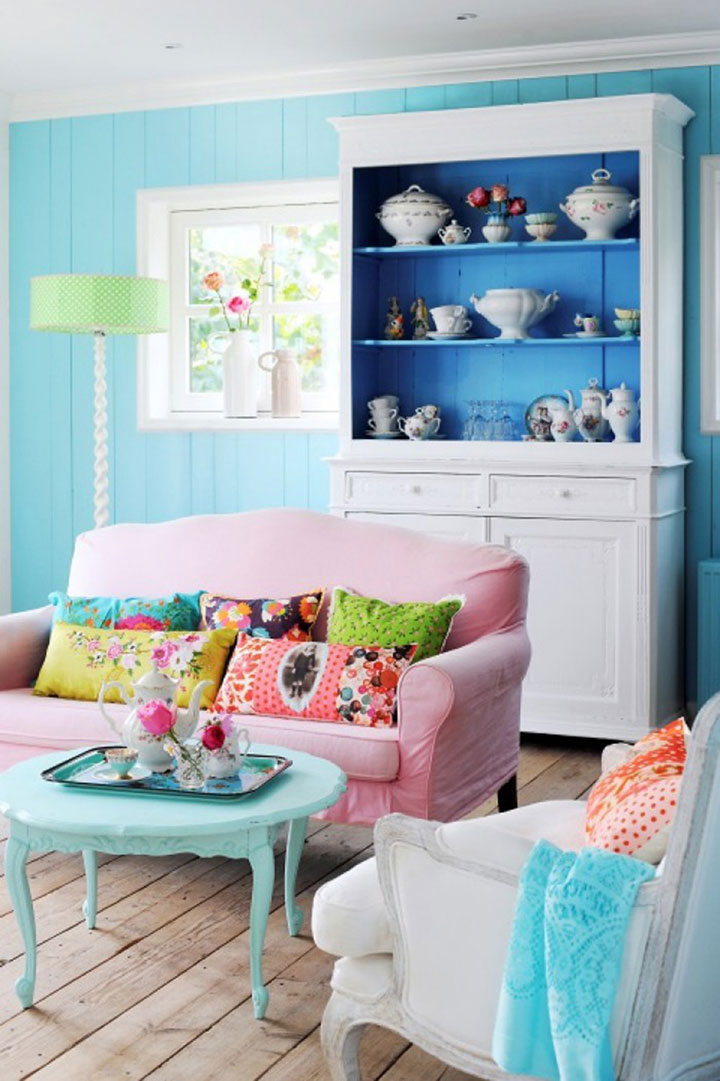 Source: coisasdcasa.blog.br
17. Two Minds
Work with designers. Two minds are always better than one. Collaborate on a project to make your design work.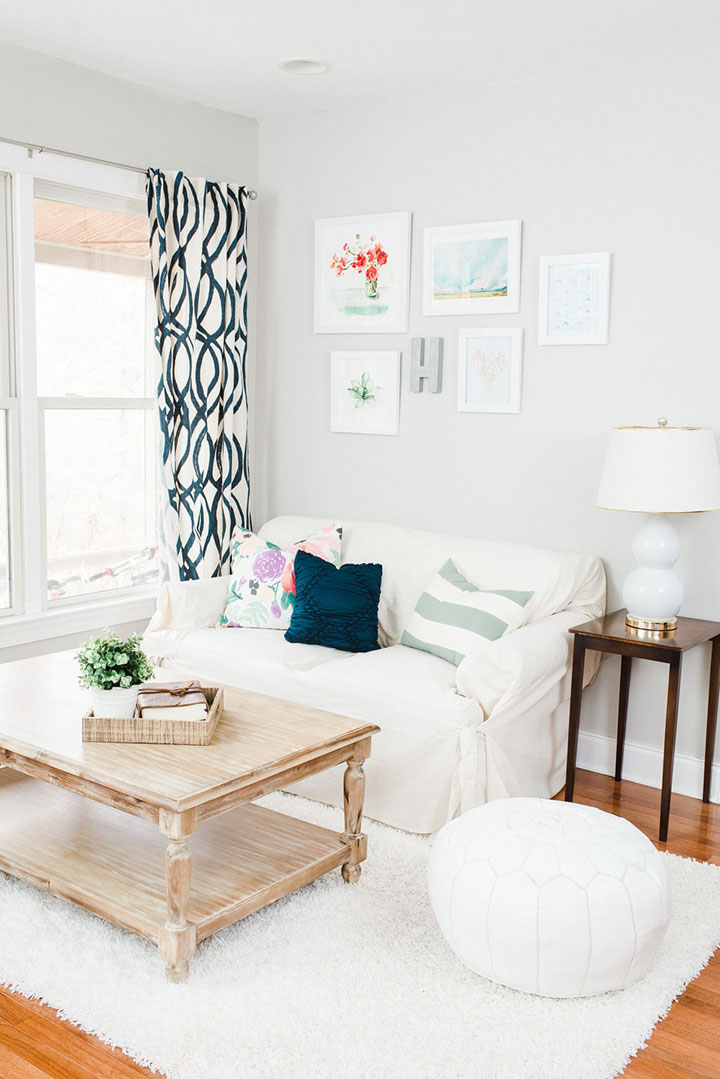 Source: elleandcompanydesign.com
18. Neutrals
A small living room with neutral tones creates a feeling of bright and happy mood as the other colors do. Installing fur accents makes the room more inviting and brings balance between sharp and round angles.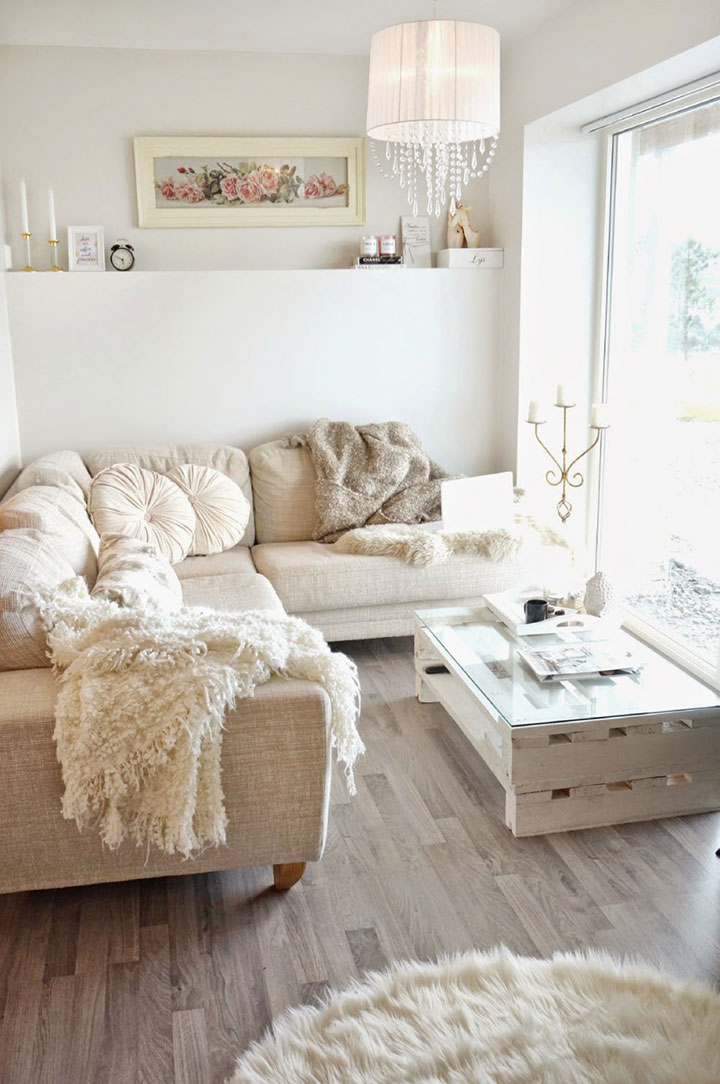 Source: emma-courtney.com
19. Make It Personal
Designing your living room according to your tastes is a personal and vital endeavour. Your own ideas can create a unique charm for your home.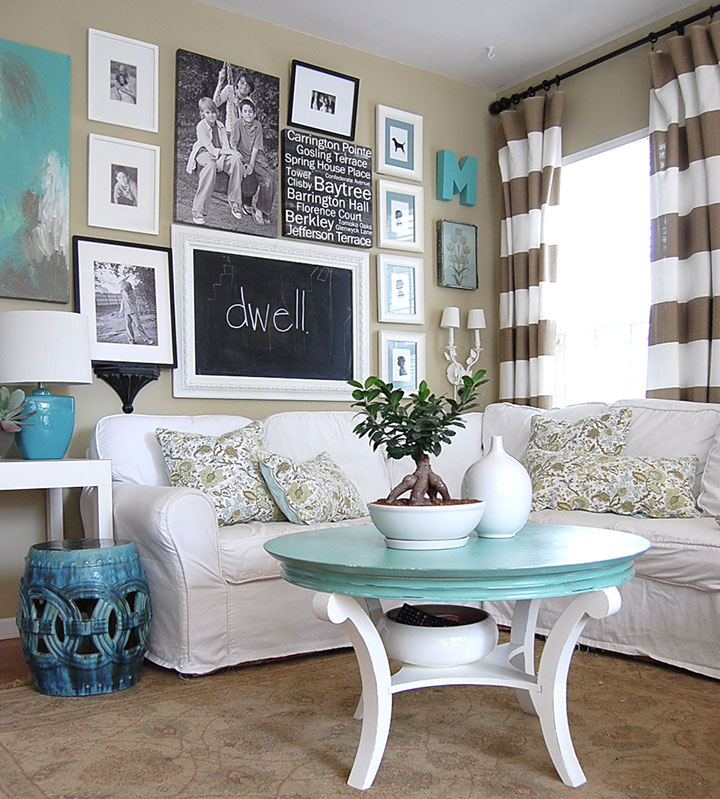 Source: ghaempress.com
20. Splash of Luxury
A well-planned small living room has strategic placements of artificial and natural lighting. With well-blended neutral tones, it combines perfectly with shades of copper and gold.
A living room is that space in our homes where we can spend time with our families and guests, which is why designing it should be your top priority. However, if you have limited space for your living room, Kasala believes that there are various solutions you can make it functional and aesthetically pleasing.
Source: weltderdekoration.com