The Best 29 Affordable Fencing Ideas for Dogs
Just as we adore our furry friends, we want them to have a great time in the yard. That's where dog fence ideas come into play. If you have a spacious backyard, you'll require a fence to ensure your beloved dog stays secure. There are many fantastic dog fence choices available to suit your style and keep your pup under control.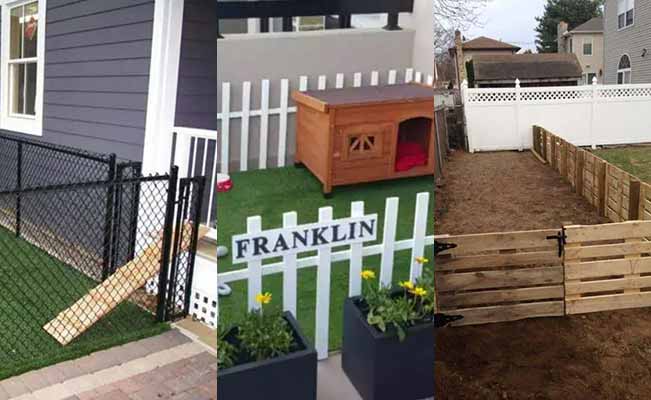 The best dog fences don't just keep your furry friend in; they also make your outdoor area look better. You can choose from nice picket fences, sturdy rail and mesh designs with a special doggy door, and more. These ideas solve different problems, like dogs that like to jump or escape. Say goodbye to worrying about your watchdog; with the proper fence, you and your pup can play without any concerns.
We all care about our furry friends and that begins with a safe and caring home. All dogs, whether they're big or small, need space to play. Thanks to these new dog fence ideas, you can keep your home looking good and make your dog content. So, why wait? Let your pup have some fun in the yard!
1. Invisible dog fence ideas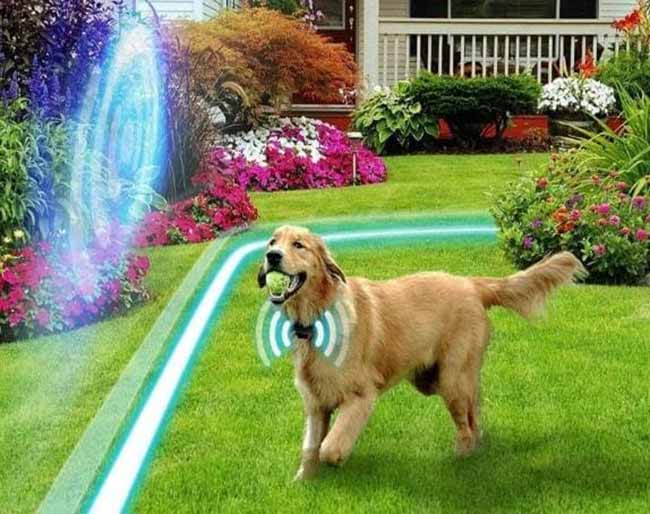 Invisible dog fences are a smart way to keep your dog safe. They use electricity. Here's how it works: Your dog wears a special collar. If they get too close to the invisible fence, the collar beeps to warn them. If they don't listen and keep going, they get a little shock. It's a gentle reminder to stay safe. Remember to teach your dog what the beeping and shock mean.
2. Dog-Proof Pretty Fence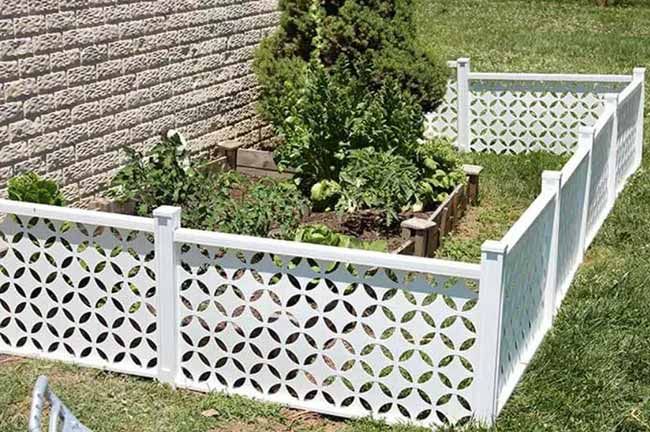 Some fences aren't just for keeping dogs away. They can also protect your beautiful garden. If you want your dog to run free in the yard but don't want it trampling on your flowers or veggies, try a decorative fence.
You can buy these fences in a kit, and they're often made of a strong and good-looking material called vinyl. Plus, they're easy to take care of.  via Sunny Day Family
3. Doggie Playground with Wood and Metal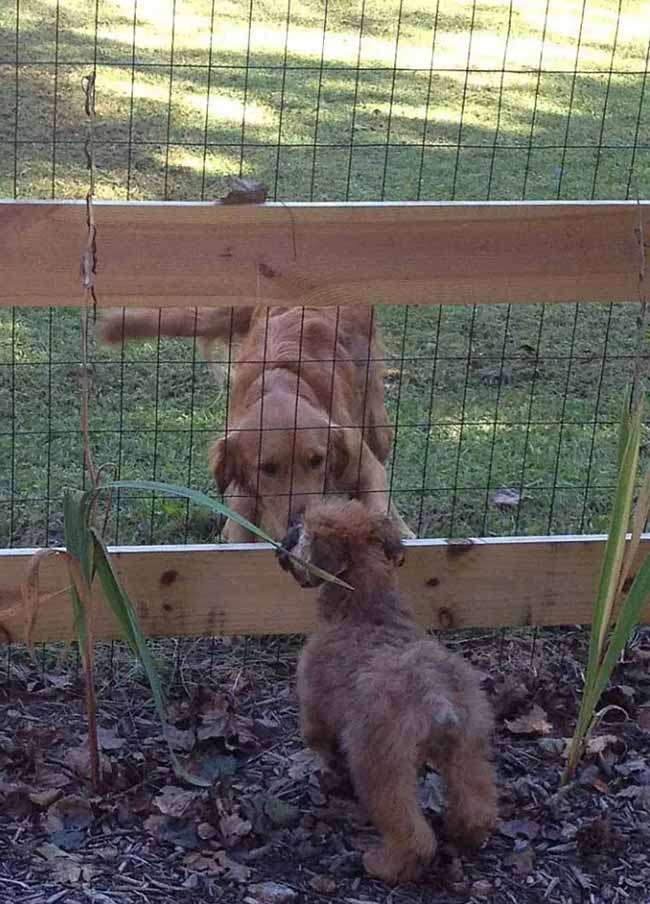 Imagine making a special place for your furry friend! You can do it easily with this DIY idea. Get some wire that's strong and flexible, like a roll of it.
You can choose different sizes of holes, depending on your dog's size. Then, just attach it to wooden boards. This will keep your pet safe and happy for a long time. via A Smith of All Trades
4. Fancy Fence with Holes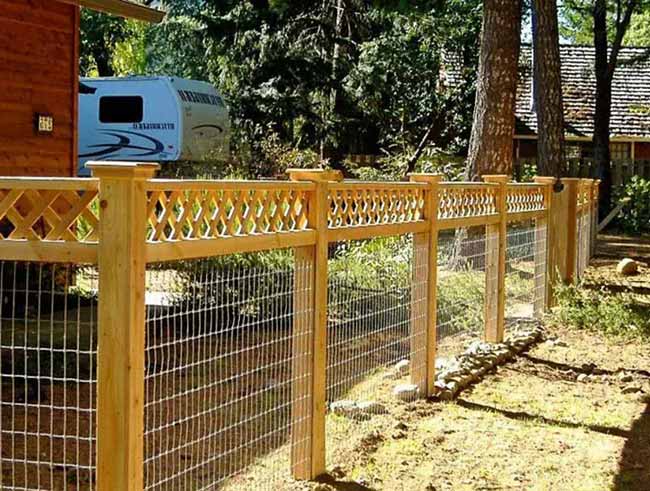 If your dog's play area is close to your home, you might want a fence that looks nice too.
How about a fence with both strong wire and pretty wooden lattice? Your dog will love it because it can see through the holes, and you'll love it because it looks great!
5. Fence with a Door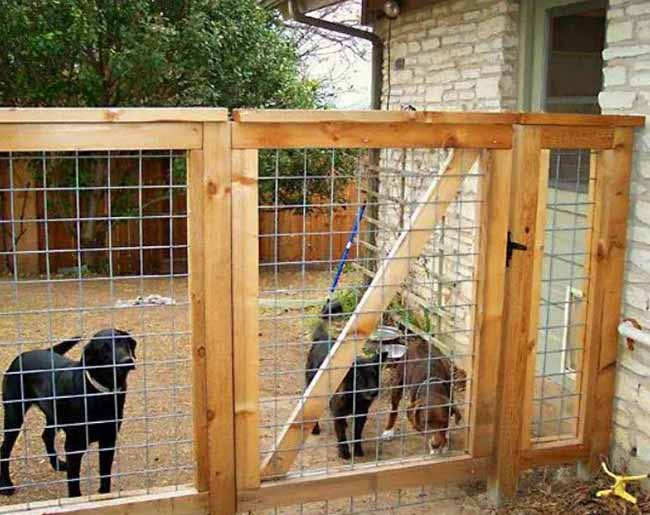 Here's a fence that's more like a wall with a door. It's built to fit the space you have, and it has wooden sections with wire in between.
The middle part can swing open like a door, which is handy if you want to split your yard in two. This fence is tall, so it keeps your pets inside and other people out.
6. Wide-Open Dog Fence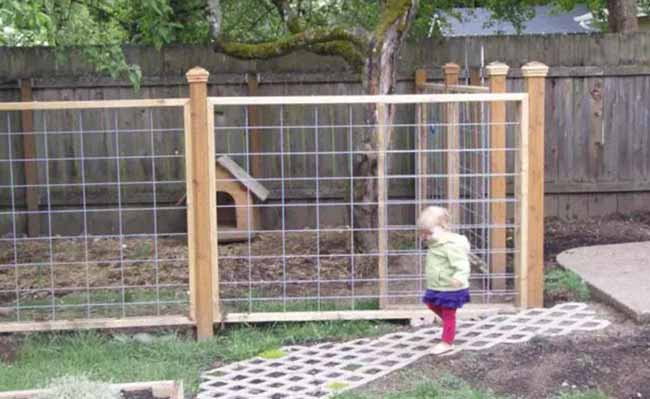 Dogs don't like feeling stuck. With this fence, they won't even realize they're fenced in. It's made from wide wire mesh that's usually used for cows.
You can attach it to strong wooden or metal posts. It's budget-friendly too, so if you want a special place just for your dogs, this could be the right choice. via Houselogic
7. Cute Decorations for Dog Fence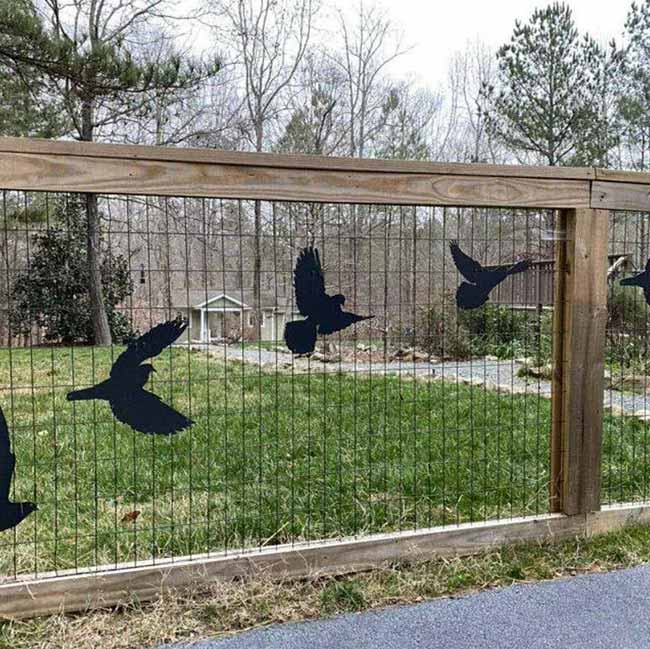 Want to make your simple dog fence look cute? You can buy special decorations to add some charm to it.
8. Stylish Doggy Yard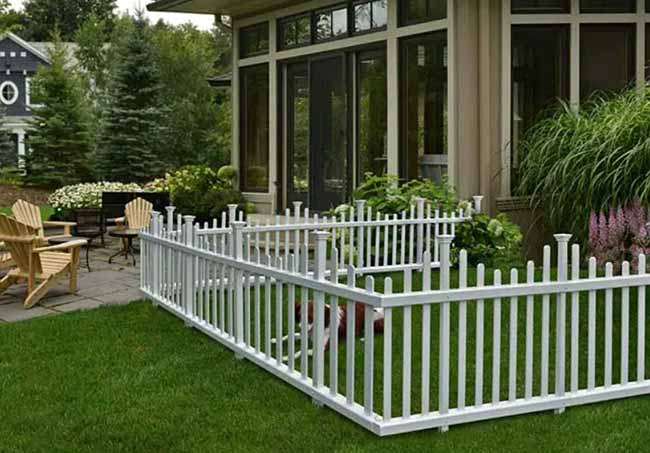 This vinyl picket fence isn't just for looks; it's also great for your big dog or little puppy. It creates a cozy spot where your dog can hang out.
It's super easy to put up with long posts you stick in the ground. You can even use this fence to protect your garden from curious paws.
9. Dog Play Zone with Green Fence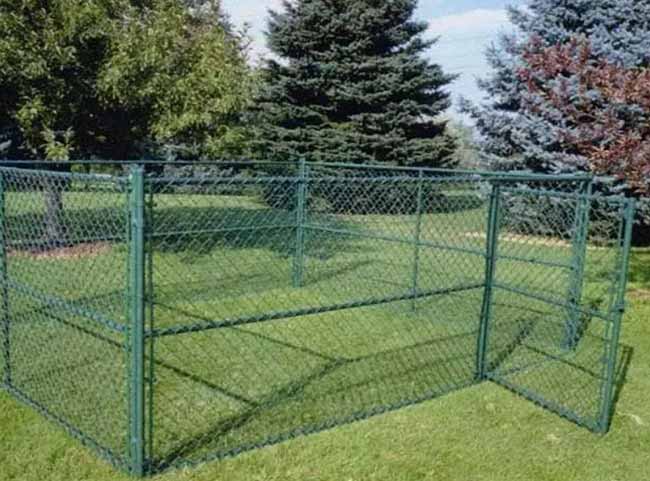 Chain link fences are one of the cheapest ways to make a dog area. If you want it to look nice, you can choose a green mesh or paint it green like in this picture. The green color will make it blend in with the green landscape. via Gun Dog
10. Dog Area with Cement Floor and Chain Link Fence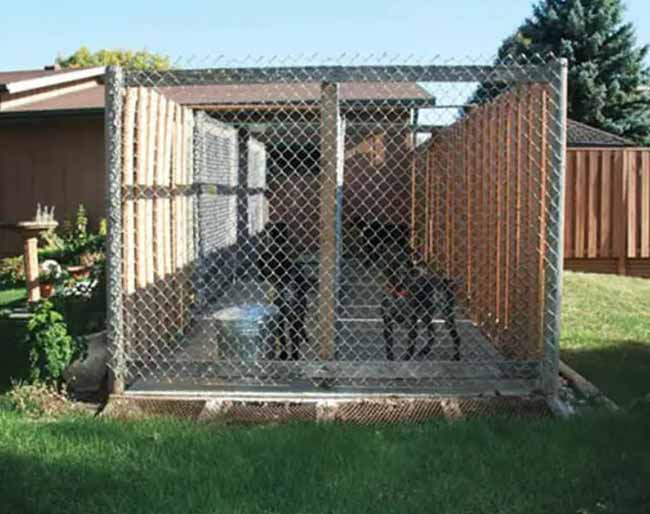 If you want to make a special place for your dogs when you're not at home, this is a great idea. It's built right next to the garage and has a cement floor that's easy to clean.
The walls are a mix of wooden picket fences and chain link wire. With these two types of walls, you can control how much your dogs can see.
11. Rustic Look with Wooden Frame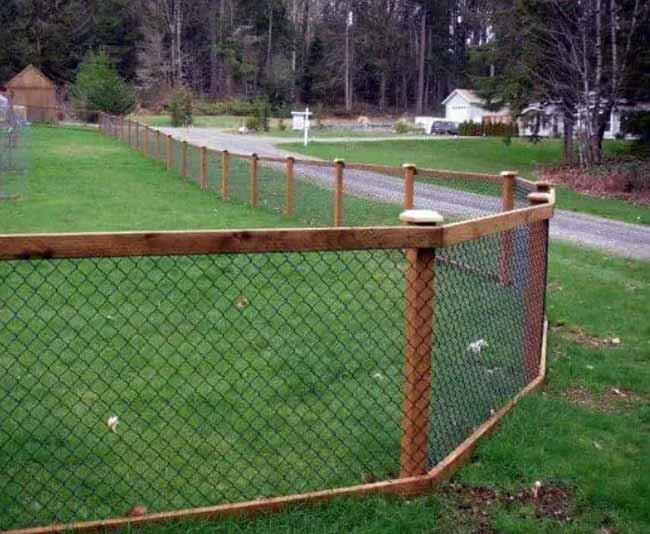 To make a plain chain link fence look fancy, you can add a wooden frame. Pine boards and posts are good and affordable for outdoor use. Their reddish color looks nice with the green plants and the metal wire.
12. Kennel with Strong Metal Parts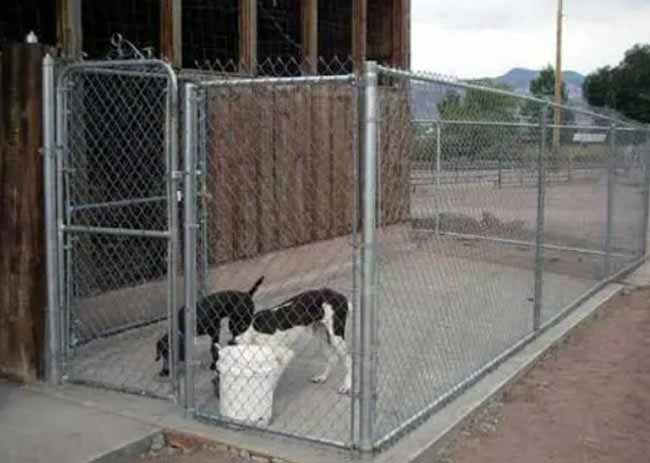 Galvanized chain link wire is more durable than regular chain link. It's worth spending a bit more if you want a fence that lasts a long time for your pets. You can make it look even better by adding galvanized metal tubes for support.
13. House-Connected Dog Play Area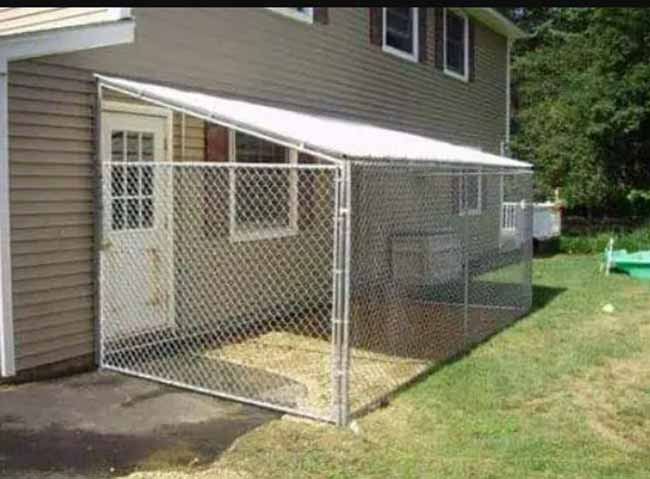 This is how you can build a dog area right next to your house. This way, you can see your dogs from the windows.
The roof can be made from vinyl boards or a strong nylon sheet. The metal support is great for active dogs.
14. Black Metal Fence with Height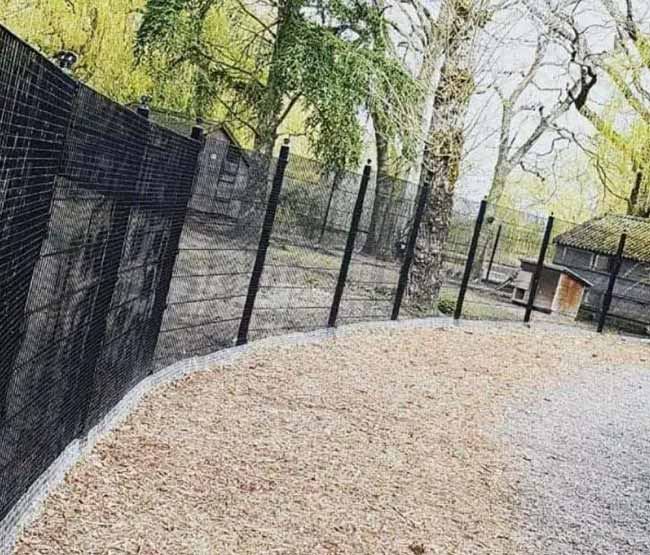 This black metal fence has an industrial look. It's tall to keep jumpers inside. You can also see the ground is covered with mulch, which makes the area look nice and easy to keep clean.
15. Wall-Mounted Dog Play Area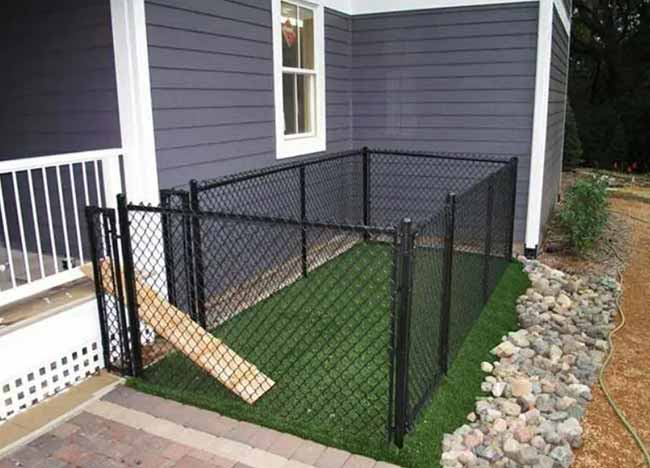 This is a small dog play area in a corner outside. It's made on top of artificial grass, so it looks natural and soft for the dogs. The openings in the fence are small, so it's good for dogs of any size.
16. Wall-Mounted Dog Gate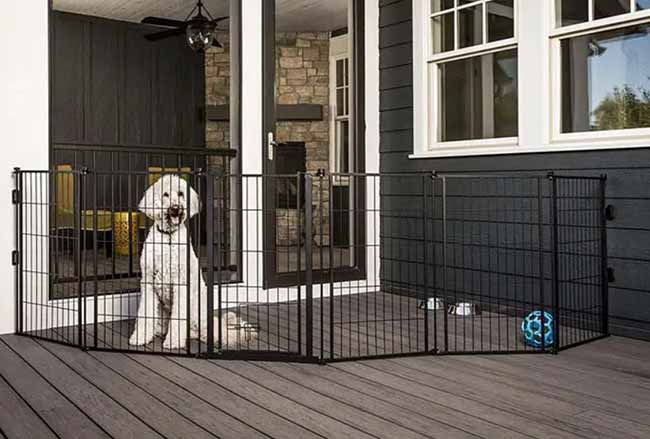 This dog gate is perfect for little puppies or curious dogs. It has six 24-inch panels. You can attach the end panels to the wall with screws or put them together to make a pen.
With this gate, you can keep your dog in a certain area on your deck or patio. It's strong and can handle different kinds of weather.
17. Short White Picket Fence Idea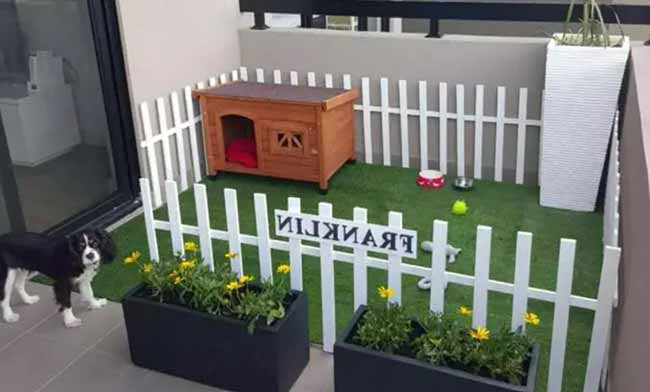 Need a fence for your apartment balcony or deck? This short picket fence is perfect! It's easy to put together and comes with all the hardware you need. You can even add fake grass to make it feel like home for your dog.
18. Temporary Pen for Little Puppies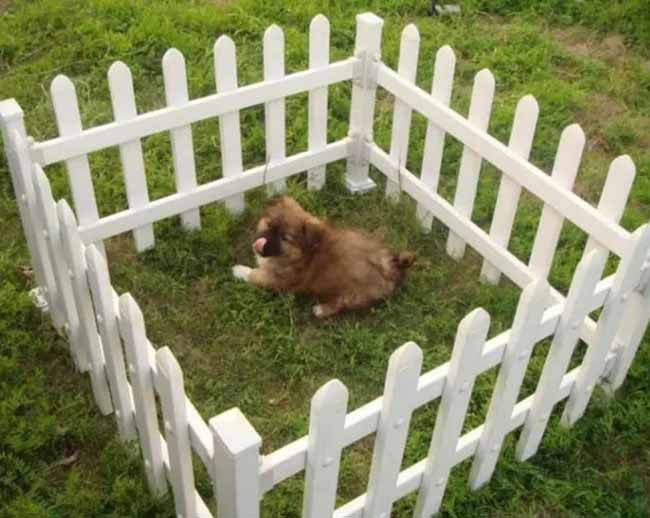 This picket fence set is like a playpen for tiny puppies. You can keep them inside when you're working in the garden or doing something outside. But remember, this is only for your dog when it's still a baby.
19. Strong Wooden Fence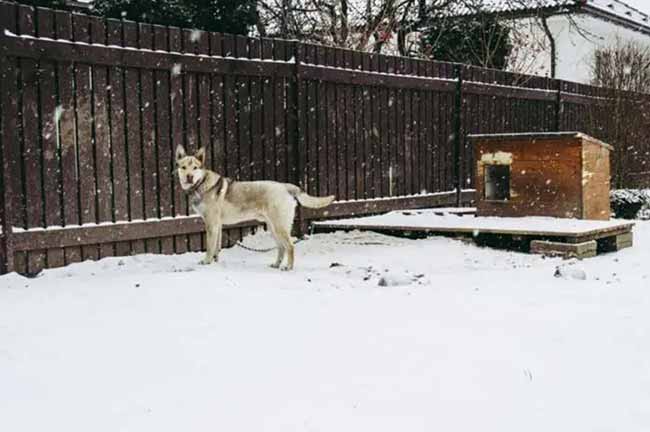 As your dog grows, it might need a sturdy fence to keep it out of trouble. This wooden fence is a great choice for dogs with a strong personality.
The boards are close together, so your dog can't see through easily. This is important if you have a big and lively dog.
20. Fence Made from Pallets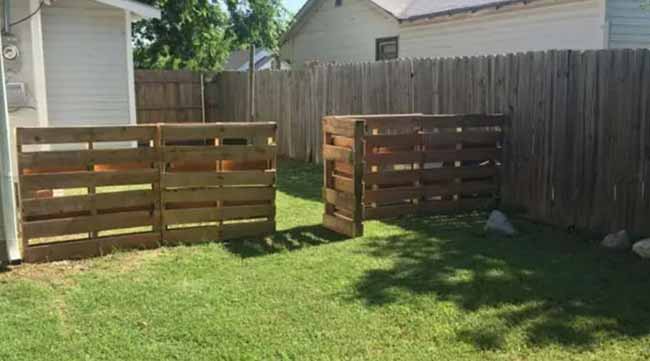 You can create a play area for your dogs using old pallets. Recycling pallets to make a fence is good for the environment and your wallet. Plus, it adds a cozy farmhouse touch to your garden.
21. Pallet Fence Idea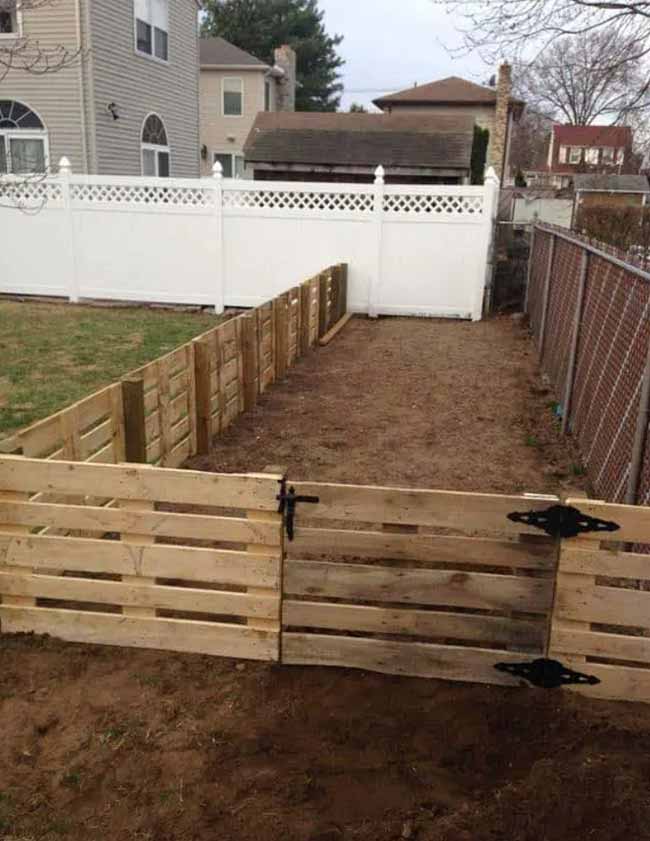 While the previous example was more like a wall, this one is a proper fence. The pallets are placed on their sides with wooden posts holding them up and making the fence strong. One of the pallets has hinges to work like a gate.
22. Portable and Foldable Mesh Barrier
This idea is great for indoor use. It's made of fabric mesh to stop your dog from going into certain parts of the house. But remember, it's just a temporary solution for when your dog is small and you're teaching it good behavior.
23. Handy Foldable Partition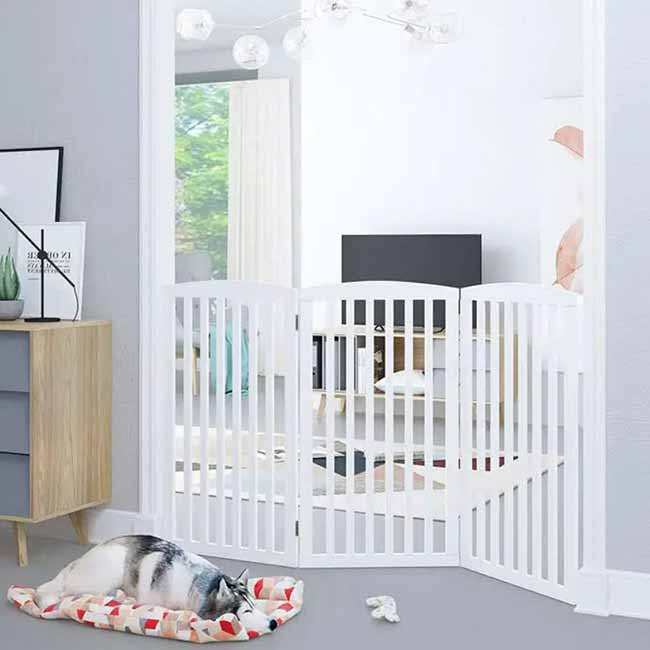 If you need a quick and easy way to keep your pet in a certain area, this foldable partition is perfect. It's made of wood, painted white to match most homes. It has openings so your dog can see the other part of the house and won't feel alone. You can use it in doorways, on stairs, or in bedrooms.
24. Affordable and Easy Chain Link Fence Upgrade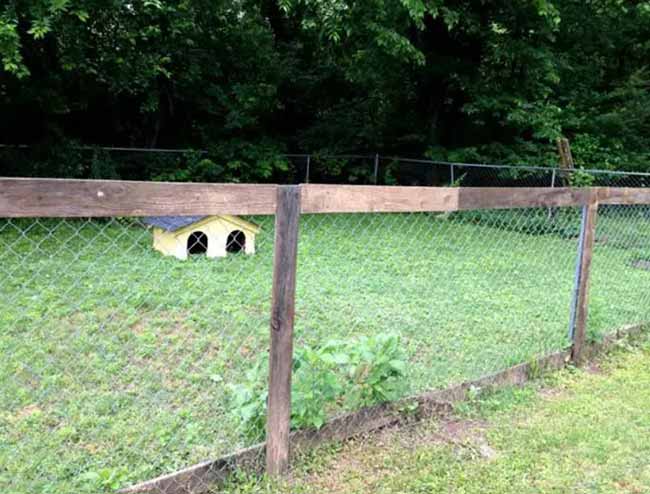 Do you have an ugly chain link or chicken wire fence in your yard? Before you decide to tear it down, consider this idea. You can turn that plain fence into something charming and rustic by adding wooden boards. You don't even need to change the support structure of the existing fence. Just attach the boards to the metal pipes using hidden pipe straps.
25. Big Dog Playground in the Backyard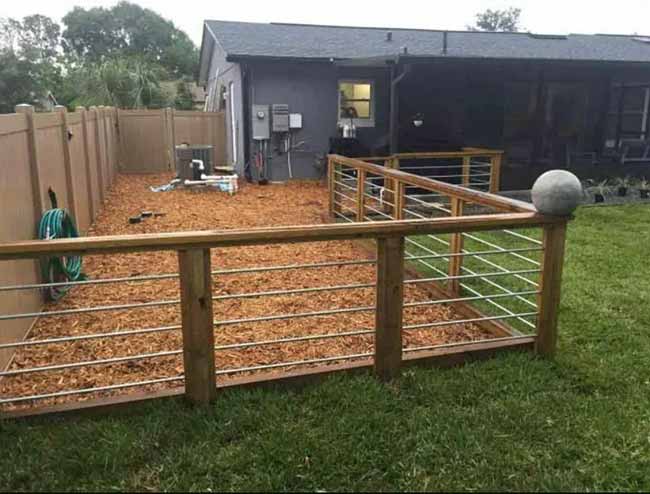 This is a large play area for dogs, and it looks pretty cool! The combination of metal rods and wooden posts not only makes a strong fence but also adds a nice touch to your backyard.
29. Short Fence Made from Pallets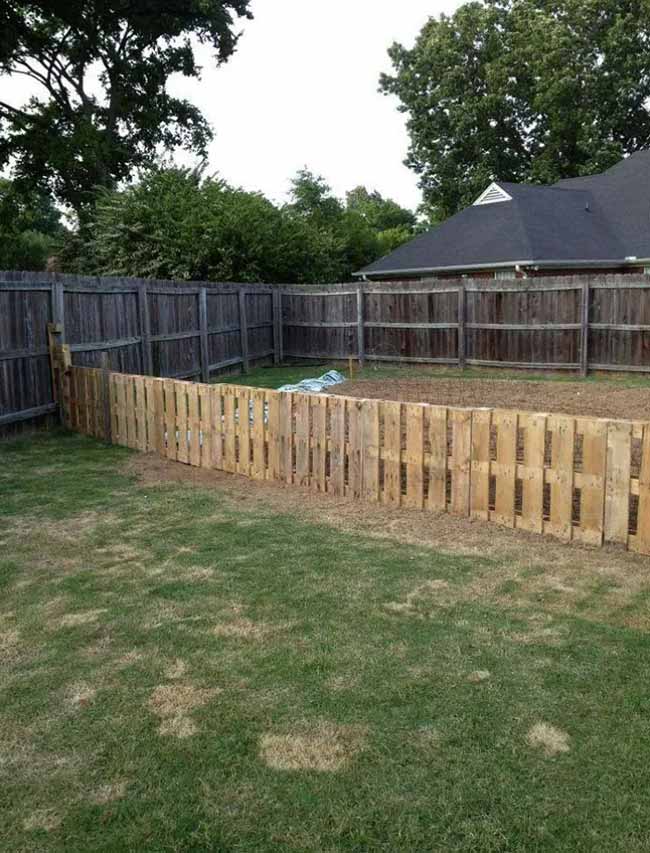 When you need a quick fence for a dog play area, pallets are a clever choice. If you can't find enough pallets for free, you can buy them for a good deal. Keep in mind that the height of the fence depends on the size of the pallets. If you have a big dog, use this fence only for a permanent solution. But if your dog is small and doesn't jump high, this fence can stay as long as you need it. You can even paint or stain the wood to make it look better.
FAQs about Dog Fences:
What's the cheapest dog fence? If you're looking for an affordable dog fence, there are options like:

PVC block netting
Chain link and wire mesh
Welded wire
Poultry netting
Wood pallet fencing

How tall should my dog's fence be? For most dogs, a 4ft fence is okay. But if you have big dogs like Labradors or Huskies, go for 5-6ft. Materials like wood, vinyl, and composite work well for taller fences.
What's the best fence for dogs? The best dog fences are made from hardwood, vinyl, metal, and other strong materials. They're durable, cost-effective, and add to your home's appearance.
How can I prevent my dogs from digging under the fence? To keep dogs from digging under a fence, you can attach chain link, chicken wire, or hardware cloth at the base. You can bury them for a clean look or place them above the ground.
What's the right age to train a dog for an invisible fence? It's best to start training dogs for an invisible fence at around eight weeks old.
Can the Electric Zap from an Invisible Fence Harm My Dog? No, it won't harm your dog. The electric zap is at a correctional level, so it's more of a shock than actual harm. Your dog will be perfectly fine and safe within the fence.
How can I keep my dog in the yard without a fence? If you prefer not to use a traditional fence, consider these options:

Install an invisible fence (electric fence).
Use tie systems with a leash or tethers.
Try boundary training to set limits.
Get an exercise pen, allowing your dog to play safely in a designated area.