The Best 23 DIY Ideas to Make Garden Stairs and Steps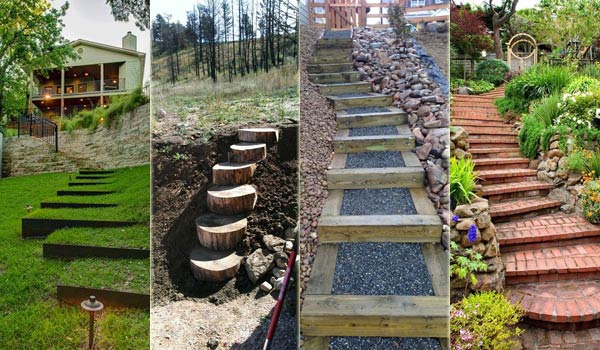 Adding DIY steps and stairs to your garden or yard is a great way to enhance your outdoor landscaping, whether the terrain is perfectly flat or sloped. Garden stairs offer ease of access between levels and can also serve as a walkway. Because garden stairs are less formal than indoor stairs, you can create them with your own measurements and design, tailored to your garden's theme and your personal preferences. Stone is the most popular material for building garden stairs, as it looks natural and organic. Other ideal materials include rustic wood, concrete blocks, railway sleepers, bricks, and even old tires. Browse the ideas below and choose your favorite way to boost your garden. And more, if you're looking for inspiration for your garden steps and DIY stairs, there are many great resources online that can provide ideas and pictures to help you get started. Take a look at some garden steps ideas pictures to find the perfect design for your outdoor space.
#1 Recycled Broken Concrete Garden Steps: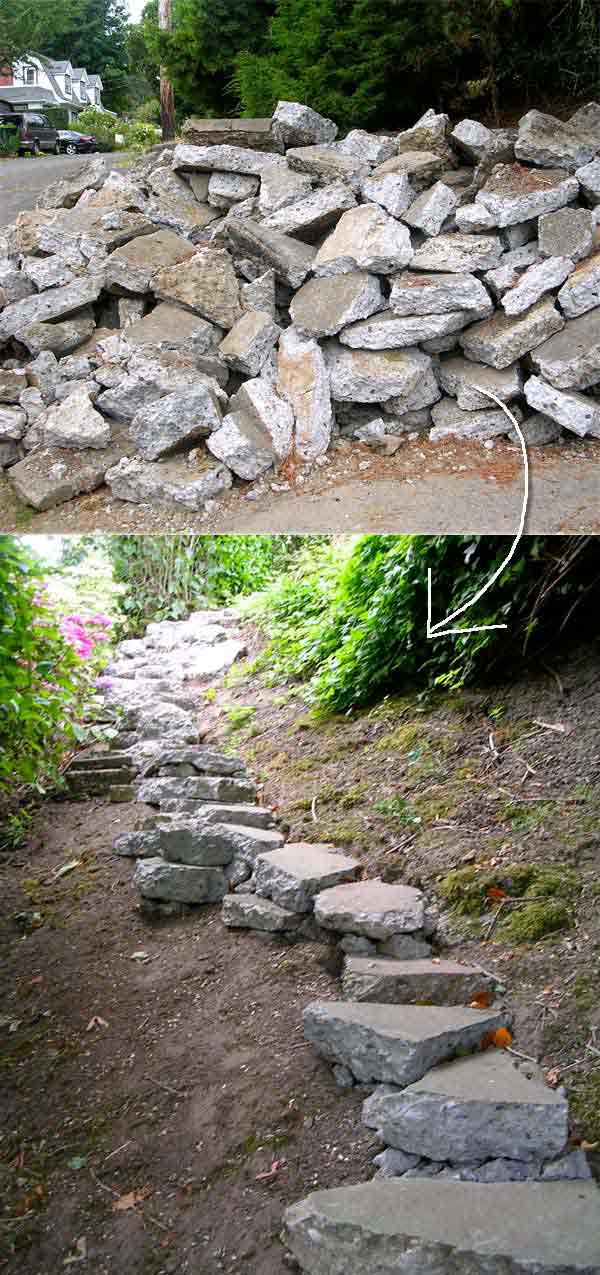 Using recycled broken concrete to create garden steps is a great way to add a unique and eco-friendly touch to your outdoor space.These steps are created by breaking up concrete slabs and using the pieces to create a stepping stone effect. This creates a rustic and natural look in any garden or outdoor space. These steps are also an affordable option, as they can be made from recycled materials found on site. Source: enviromom.com
#2 Garden Stairs Made of Tree Trunks on the Trail: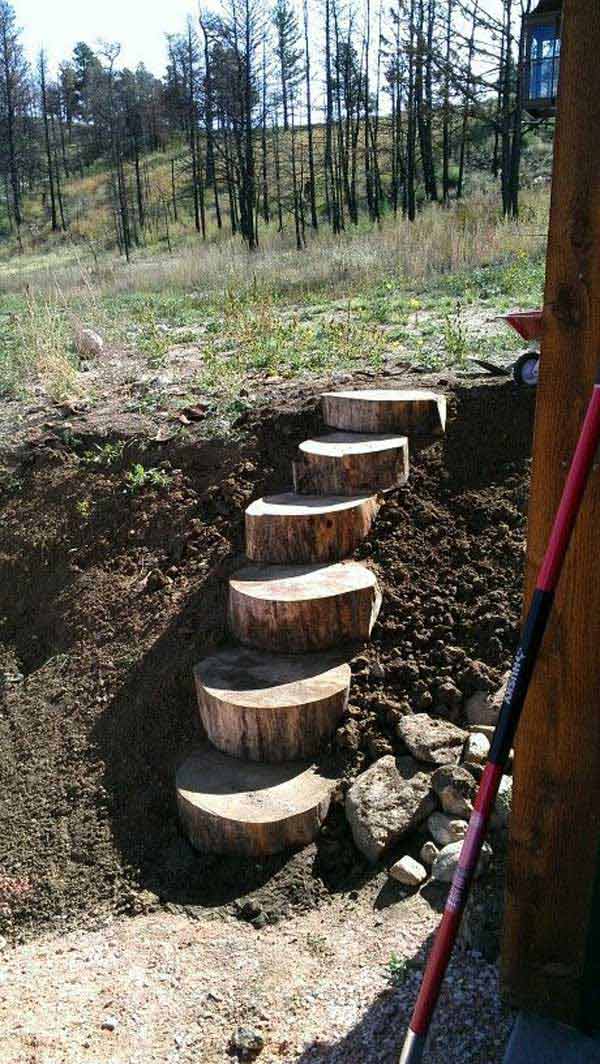 Garden stairs made of tree trunks are a charming and natural-looking addition to any garden or outdoor trail.These steps are created by cutting tree trunks into sections and using them to create a sturdy and natural-looking staircase. This creates a rustic and charming look in any garden or outdoor space. These steps are also a great option for trails or paths in wooded areas.
#3 Garden Stairs Made Of Wood And Gravel: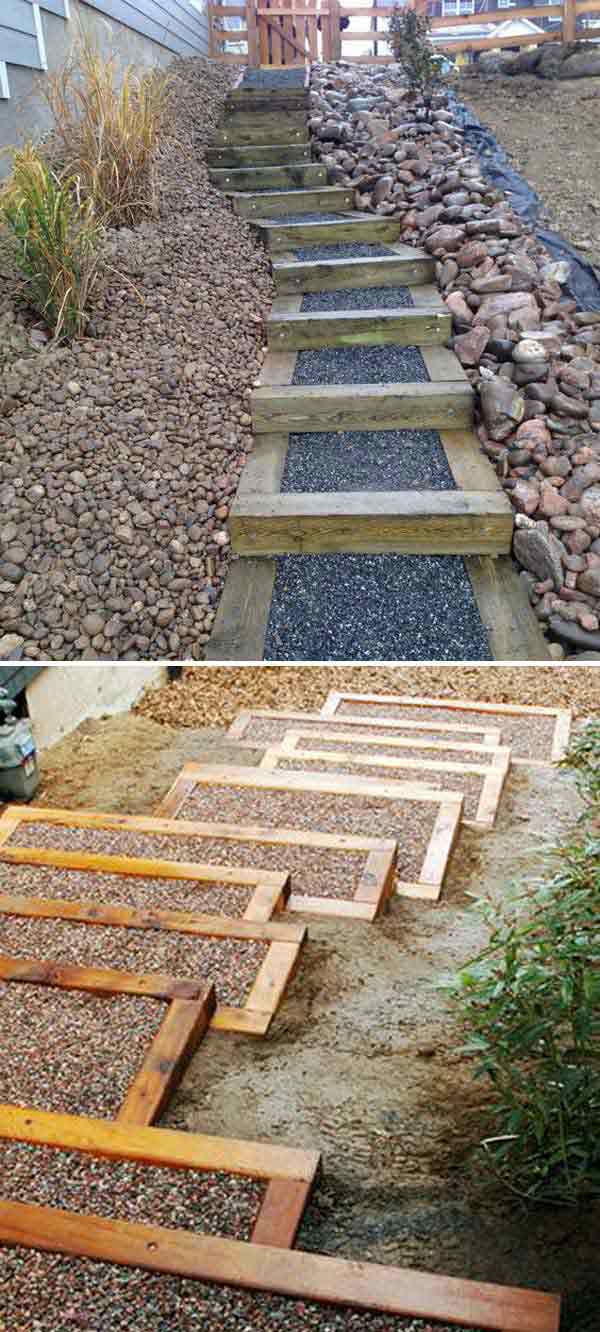 If you're looking for how to make garden steps, consider using landscape timbers to create a sturdy and durable staircase. Recycle old timbers and make something like this hillside sidewalk and outdoor stairs. They decided to pour concrete in each step, but also considered pea gravel. This is a cost-effective and easy DIY project that can be completed in a weekend. These steps are also a great option for gardeners who want to create a natural and organic look in their outdoor space.
Above Image Source: flickr.com Bottom Image Source: alleideen.com
#4 Use Natural Stone Slabs to Build this Floating Garden Steps: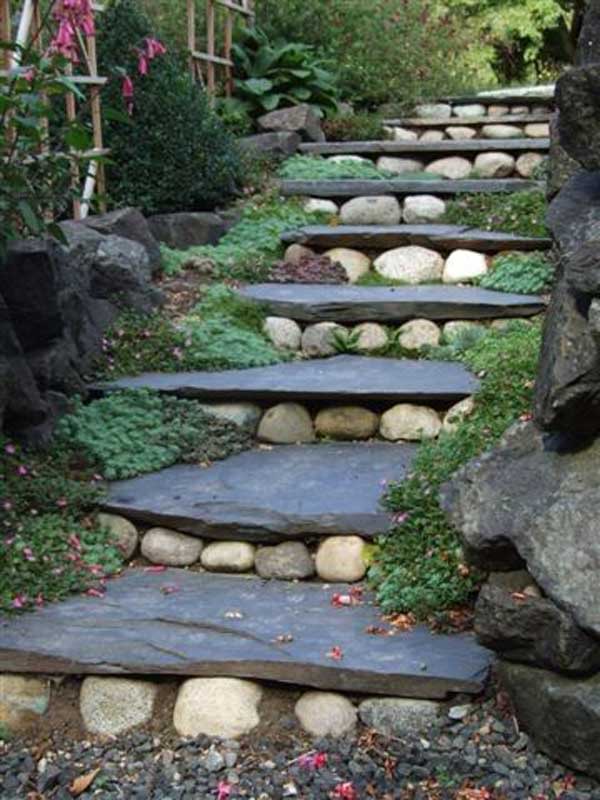 Natural stone slabs are a popular choice for easy DIY steps on a slope. The irregular shapes and textures of natural stones add a rustic and organic feel to any landscaping design. Building floating garden steps with natural stone slabs can also help to reduce erosion on sloped terrain, making them both functional and attractive.
#5 DIY Outdoor Stair with Steel Plate Edges and Grass Covering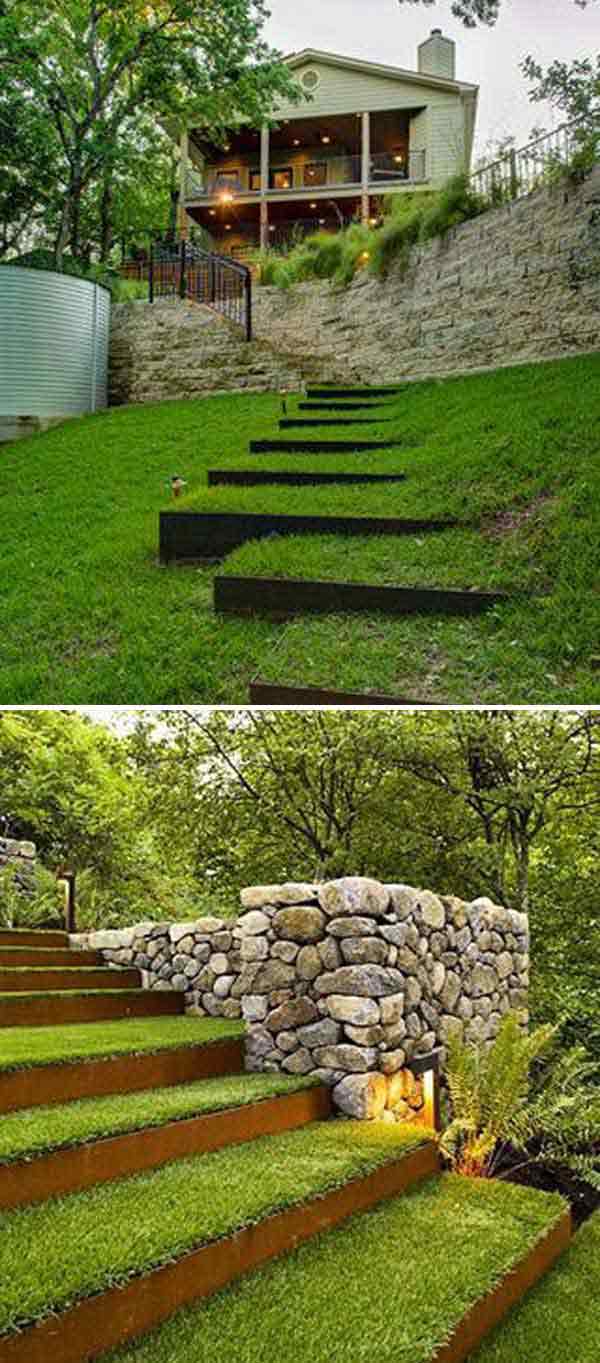 Steel plate edges and grass covering can provide a modern twist to hillside steps. By using steel plates as edging, you can create a sleek and contemporary design, while adding grass covering between each step can help with erosion control and add a natural element to the landscape. Bottom Image Source: instagram.com
#6 Recycle Old Timbers and Pea Gravel to Build DIY Outdoor Steps
Recycled timbers and pea gravel can be used to create DIY outdoor steps that are both functional and eco-friendly. Pouring concrete into each step and adding pea gravel can help with stability while creating a natural and rustic look. Learn how to build garden steps using recycled materials for a sustainable solution. Get Tutorial here ====> ohiothoughtsblog.blogspot.com
#7 Large Paving Slabs and Paved Brick Made this Landscaping Stairs: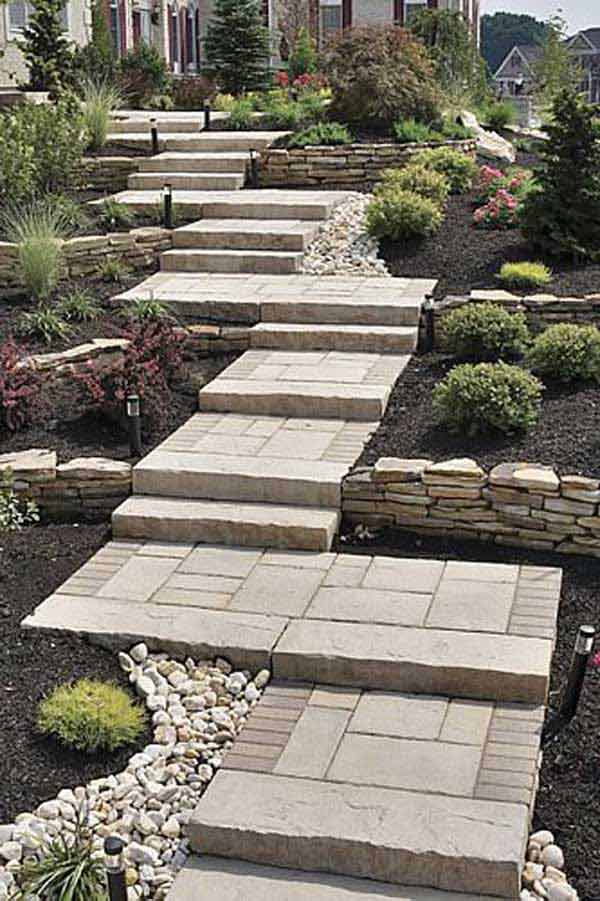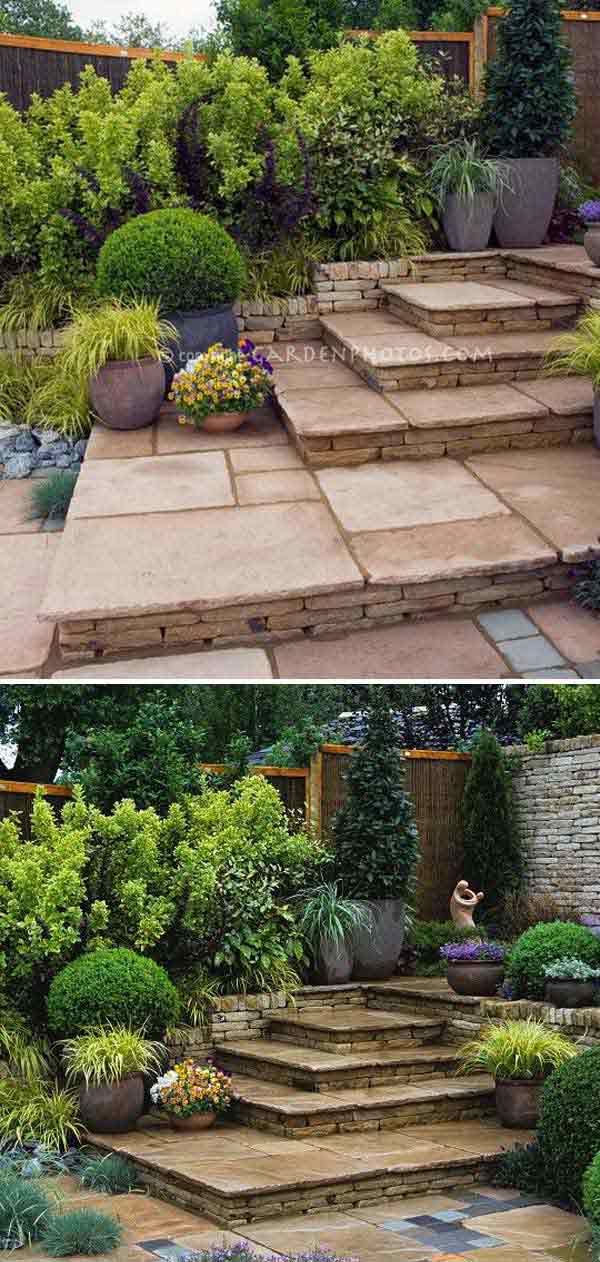 Source: letsgoforahike.tumblr.com
Large paving slabs and paved brick are popular choices for outdoor steps ideas. These materials can create a classic and timeless look that complements any landscaping design. Paving slabs and brick can also be cut to custom sizes to fit the specific dimensions of your outdoor space.
#8 Use Concrete Slabs to Create a Contemporary Look with these Floating Concrete DIY Outdoor Stairs: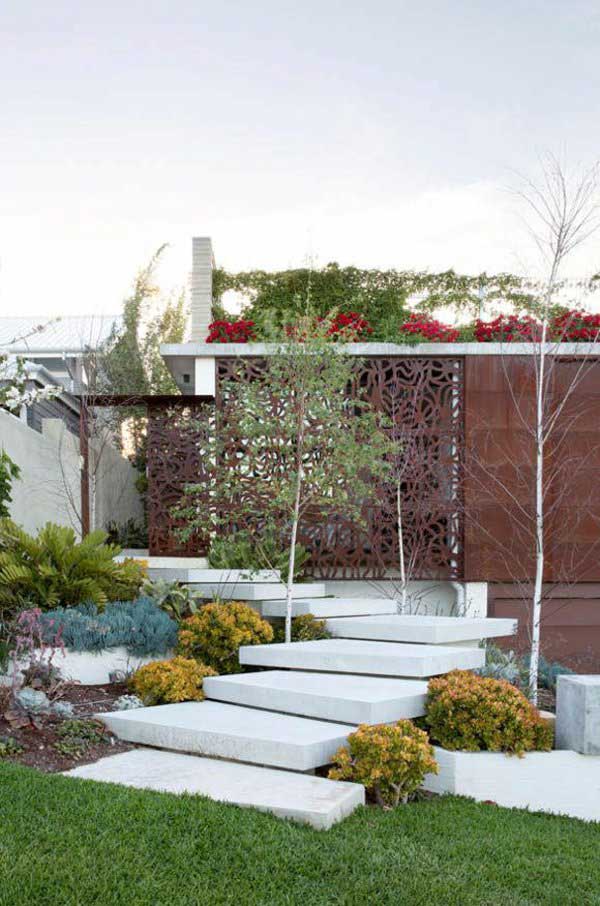 Concrete slabs are a durable and low-maintenance option for landscape stairs. By using a floating design, the steps can appear to "float" above the ground, creating a sleek and modern look. DIY outdoor stairs made of concrete slabs can be a cost-effective way to add functionality and style to your outdoor living space.
#9 How to build a wooden boardwalk with steps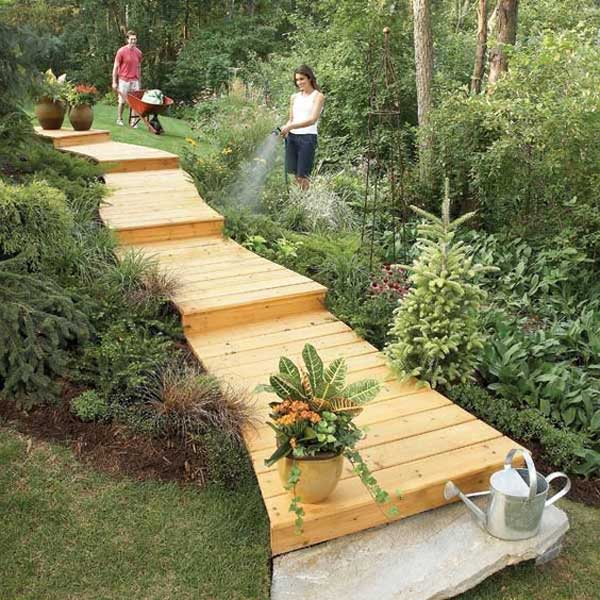 Building a wooden boardwalk can be a fun and easy DIY project. To start, measure and mark the desired path for the boardwalk. Then, dig a shallow trench for the support beams and set them in place with concrete. Cut and attach the deck boards to the support beams, leaving a gap between each board for drainage. If your boardwalk has a section of stairs, add stair stringers and attach deck boards to create the steps. Finally, add a railing for safety and aesthetic appeal.
Get Tutorial here ====> familyhandyman.com
#10 Landscaped Stones Make for the Backyard Stairs: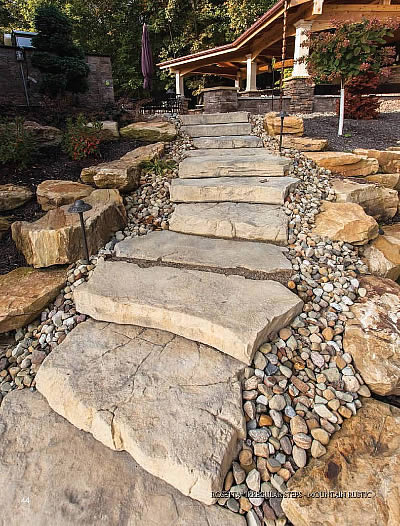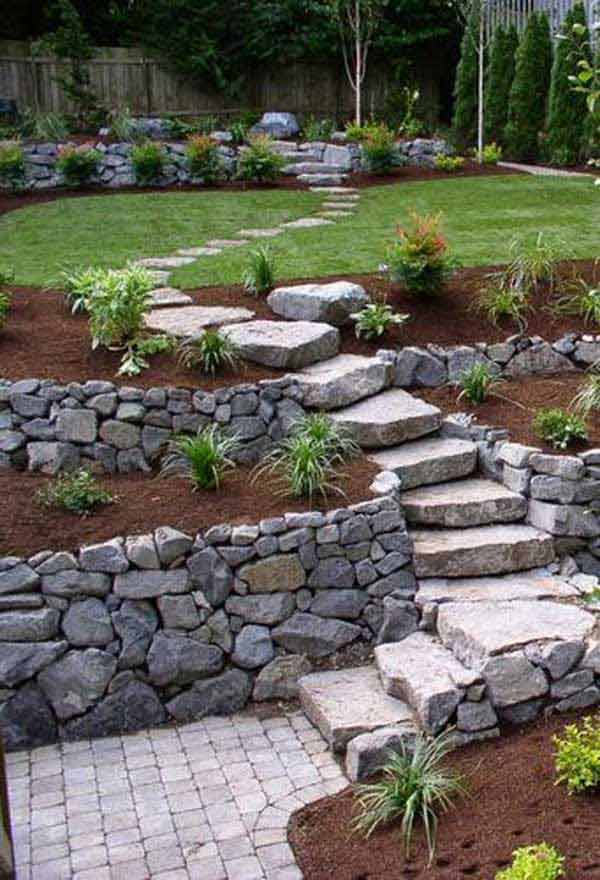 Landscaped stones can create a beautiful and natural look for backyard stairs. Using stones in various sizes and shapes, you can create a winding staircase that blends seamlessly into the surrounding landscape. Stones can also be used to create retaining walls and borders for flower beds, adding texture and dimension to your outdoor space.
Source: dreaminggardens.blogspot.hu
#11 Logs Used as a Retaining Wall, Steps, and Supporting a Rope Handrail: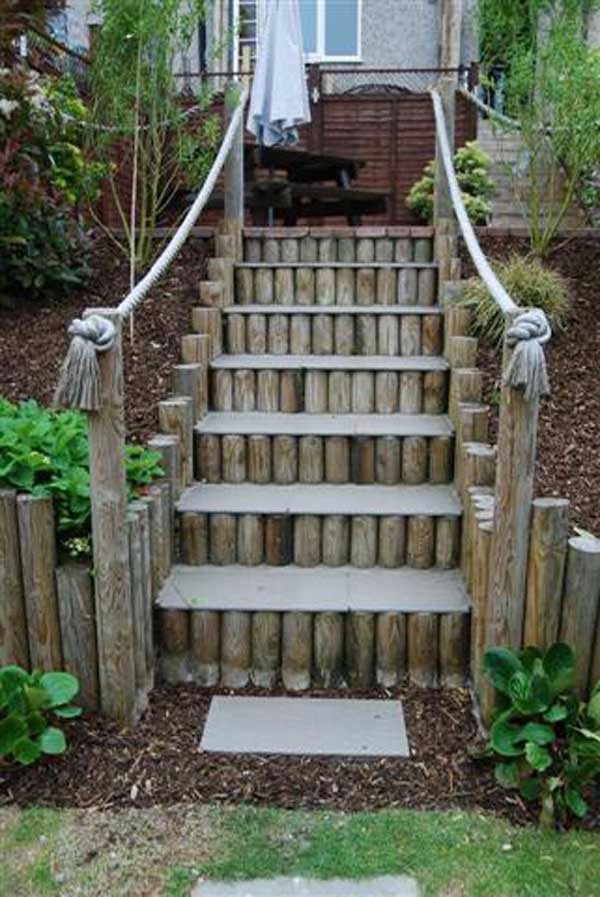 Logs can be a unique and rustic option for outdoor steps. They can be used as both the steps themselves and as a retaining wall to create a level surface. Logs can also be used as a support for a rope handrail, which adds to the natural and rugged look. When using logs as steps, be sure to sand the surfaces smooth and apply a sealant to prevent splinters.
#12 Large, Colored Flagstone Slabs Use to Create a Garden Stair on a Hillside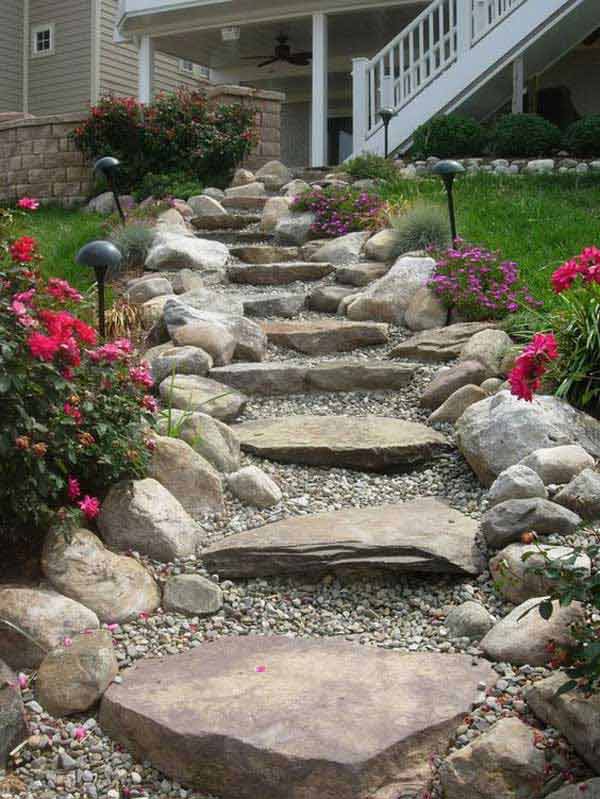 Large, colored flagstone slabs are a natural and substantial solution for creating garden stairs on a hillside. Although the weight of the stones may require professional installation, flagstone is less expensive than other hardscaping stones, such as marble or granite. Using warmer tones can help blend the surrounding flora with the walkway. Source: deavita.com
#13 Use Concrete Blocks in Your Garden to Create Garden Stairs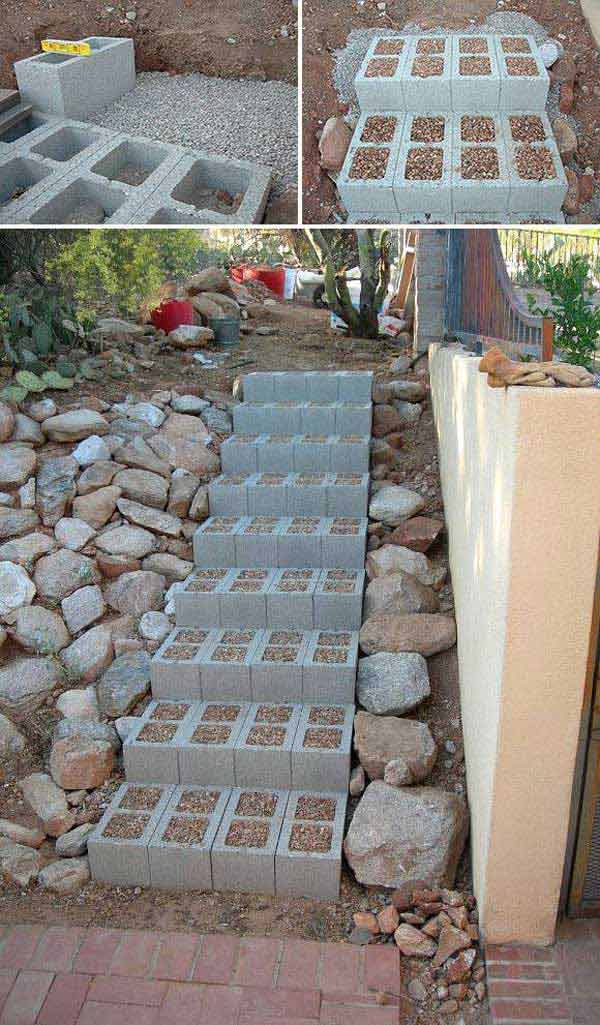 Concrete blocks are an easy and cost-effective solution for creating garden stairs, especially on a slope. These blocks can be arranged in various configurations to fit the landscape's style and design, making them an ideal option for easy DIY steps on a slope.
Source: sliptalk.com
#14 Mosaic and Colorful Stones Landscape Steps on a Slope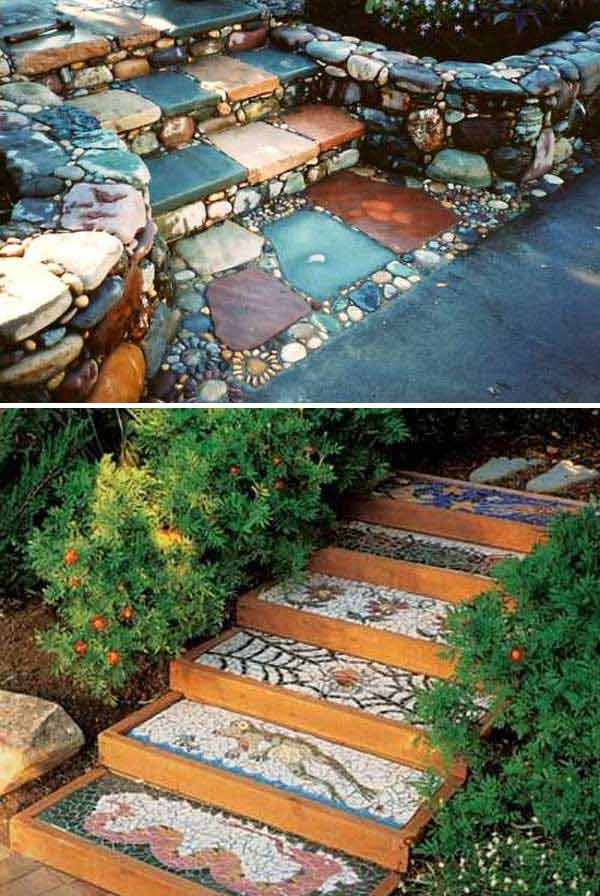 Mosaic and colorful stones can add an artistic touch to landscape steps on a slope. By arranging stones in a unique pattern or using a mix of colors, you can create an eye-catching design that complements your garden's natural beauty. Source: nettetipps.de
#15 Outside Staircase Made Of Bamboo And Logs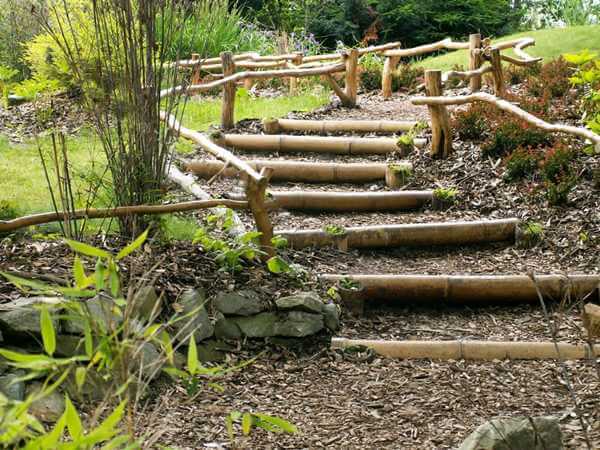 Source: interiorish
#16 Classic Brick Garden Steps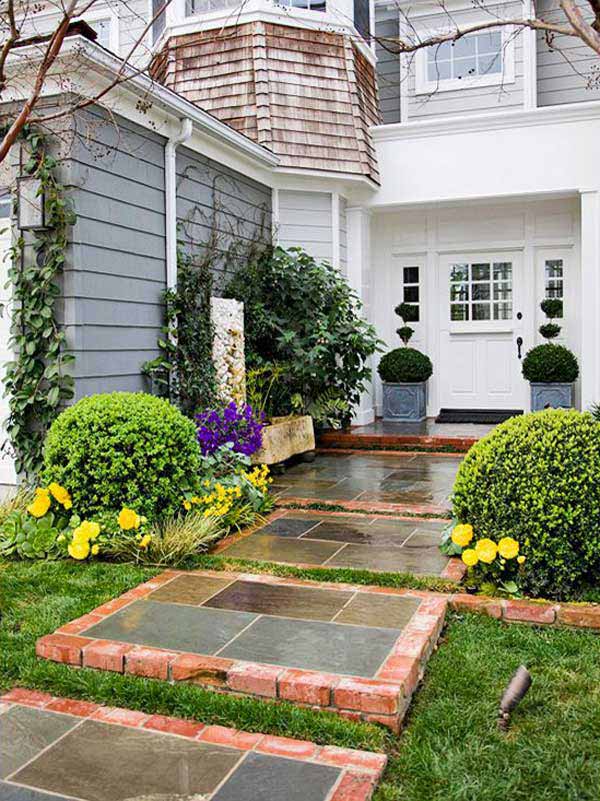 Classic brick garden steps offer a timeless and elegant option for garden stairs. Brick is a durable and long-lasting material that complements a variety of garden styles, from traditional to modern. The warmth and natural texture of brick make it a popular choice for garden steps that will last for years to come. Source: favim.com
#17 Galvanized trough covered with concrete as backyard hillside steps.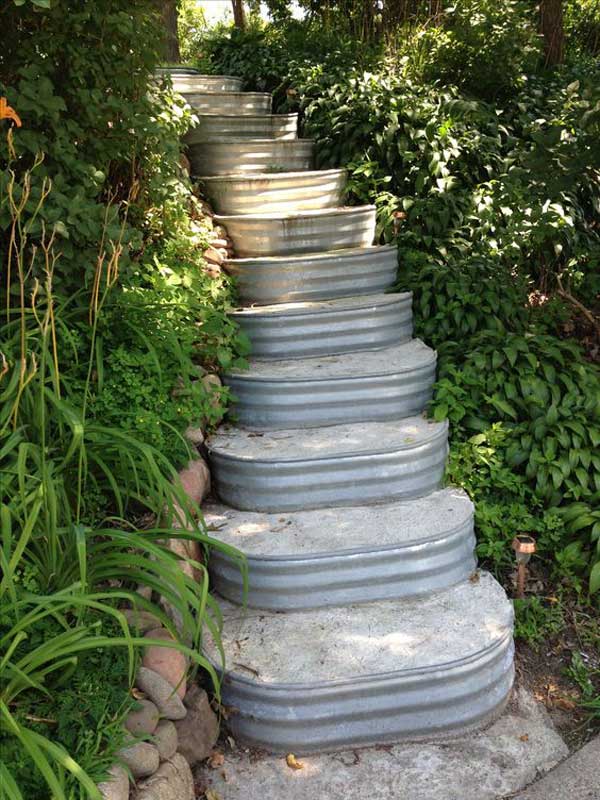 Source Unknown.
#18 Round Concrete Slabs Garden Stairs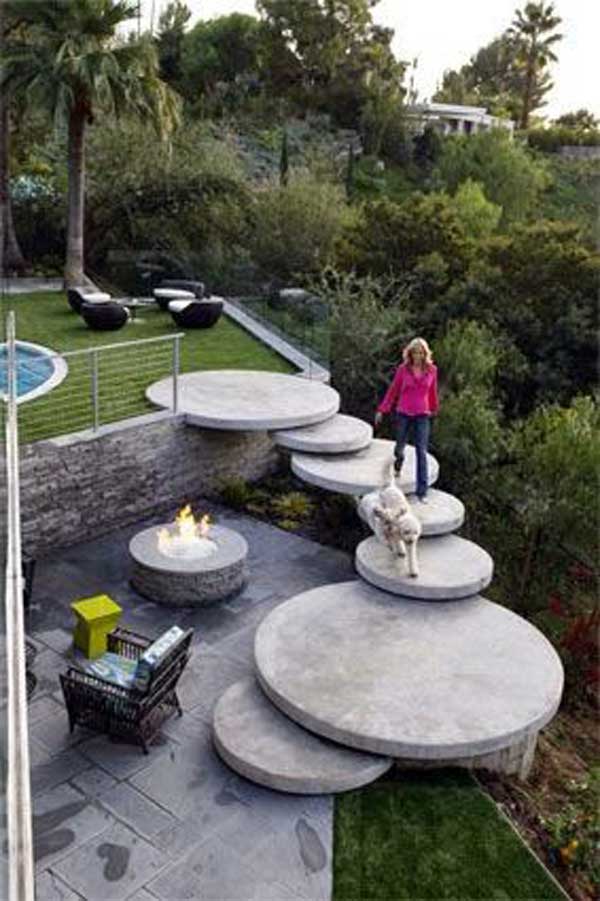 Source: latimes.com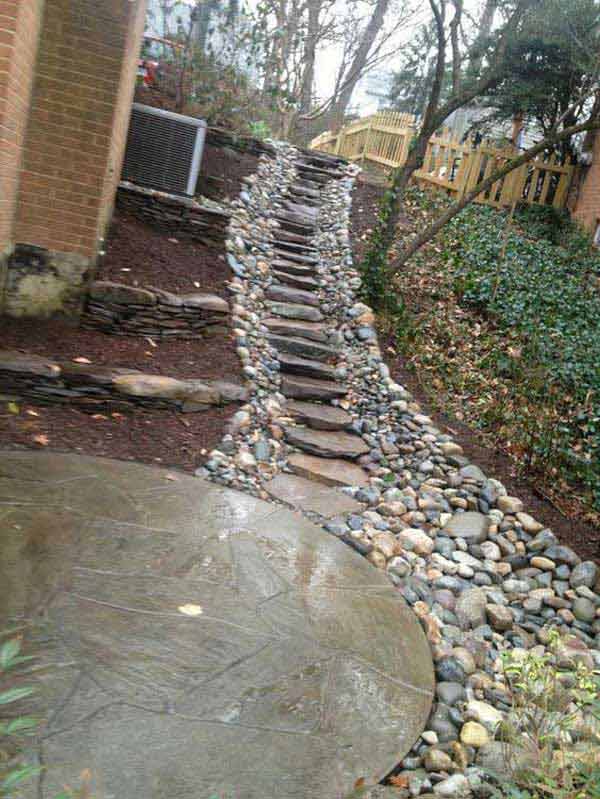 Source: homedesigninspired.com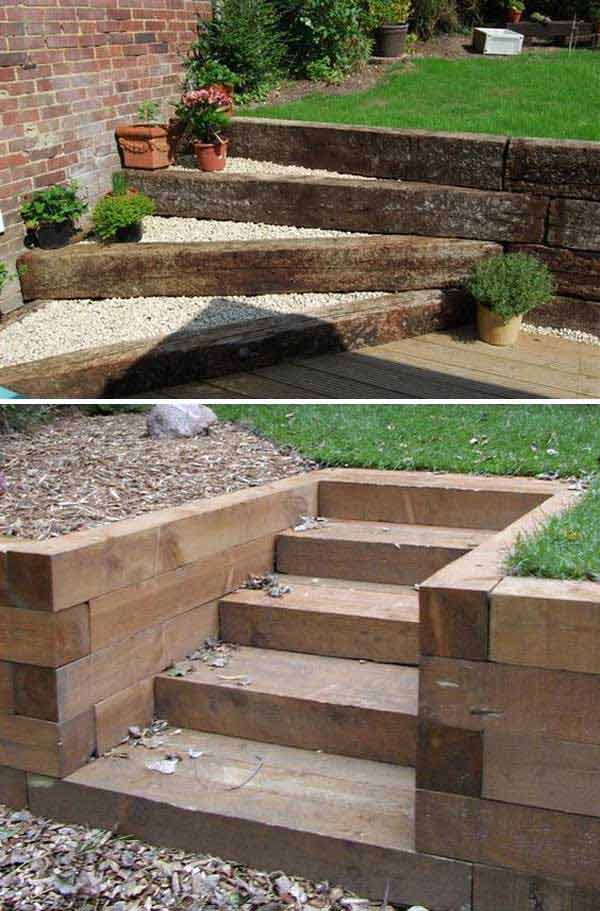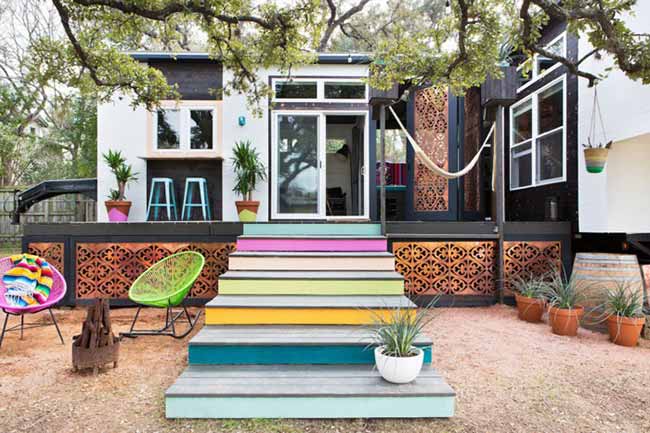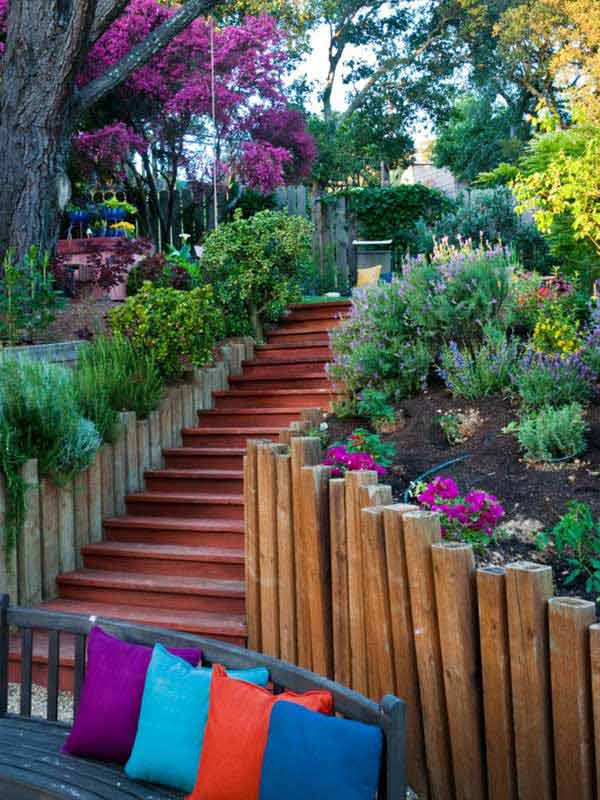 Old tires used as easy diy steps on a hill slope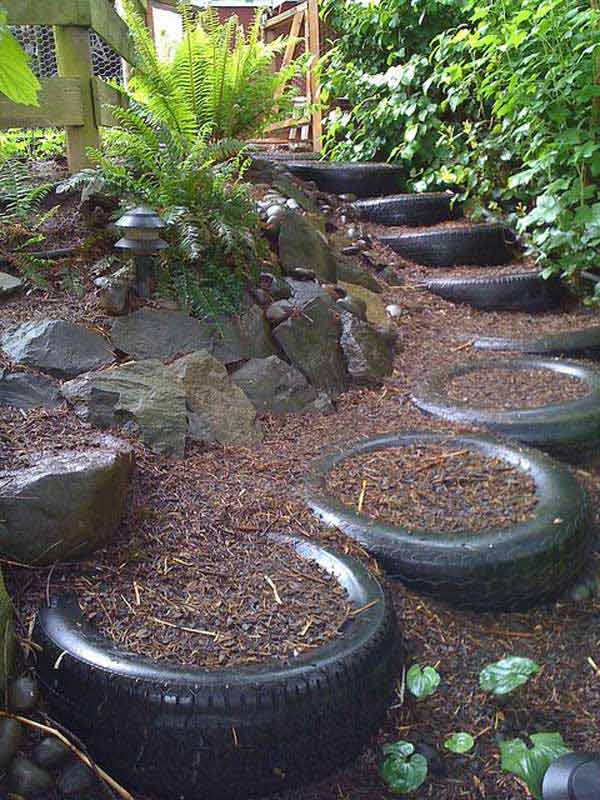 Source: flickr.com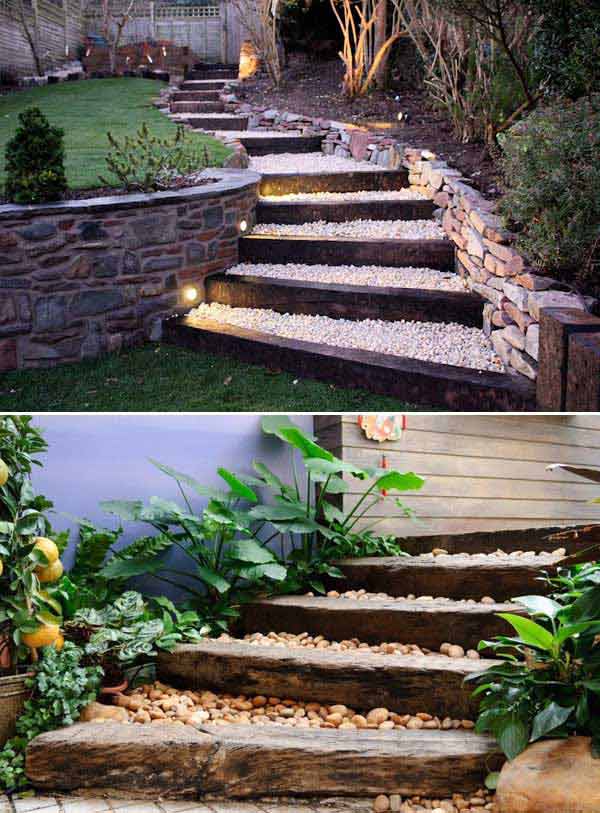 Above Image Source: blog.gardenloversclub.com