Top 34 Clever Hacks and Products for Your Small Kitchen

For most of people who live in a small house, you must have realized that kitchen with small dimensions always seems crowded and messy. What can you do? Don't let a tiny space get you down. Instead of looking for a new and big places to live, you just have to be creative and make your kitchen work for you. You need a few fresh ideas to arrange your all cooking tools, store dishes and cutlery and simplify your cooking tasks. Is it possible in a small kitchen? The answer is "Sure". Because we've gathered up a lot of  crazy hacks, easy DIY projects and cheap products for improving your kitchen. These genius hacks will make you love to stay at kitchen and finish your delicious food. Take a look and have fun!
1. Roll-up drain rack cleverly uses available space on your sink.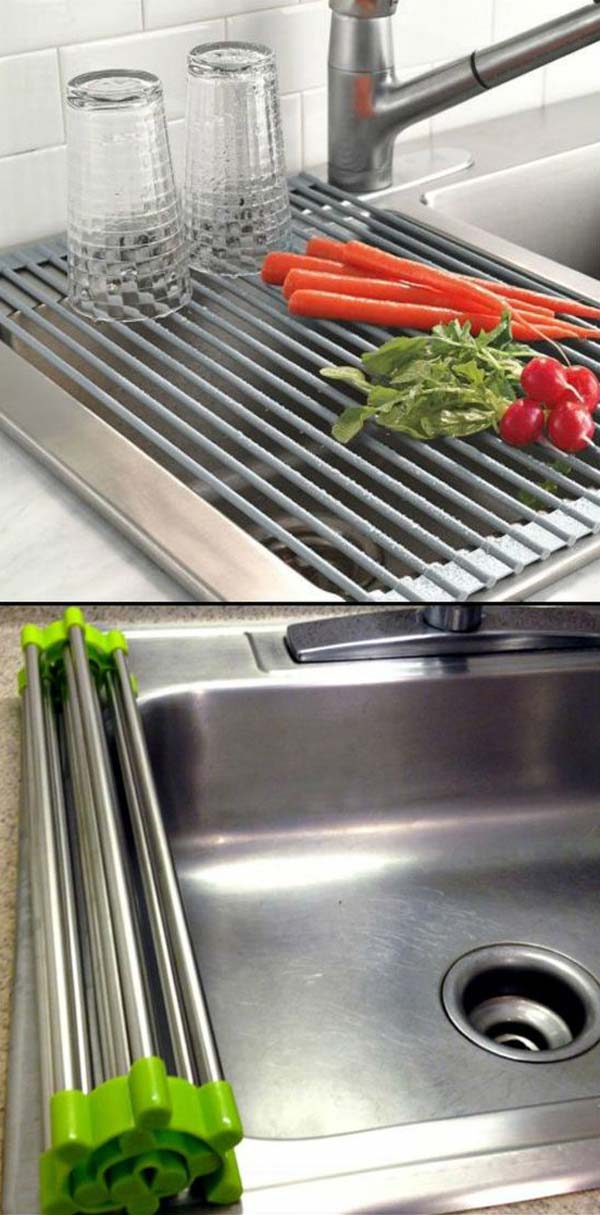 Source: centophobe.com
2. Plastic shoe holder as pantry storage.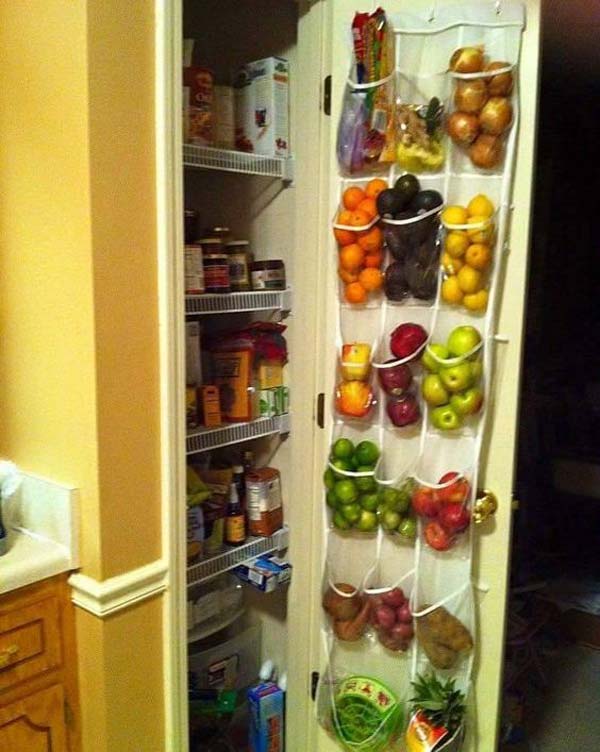 Source: pinterest.com
3. Dish drying closet is a non-electric appliance to dry your kitchen dishes.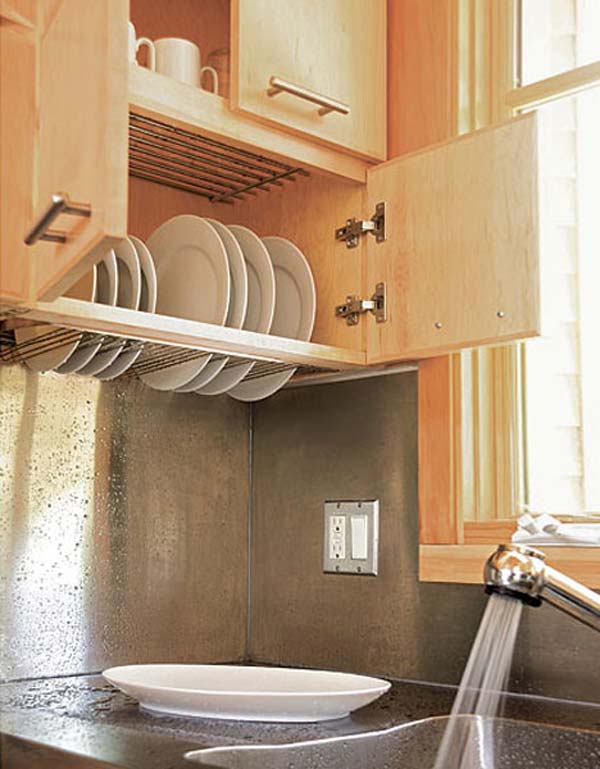 Source: dornob.com
4. Label the front of the drawers with paint for easy access.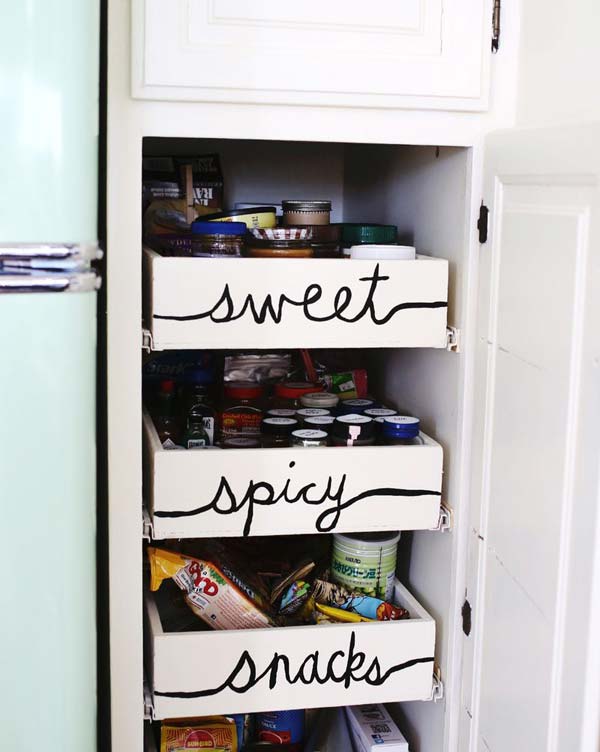 Source: abeautifulmess.com
5. Turn your any pots into a safe food container with these stretchable food covers.

Get it here: amazon.com
6. Create a trash bag roll under your kitchen sink.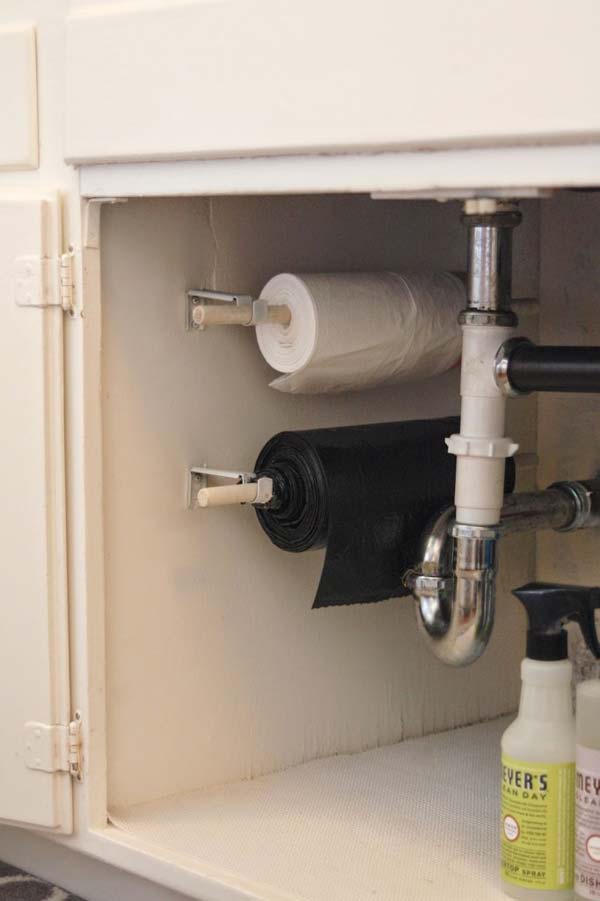 Get tutorial here ====> simplyorganized.me
7. Unlike many traditional pegboard, here's wall grid system can fit all different kinds of storage attachments.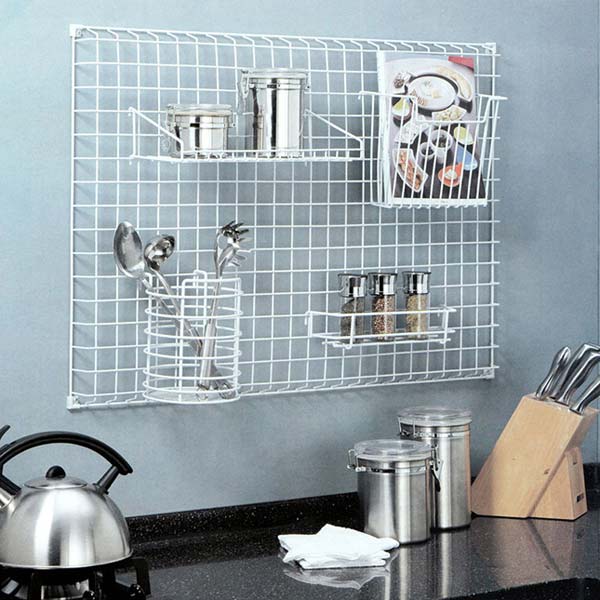 Source: brit.co
8. Install an appliance lift inside of the cabinet to get less heavy lifting.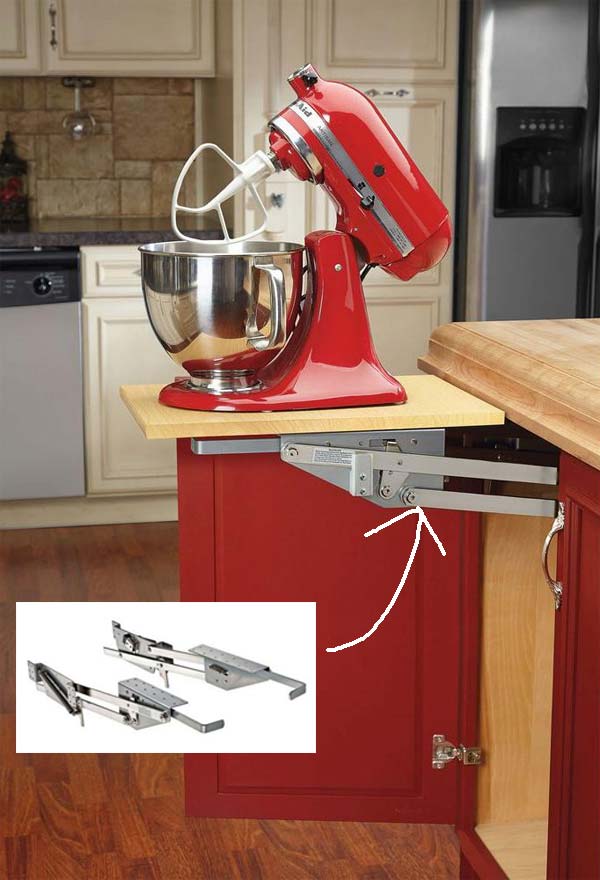 Get it here: homedepot.com
9. This space-saving beverage dispenser will help you easily access to your favorite drink.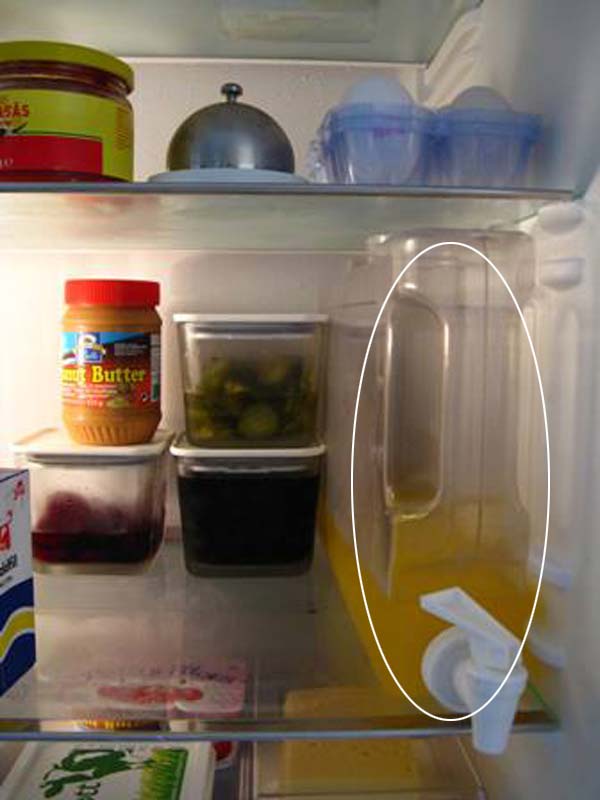 Source: chezlarsson.com    Get it here: amazon.com
10. Install a wire rack on the inside of cabinet door to store your cutting boards and baking sheets. In order to prevent the boards from slipping out, you just tie a few zip ties on the bottom of rack.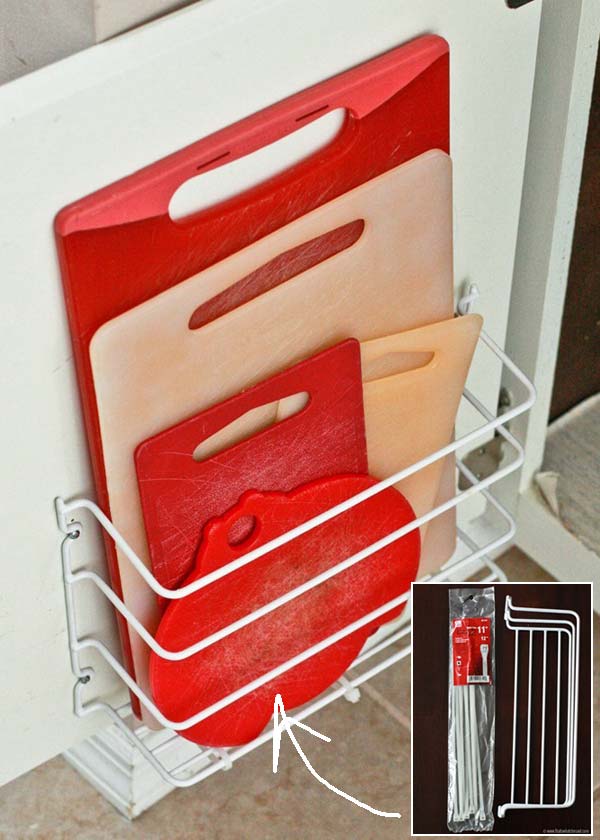 Get Tutorial here ====> thatswhatchesaid.net
11. Organize all measuring cups on the inside of your cabinet door.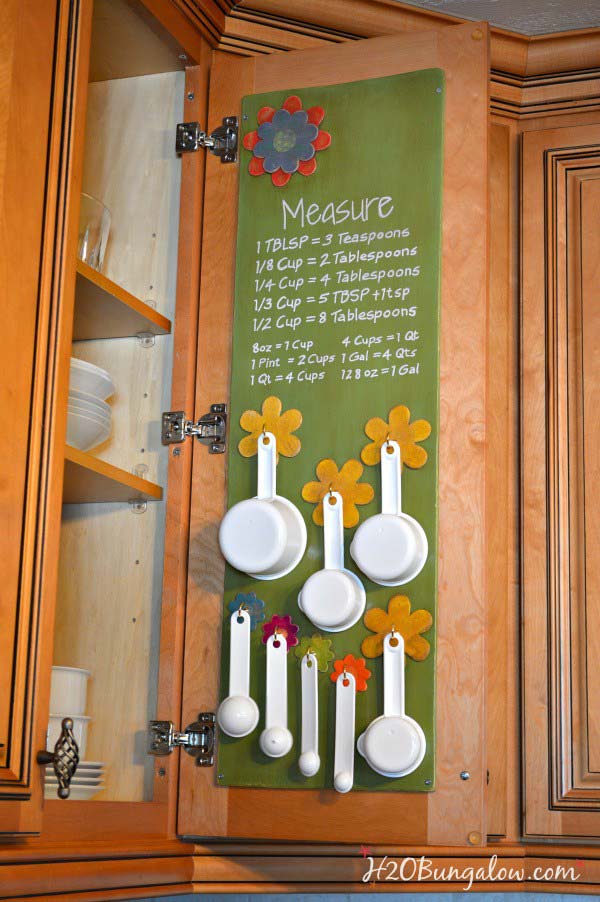 Get tutorial here ====> h2obungalow.com
12. Install some grippers on the inside of cabinet door to keep your spice jars.

Get it here: amazon.com
13. DIY a dish draining basket over the sink.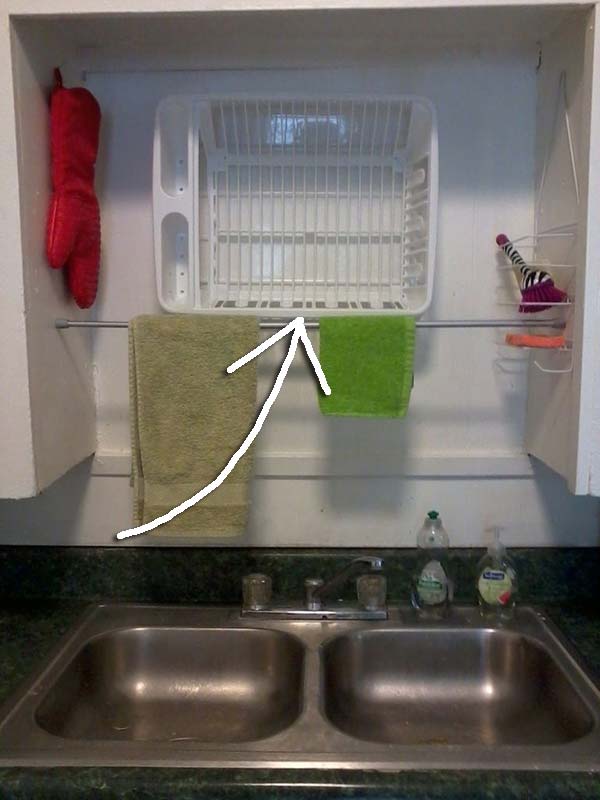 Get tutorial here ====> instructables.com
14. Hang a IKEA grundtal pot rack from your ceiling.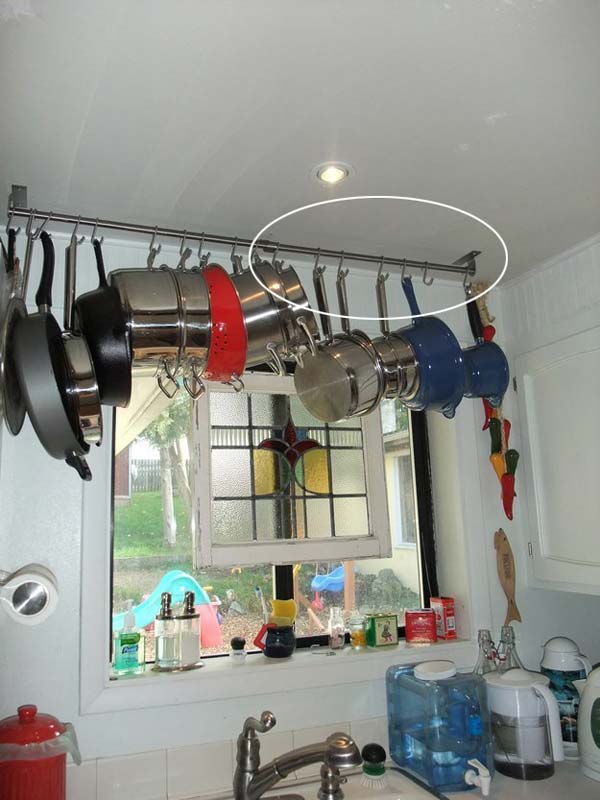 Source: ikeahackers.net
15. Use every inch space of kitchen including these small drawers in front of the sink.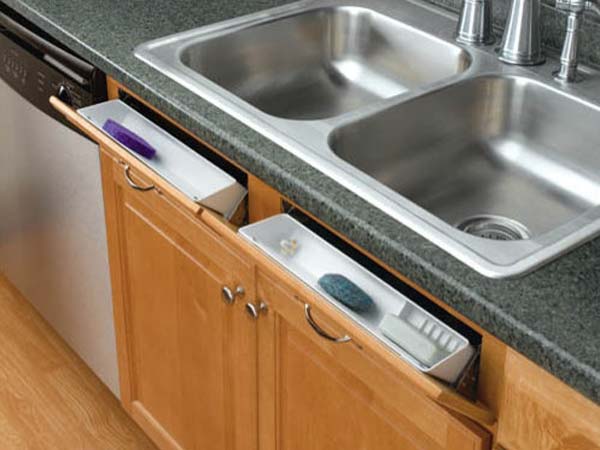 Source: houzz.com
16. Keep your refrigerator shelves clean with wax paper.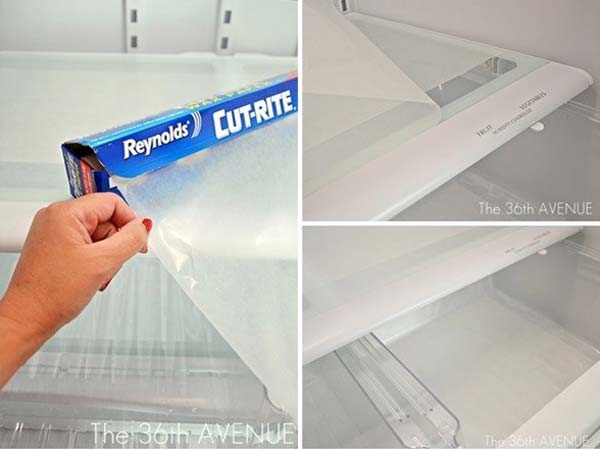 Source: the36thavenue.com
17. This little rack is perfect for storaging those tupperware lids, cookie sheets and plates.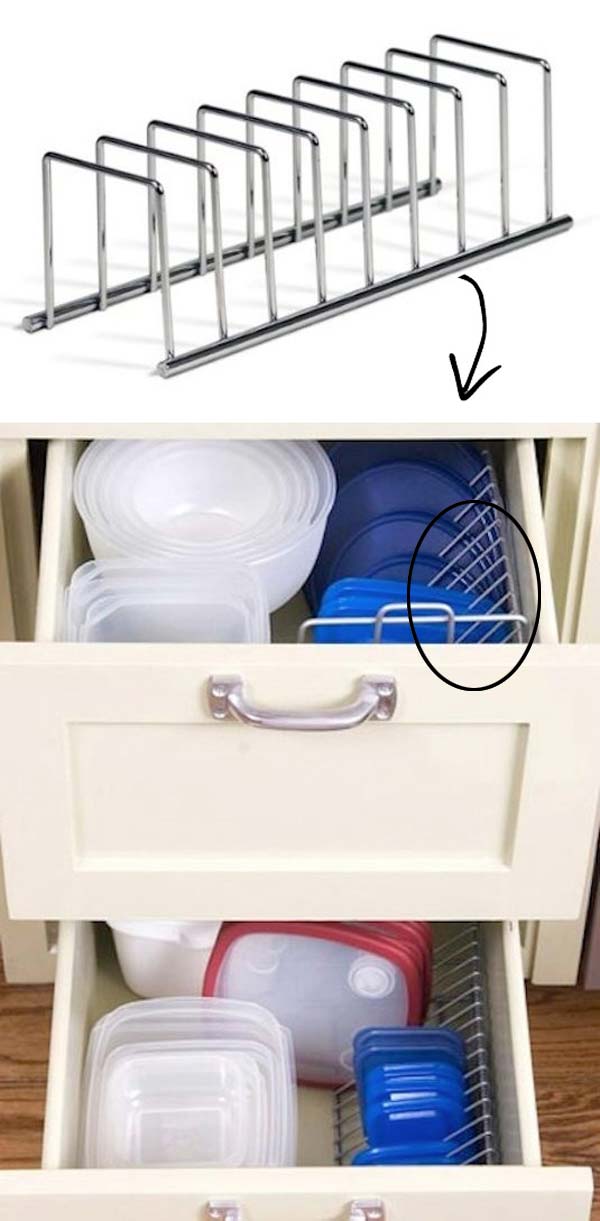 Source: amazon.com
18. Build a pull-out counter space.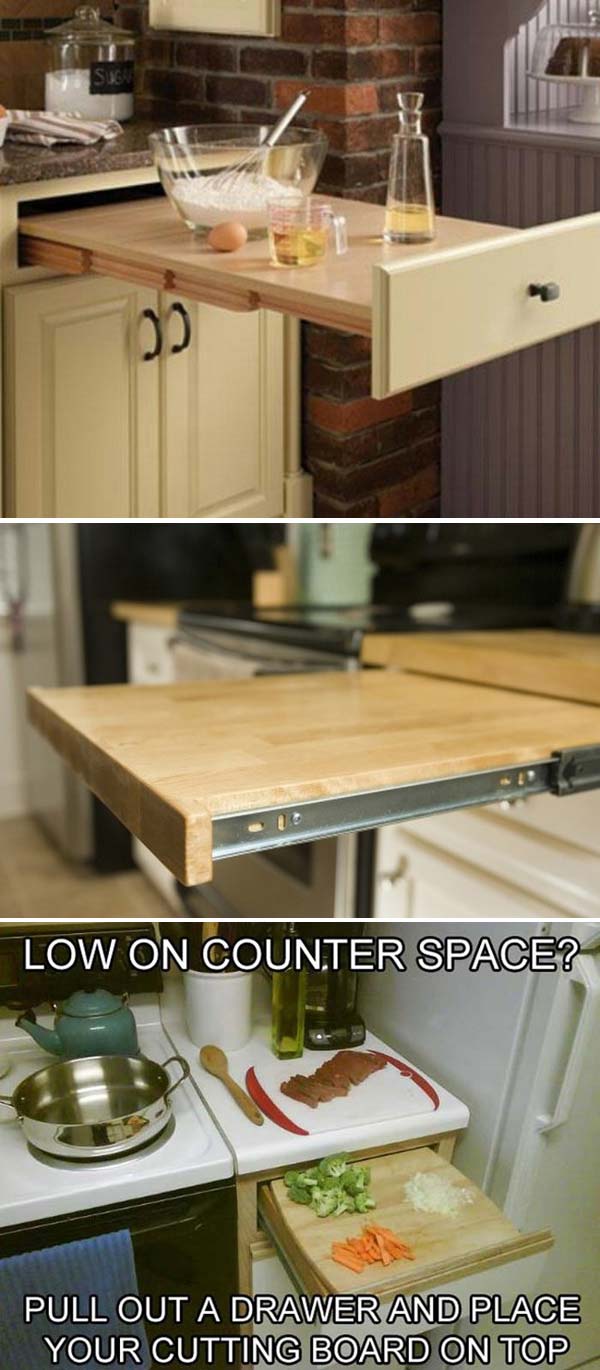 Source: kokopelia.pl
19. So cool book knife block.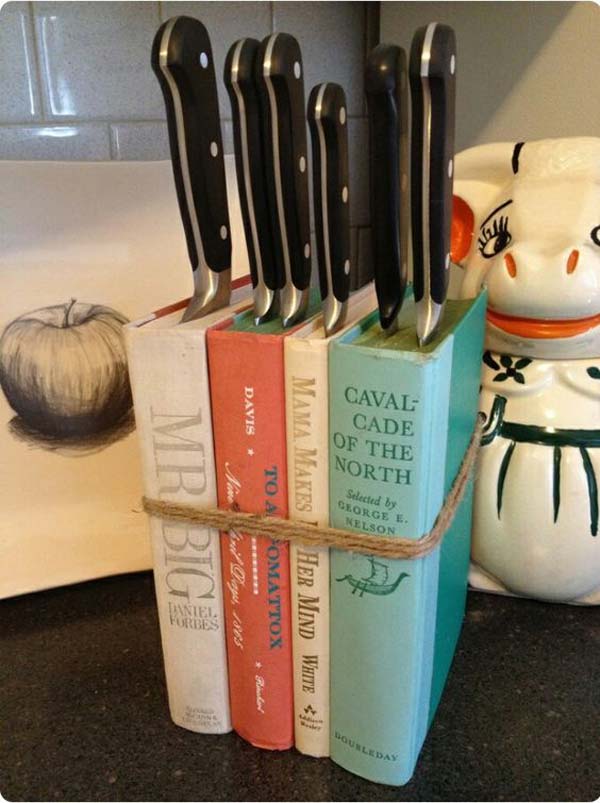 Source: theownerbuildernetwork.co
20. Use two tension rods to hold cheap wire baskets under sink for easy access to small kitchen items.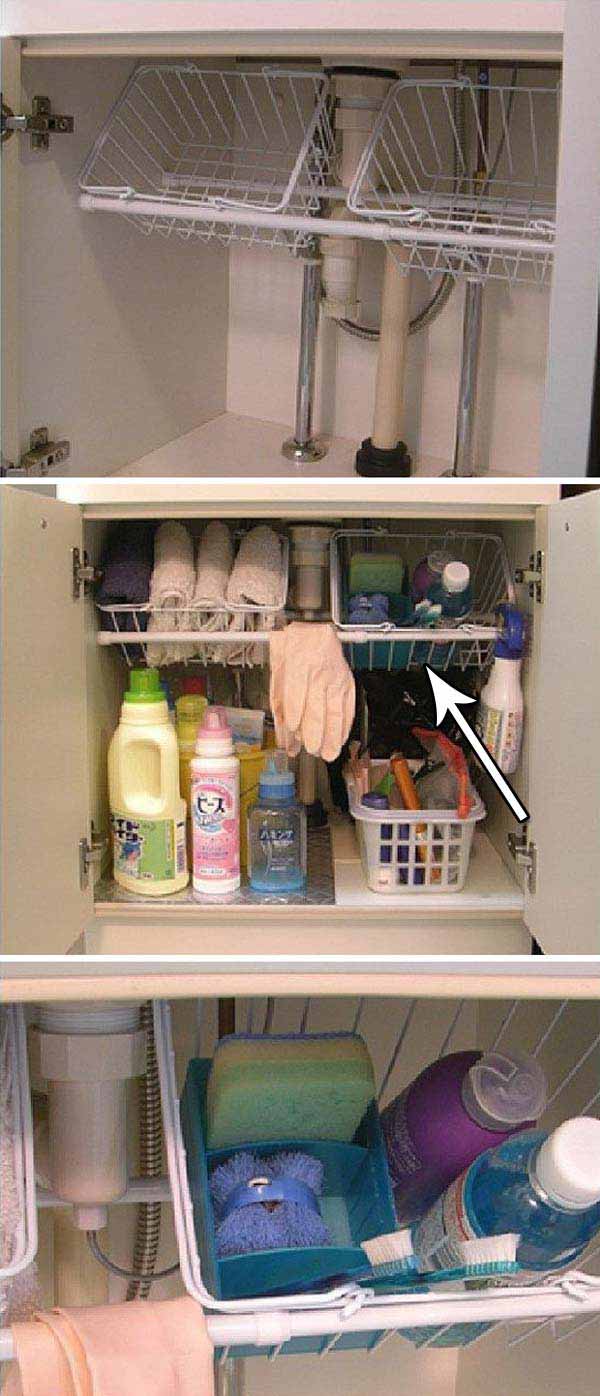 Source: rakuten.co.jp
21. Put all your spice jars in an old CocaCola box.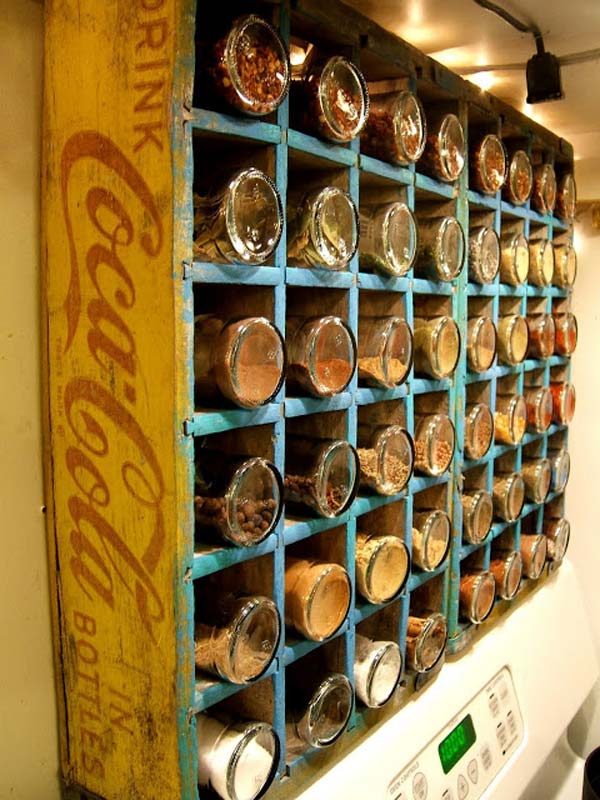 Source: ninered.blogspot.ro
22. Use A few sets of hooks to store your baking tools.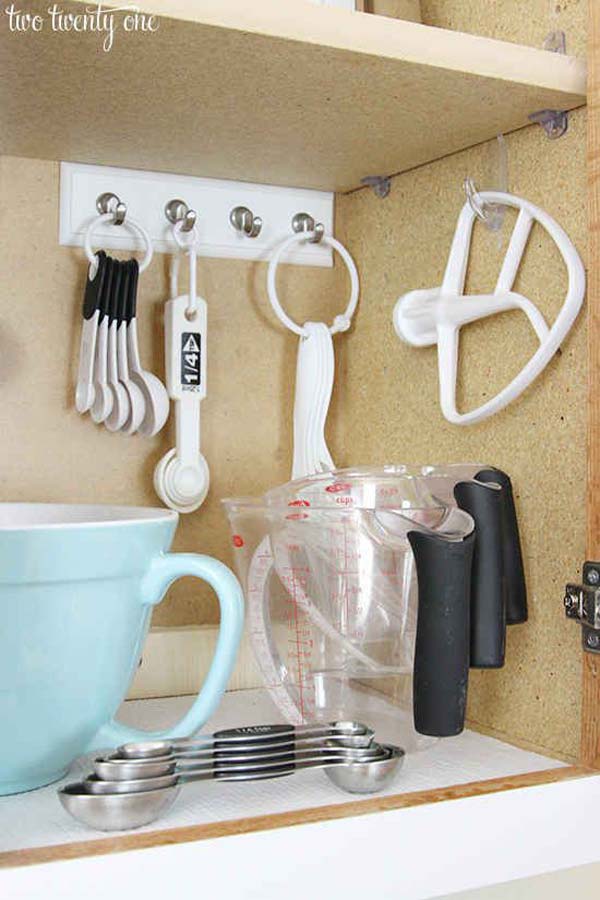 Source: twotwentyone.net
23. Declutter your kitchen counter with this shelf and little rod which holds utensils.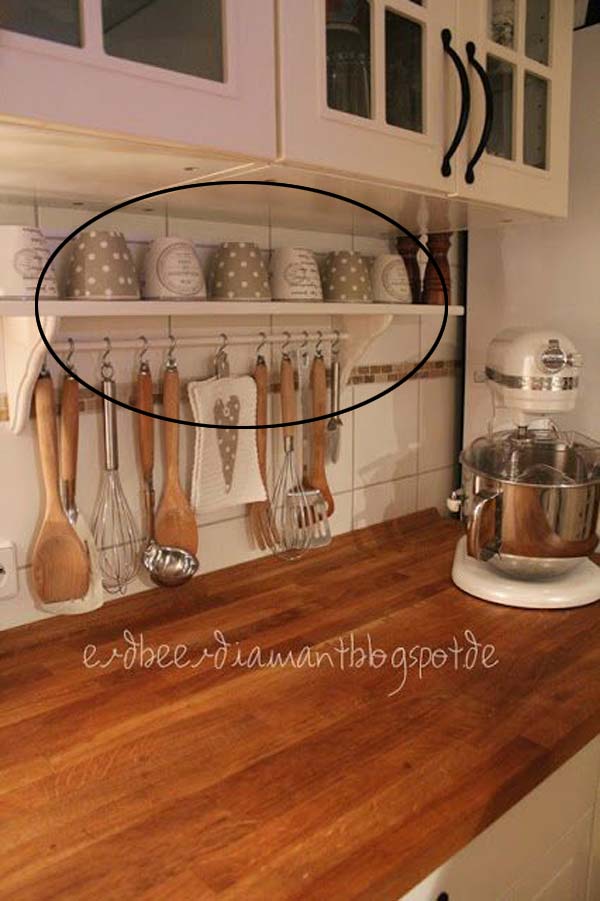 Get tutorial here ====> erdbeerdiamant.blogspot.co.uk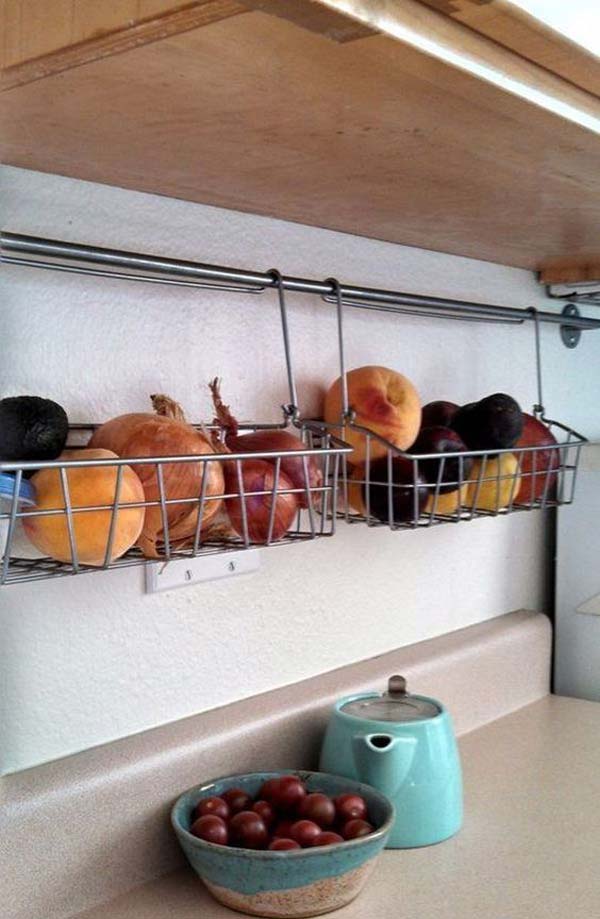 24. Store grocery bags in a lysol wipes container to keep them neat and organized.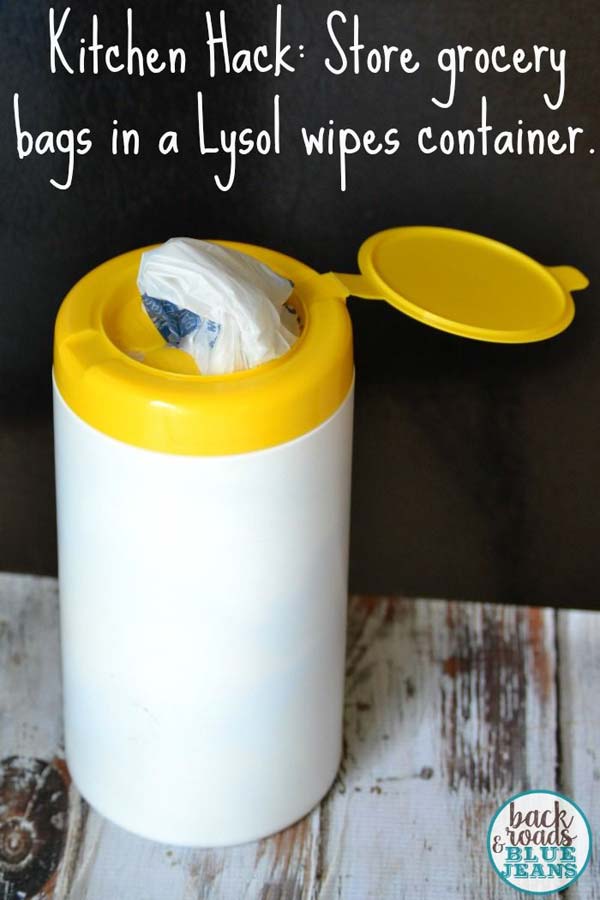 Source: gluesticksgumdrops.com
25. Install IKEA rails under a shelf to store cutting boards.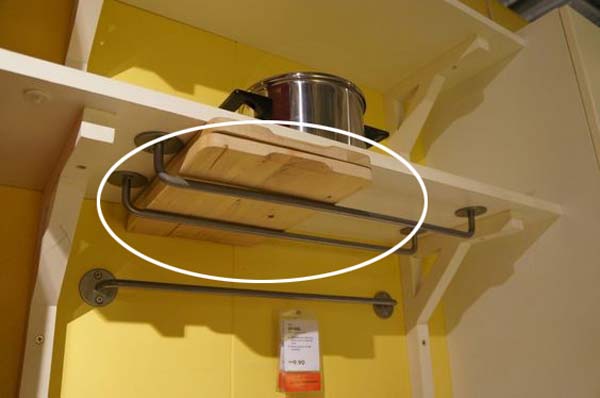 Source: ikeahackers.net
26. Make a deep drawer for silverware storage.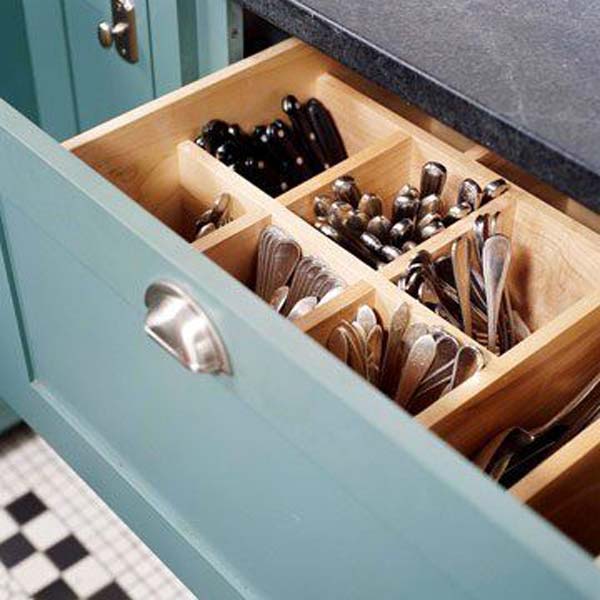 27. Put a narrow cabinet in to store cleaning supplies.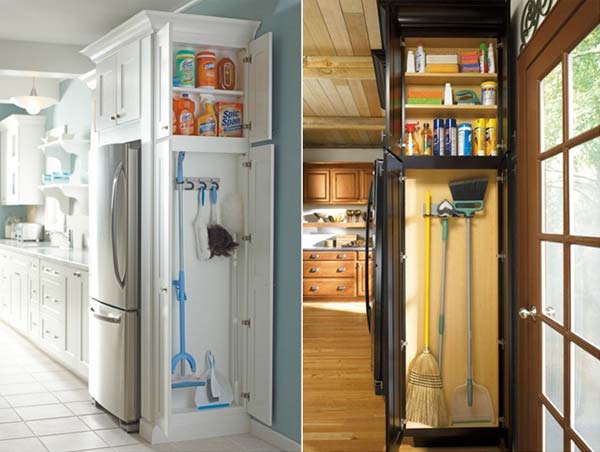 Source: berylmart.com
28. Save your counter space with this 3 tier black iron fruit basket or shower caddy produce rack.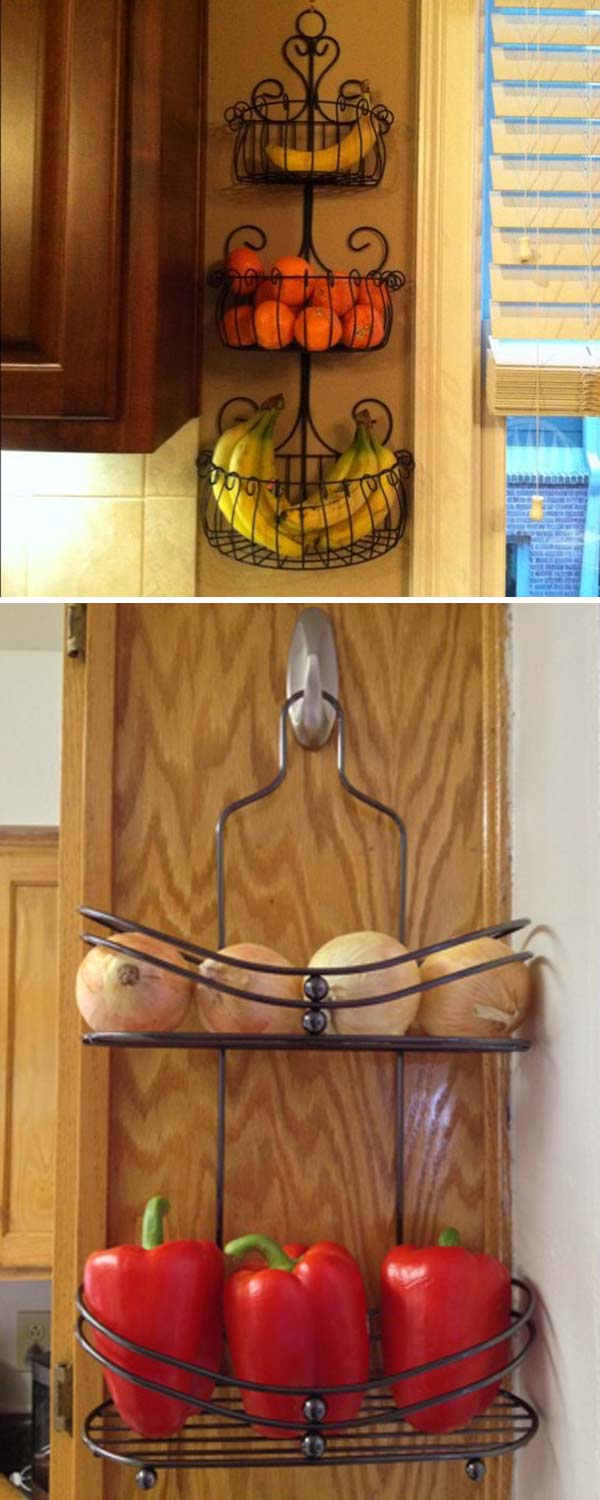 Source: amazon.com    Source: domesticdivadomain.blogspot.co.uk
29. Creative way to hang your pots and pans.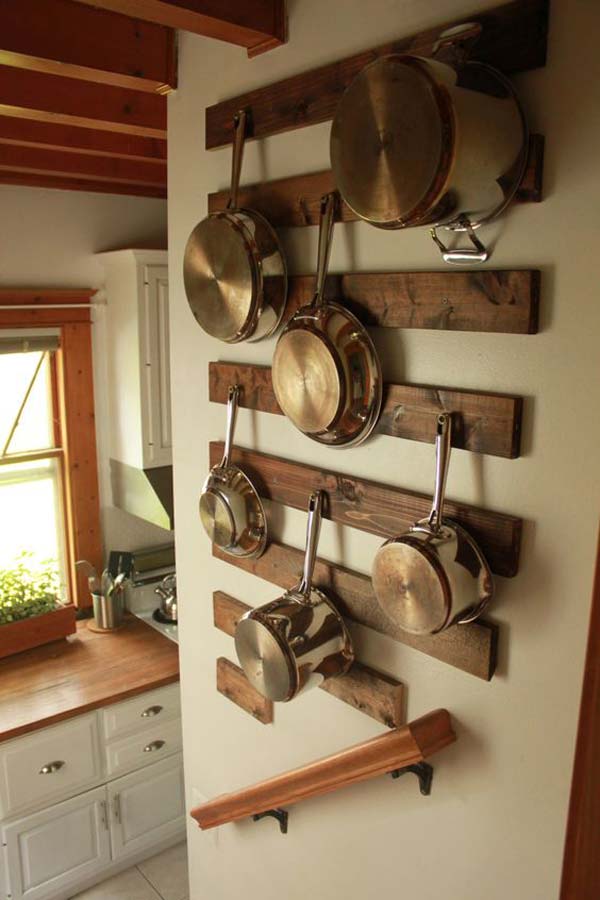 Source: ilovepalets.com
30. Use these simple hooks to store lids for easy access.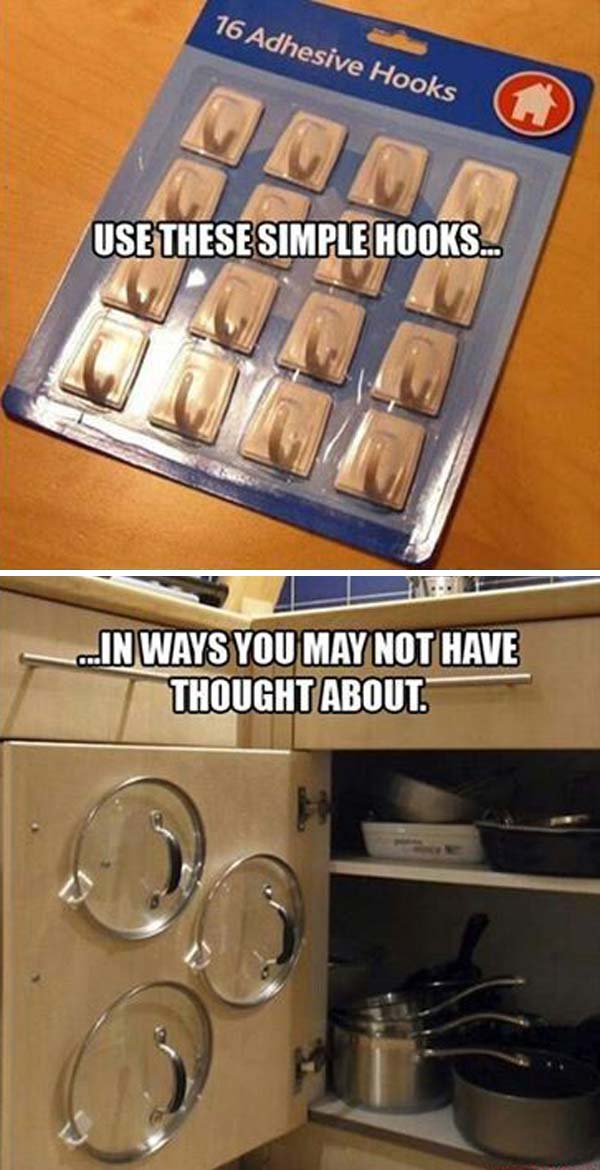 Source Unknown.
31. A hidden knife block on your counter is a smart storage hack.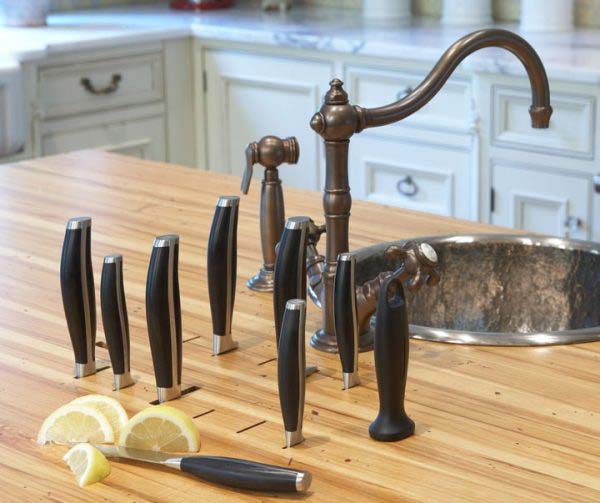 Source: modernize.com
32. Use command hooks to keep the grocery bag in place.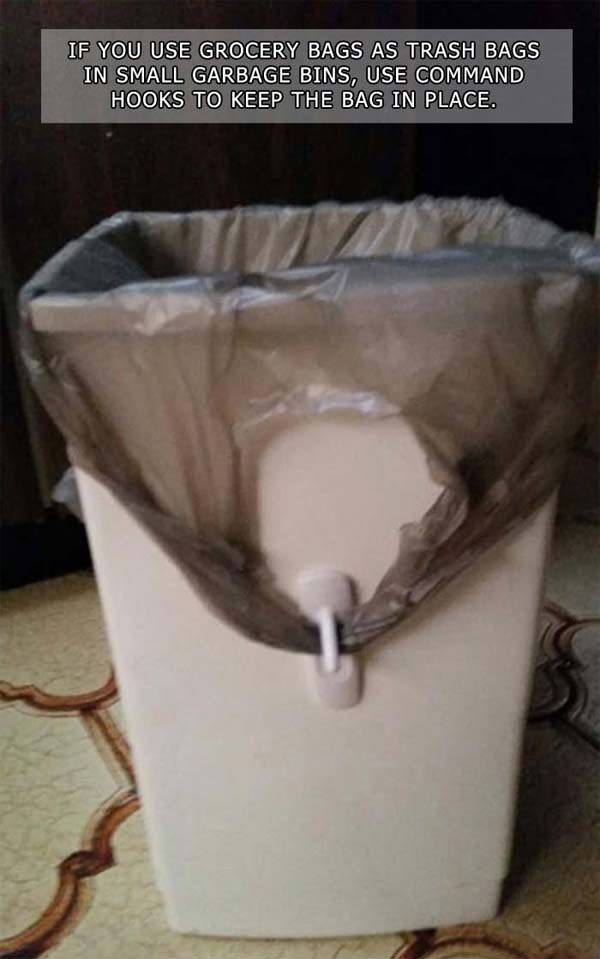 33. Clean your kitchen blinds with this tongs hack, brilliant!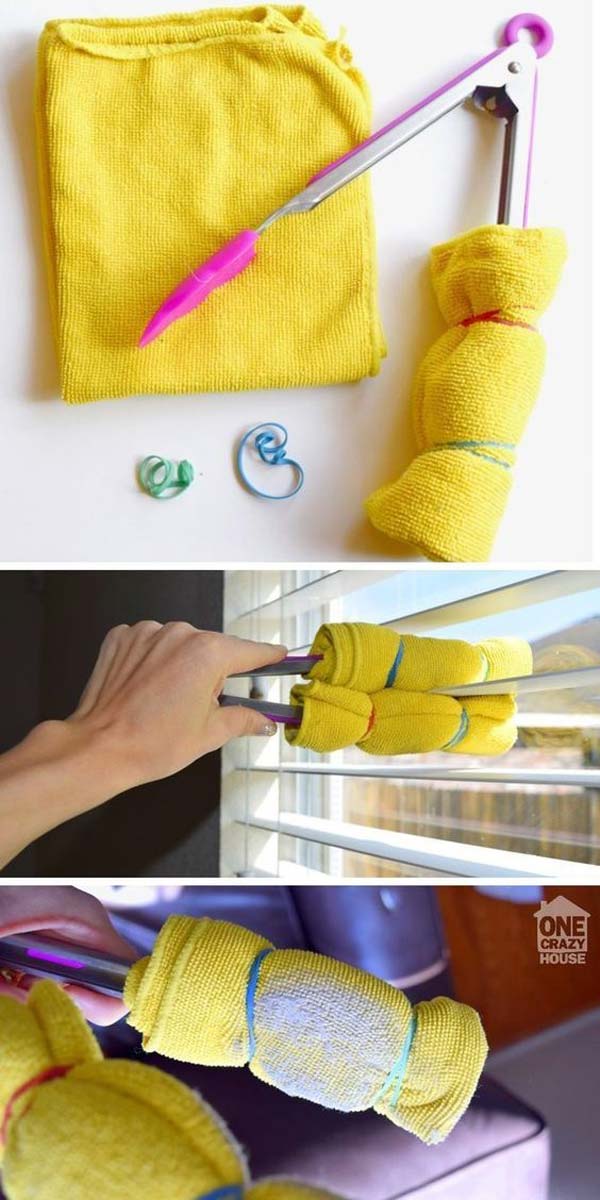 Get tutorial here ====> onecrazyhouse.com