15 Cool Home Decorating Ideas with Spanish Tiles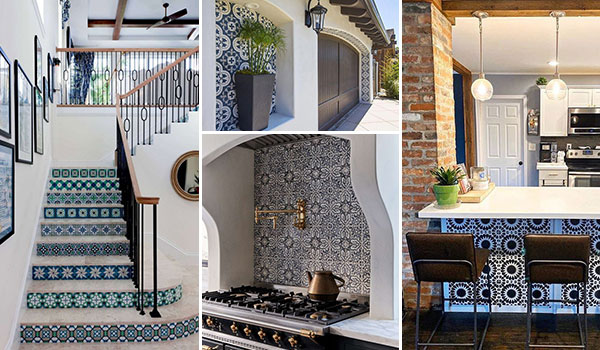 Don't you get bored of looking at the same things everyday? Plain walls, floors and furniture. Yes they are in your favorite color but staring at them for 3 years can make them look dull and ordinary. Do a random check of your rooms – each corner, wall, floor and furniture. Is there an old furniture you can restore to life?
A corner which can be improved with a vibrant accent or an old patio which needs cheering up? Today, we will give you several inspirations on how to restore life into your room and furniture by simply using Spanish Tiles! This material is so versatile, it can be used from floor to ceiling. From casual Spanish style to the more bold and beautiful bohemian patterns. The elaborate designs and brilliant colors of these tiles can last you a lifetime. Known to be extremely durable, their designs and colors are timeless.
Explore these best 15 stylish Spanish tile design ideas:
What Is Spanish Tile?
Spanish tile boasts traditional designs crafted by artisans over centuries. It showcases multicultural influences from Spanish, Portuguese, and Moroccan designs, resulting in a unique appearance.
Design
Traditional patterns feature arabesque details, crosses, and nature-inspired elements like flowers and leaves. Modern Spanish tiles blend traditional motifs with contemporary styles. Black and white Spanish tiles are a trendy choice.
Material
Traditionally crafted from natural materials like ceramic and terracotta, Spanish tiles are known for their colorful gleam. Modern options include Spanish porcelain tiles.
Installation
Handle Spanish tiles with care during installation, as they can break if dropped. We recommend purchasing extra tiles for any potential mistakes during your renovation.
Where to Install Spanish Tiles
Spanish Tile Backsplash: Create a Mediterranean ambiance with stylish and practical Spanish ceramic tiles for easy cleaning and durability.
Spanish Tile Floor: Transform your space with durable Spanish terracotta tiles, perfect for a hacienda-style paradise.
Spanish Tile Bathroom: Versatile Spanish tiles offer options for both cool-toned and earthy bathroom designs.
Spanish Tile Fireplace: Upgrade your living room with a chic Spanish tile fireplace, using heat-resistant ceramic, terracotta, or porcelain tiles.
Spanish Pool Tile: Consider Spanish pool tiles for a Mediterranean garden, using sealed ceramic, terracotta, or porcelain tiles, but avoid a glossy finish for safety.
1. Patio Floor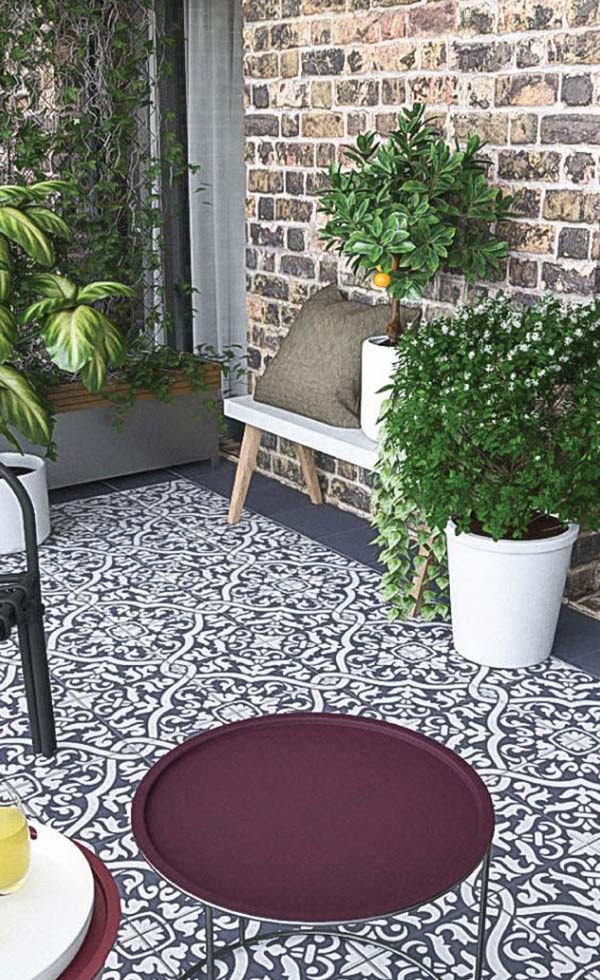 via: stencilslab.com
Floors can be used to showcase a design. A mural on the floor. This chic Black and White design achieves that purpose.
2. Kitchen Spanish Tile Floor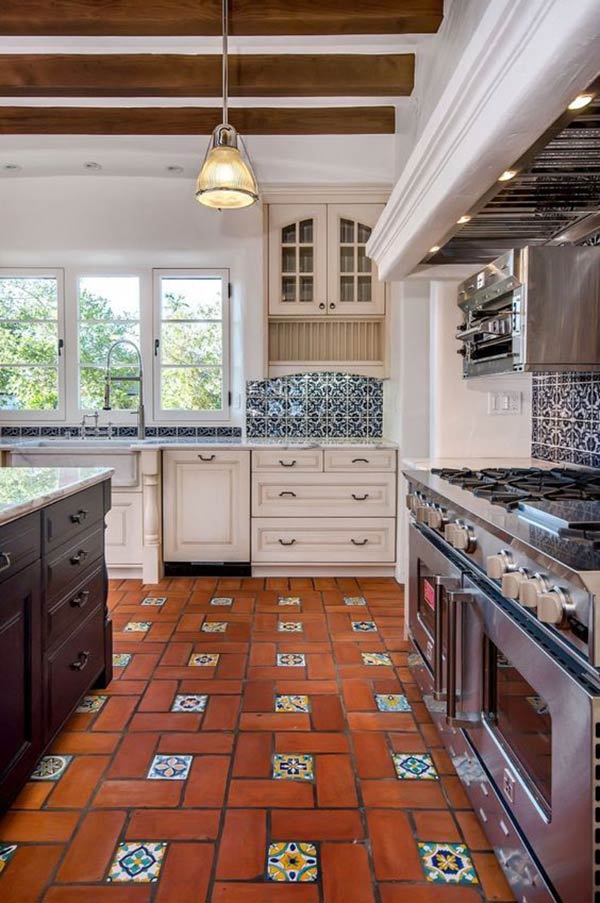 Spanish revival all around. Terra cotta glazed brick flooring with Talavera tile accents in different designs for charm. The black and white backsplashes complete the style.
3. Kitchen Island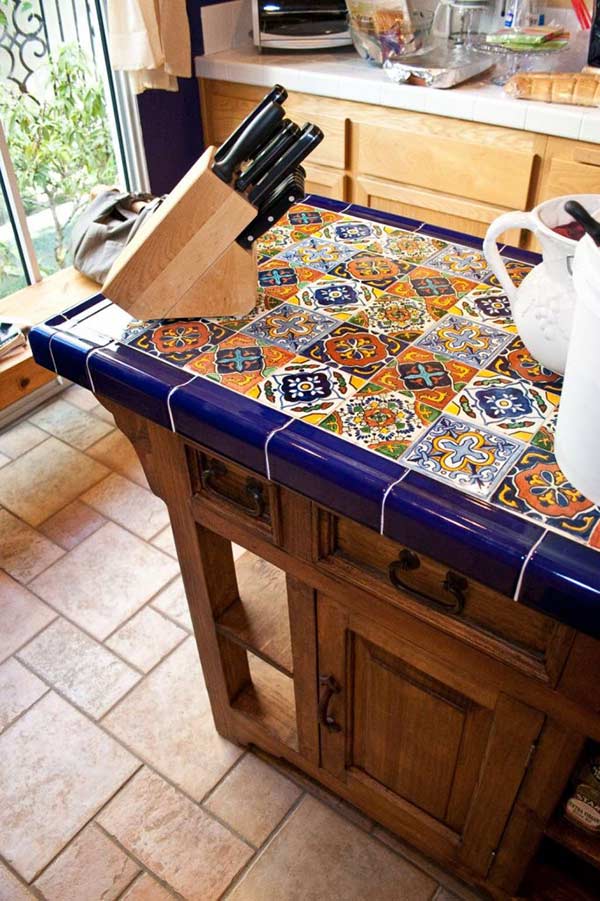 via: flickr.com
Are you party ready? This counter top is. The country-style colors and design give a homey feel inspiring great cooking. Plus, serves as a durable top for all those disaster spillages.
4. Bathroom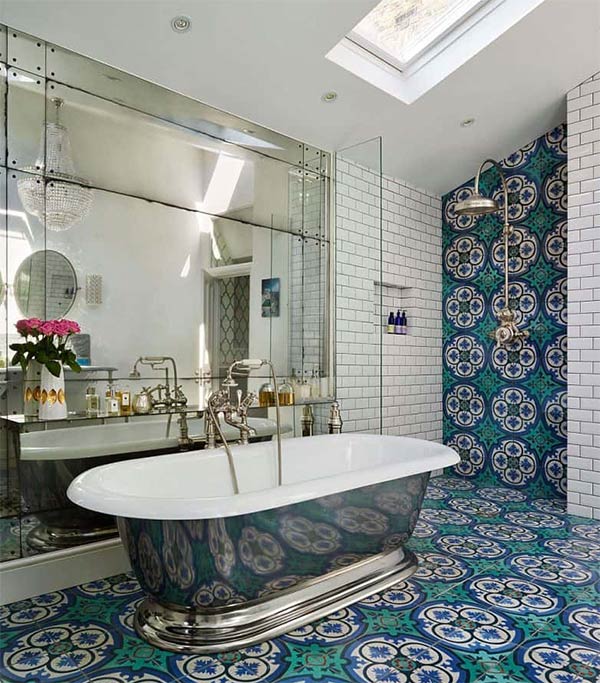 Don't you get a Moroccan feel in this Spanish tile design and color? Elegant and exotic.
5. Staircase Riser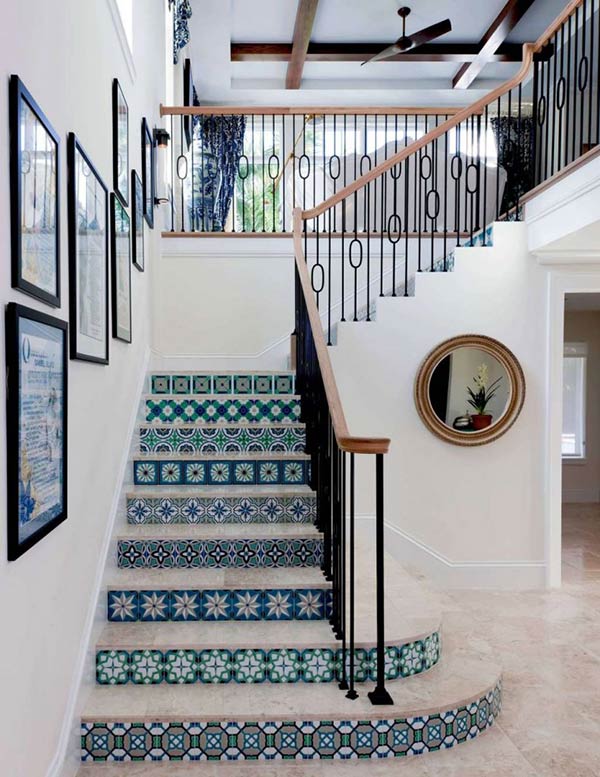 The blue and white colors and patterns exude calm and freshness., giving one an ambience of the ocean.
6. Kitchen Sidetable
via: pinterest.com
Off the wall. You can't stop your guests from leaving your conversation every now and then to peep down below.
7. Garage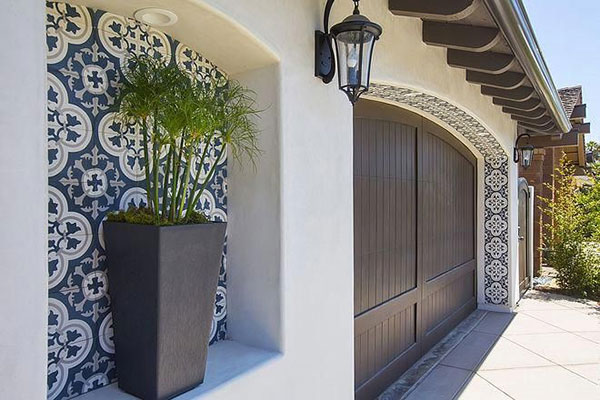 A lot of potential but often overlooked. This ornately designed Spanish tile covers a garage recessed facade and arch giving it a stylish look.
8. Doorway Border & Stair Riser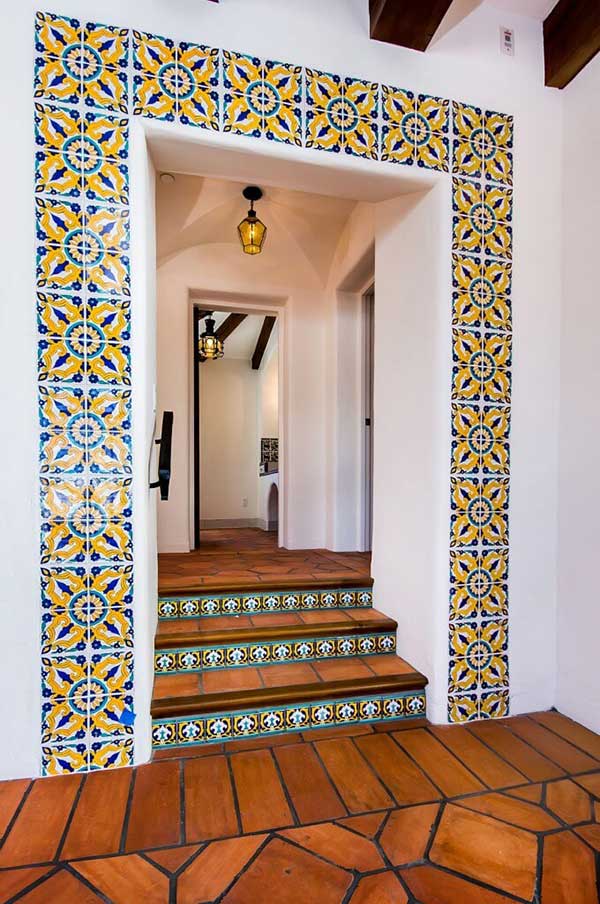 Welcome your guests with this eye-catching pattern. They will surely want to come inside to see more of your home.
9. Stove Spanish Tile Backsplash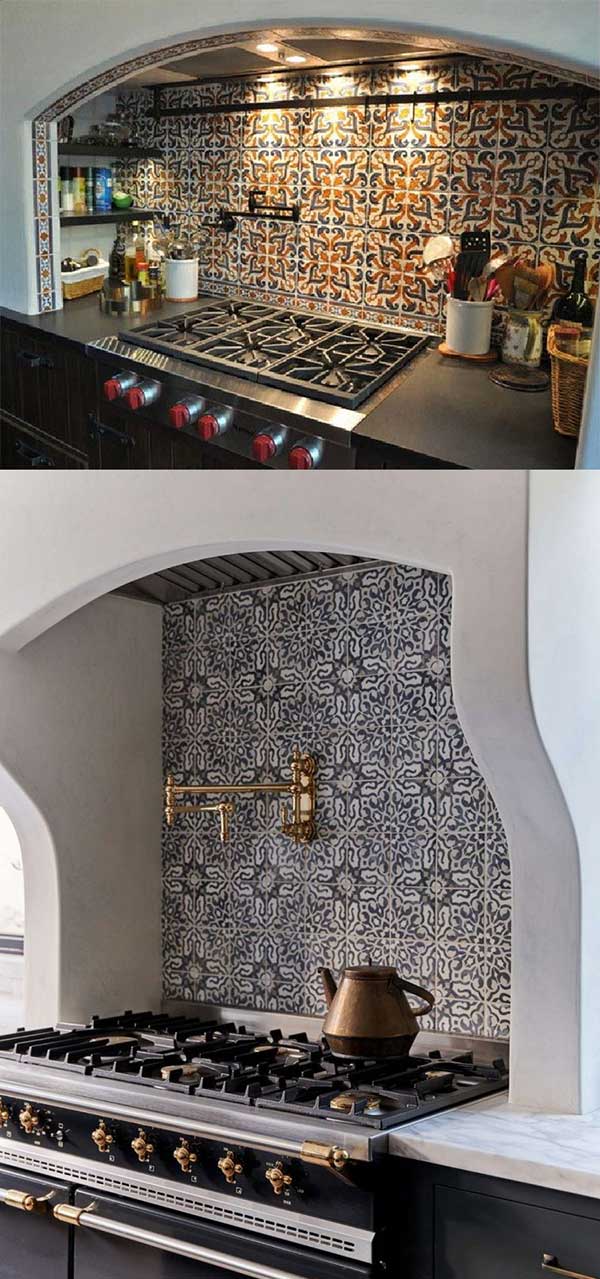 Warm and rustic. A great way to showcase a great design, plus offering a great diversion while cooking. Take note though to choose a splatter proof and heat resistant tile.
10. Patio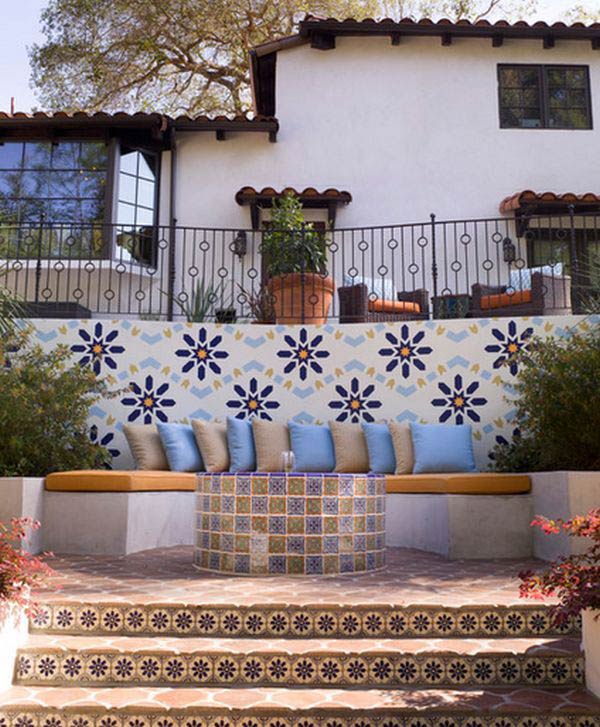 Floor to wall speak Ranchero. The colors and design give an airy atmosphere no matter what season. Easy to care for space too. Find weather-proof tiles.
11. Side Table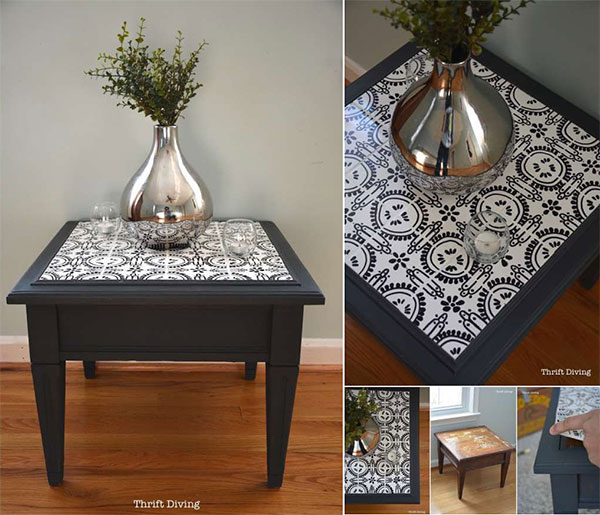 via: thriftdiving.com
Turn an old side table into a classy masterpiece with this classic Spanish tile design.
12. Mirror Border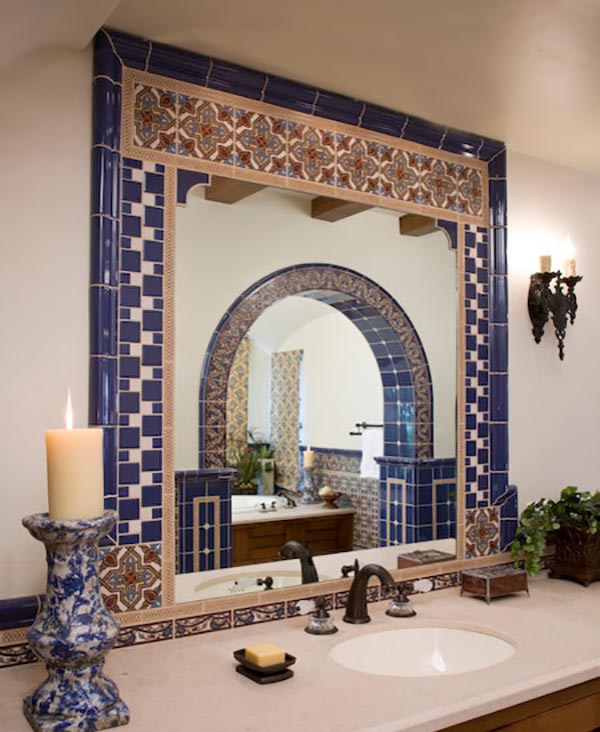 via: houzz.com.au
Dramatic mirror border gives your powder room a classic Old World feel.
13. Kitchen Backsplash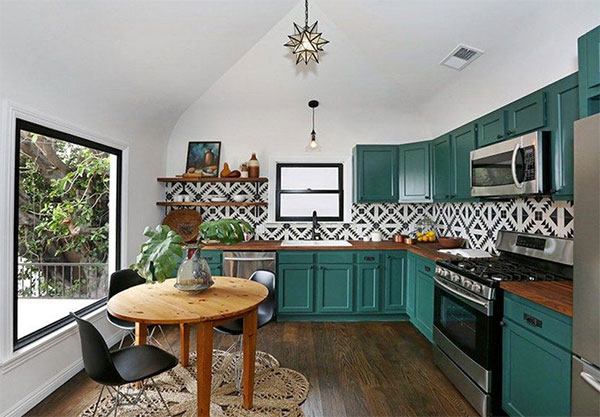 Warmth is what I get from this style and color. Cleverly styled to contrast the white walls and compliment the green shade of the cabinets.
14. Fireplace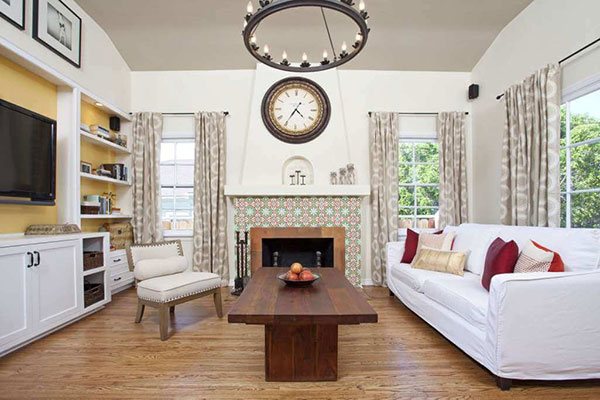 via: hustopia.com
Incorporating Spanish tile into your living room's design, this fireplace will surely provide a warm and dramatic glow at night, creating a cozy ambiance.
By day, it becomes a cheerful centerpiece, adding a touch of natural elegance to the room.
15. Sink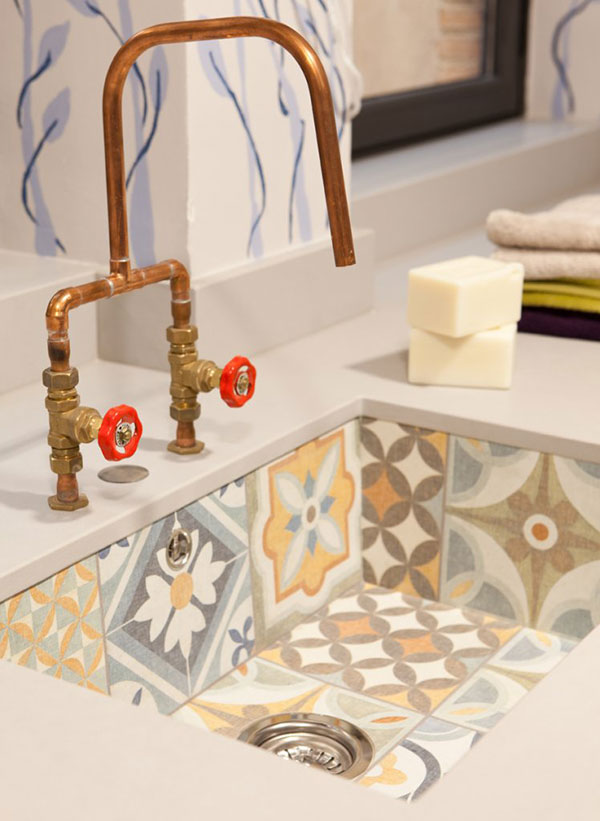 A beautiful alternative to the all white sink tub. The brass faucet fixture ties the look.