DIY Pool-Side Pallet Projects for Perfect Summer Entertaining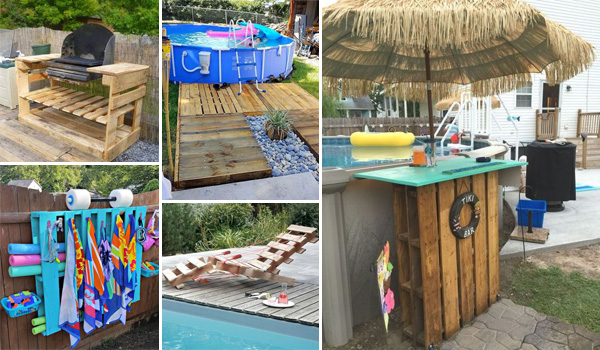 Having a backyard swimming pool, whether it is big or small, can make a home the perfect retreat, especially during summer days. If you happen to have a pool in your home, then you must want some poolside projects to provide a sitting area, keep pool noodles or other toys organized, and entertain your guests. These projects do not have to be costly and are easy to do with old wooden pallets. A DIY pallet project is one of the cheapest and easiest to make because pallets can be easily found in local stores and are sometimes given for free. Take a look at the following DIY poolside projects, and I think they will give the area surrounding the swimming pool some flair.
1. Take your pool entertaining to new heights with a backyard pallet pool and tiki bar created using wood pallets: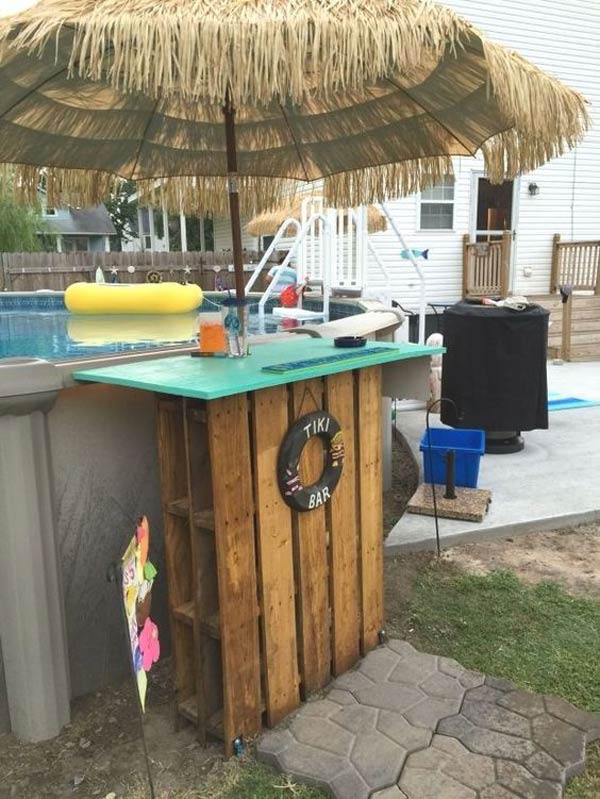 Start by gathering a few wooden pallets and cleaning them up. Sand them down to remove any rough edges, and add a fresh coat of paint to make them look new again. Next, stack the pallets on top of each other and secure them with screws or bolts. Add some shelving space and a countertop using more pallets, and you've got yourself a cool and functional pallet pool bar! It's a great addition to any backyard pool party, and it's an easy and inexpensive project to do. Get creative with your pallet pool ideas and have fun!
2. Build a pallet board to keep your pool toys and cleaning tools in the right place (before hanging it, give it a coat of light-blue paint):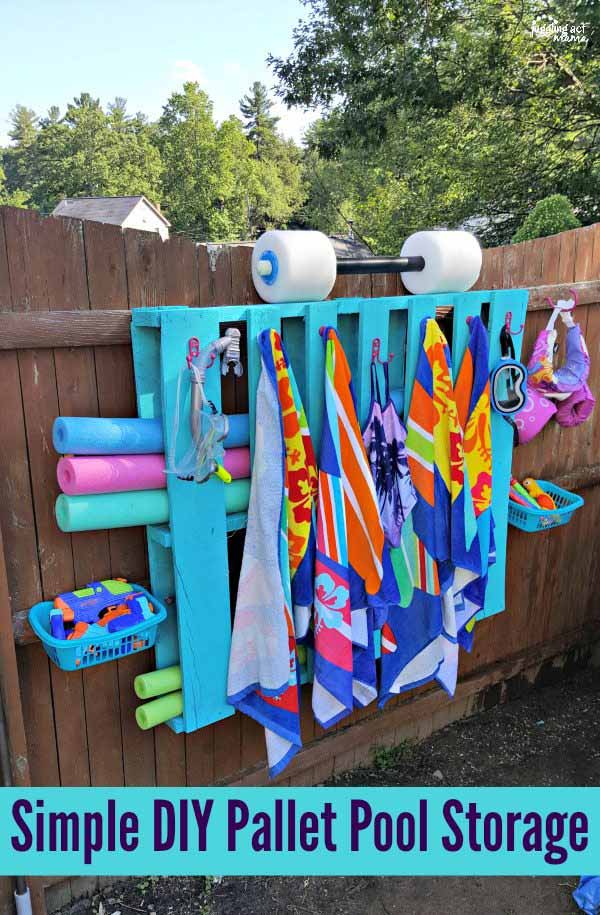 Tutorial: jugglingactmama.com
3. Pallet steps provide a safer entry to your above-ground swimming pool: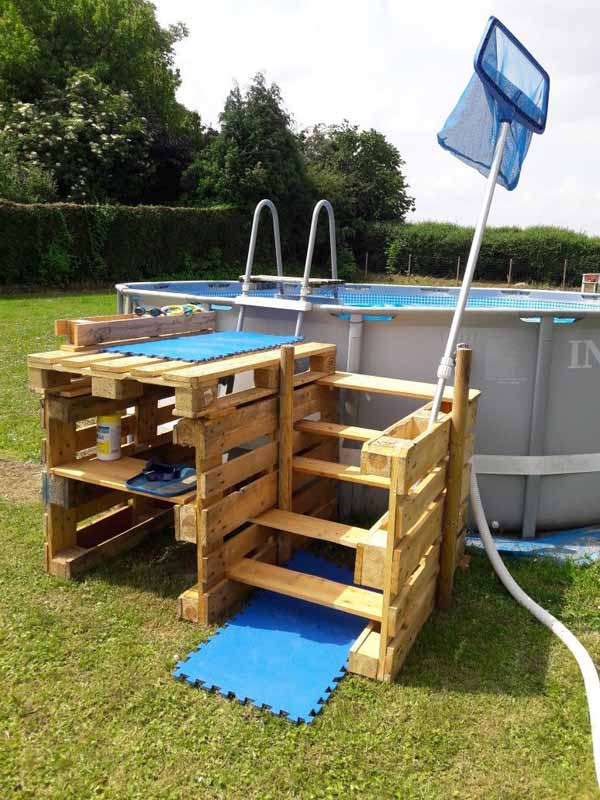 4. A DIY pallet pool deck can be used as a neat walkway to get to your swimming pool: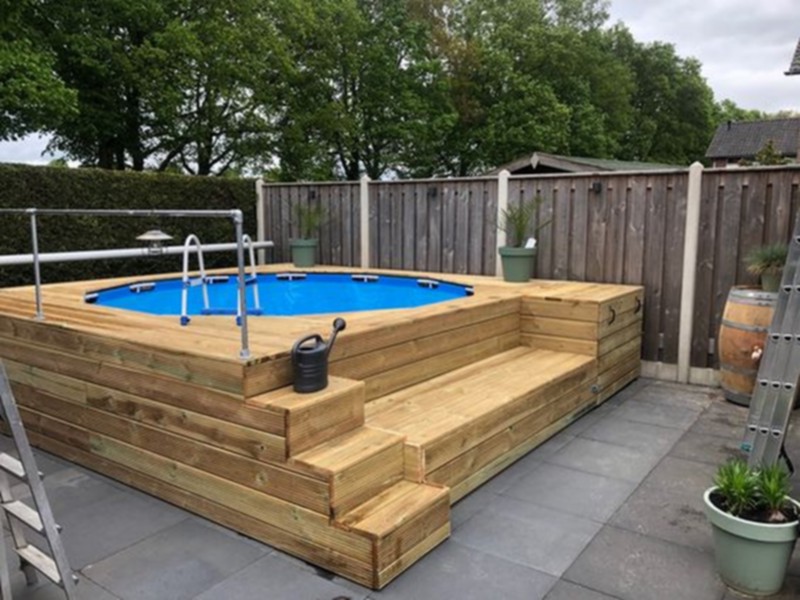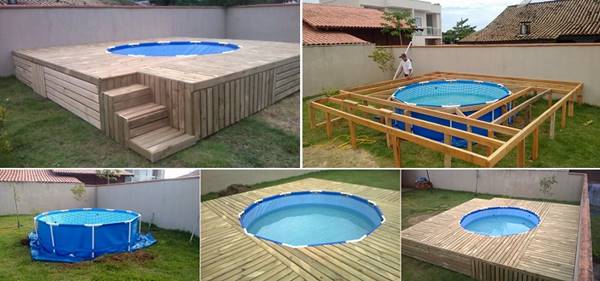 Follow these steps to build your own pallet pool deck for free:
Step 1: Gather Materials
First, you will need to gather your materials. You'll need wooden pallets, concrete blocks or pavers, sandpaper, a drill, screws, and a saw. You may also want to consider purchasing wood stain or paint to finish your deck.
Step 2: Prepare the Area
Before you start building, clear the area where you want to build your deck. Make sure the ground is level and free of any debris. Lay down a layer of sand or gravel to help with drainage.
Step 3: Build the Frame
Begin by building the frame for your deck using the pallets. Lay the pallets out in a rectangle shape, and screw them together at the corners. Use the saw to cut any pallets to the right size. Place the concrete blocks or pavers underneath the corners of the frame to keep it level.
Step 4: Add the Deck Boards
Once you have the frame in place, it's time to add the deck boards. Use the drill to screw the deck boards onto the frame, making sure they are evenly spaced. You can also use sandpaper to smooth out any rough edges.
5. You must need a nice place to hang dry pool towels. Why not turn a pallet into this fun pool towel hanger?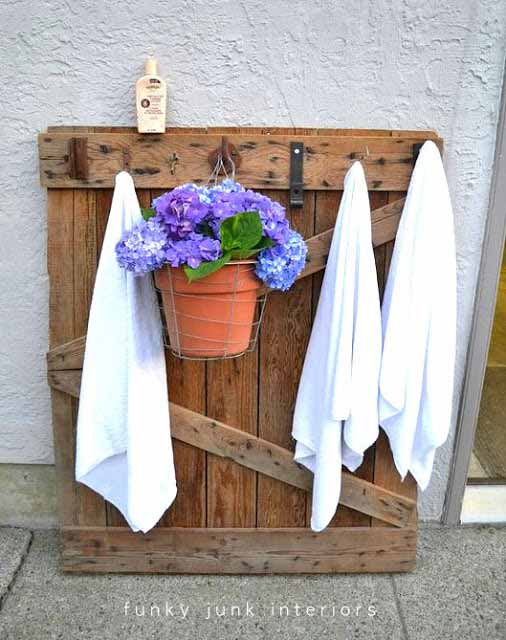 Image via: funkyjunkinteriors.net
6. Place a pair of sun loungers made of wooden pallets beside your swimming pool to enjoy the sunlight: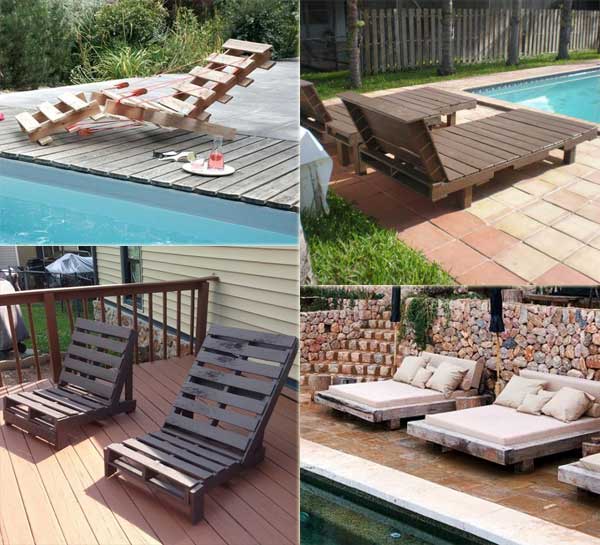 similar project tutorial: instructables.com
7. Especially when you plan to host a pool party with your guests, a BBQ station built from wooden pallets will be a must-have: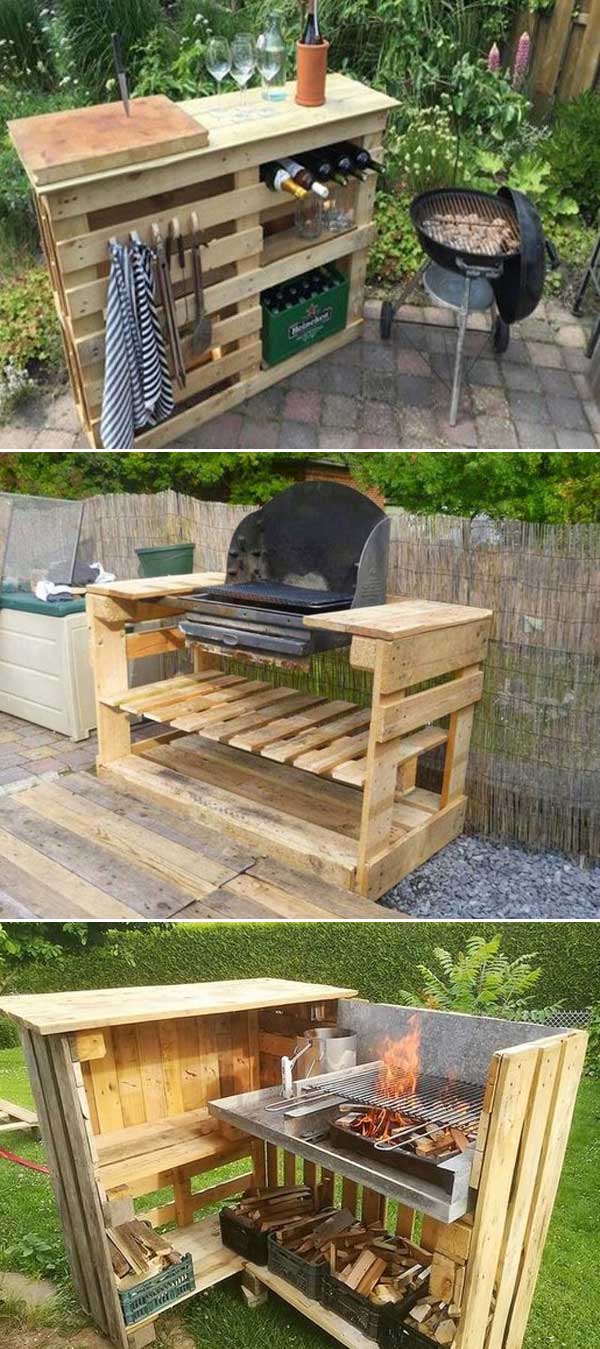 Image via: woodenpalletsideas.com   &   goodshomedesign.com
8. Are you thinking about adding a pallet fire pit to your pool area?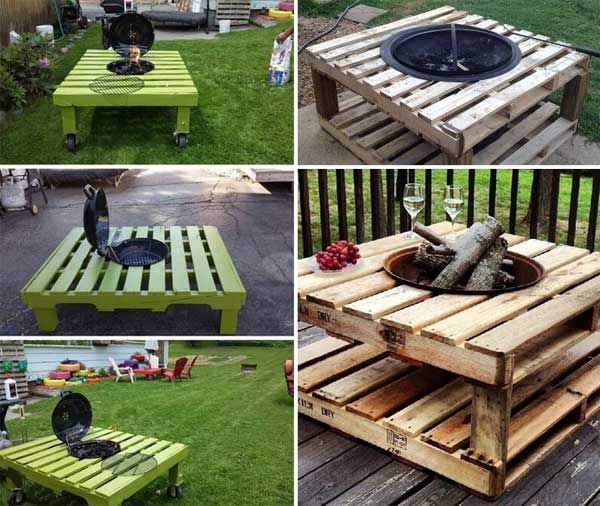 Image via: amazinginteriordesign.com
9. A DIY pallet cooler is a must-have possession for your outdoor pool parties: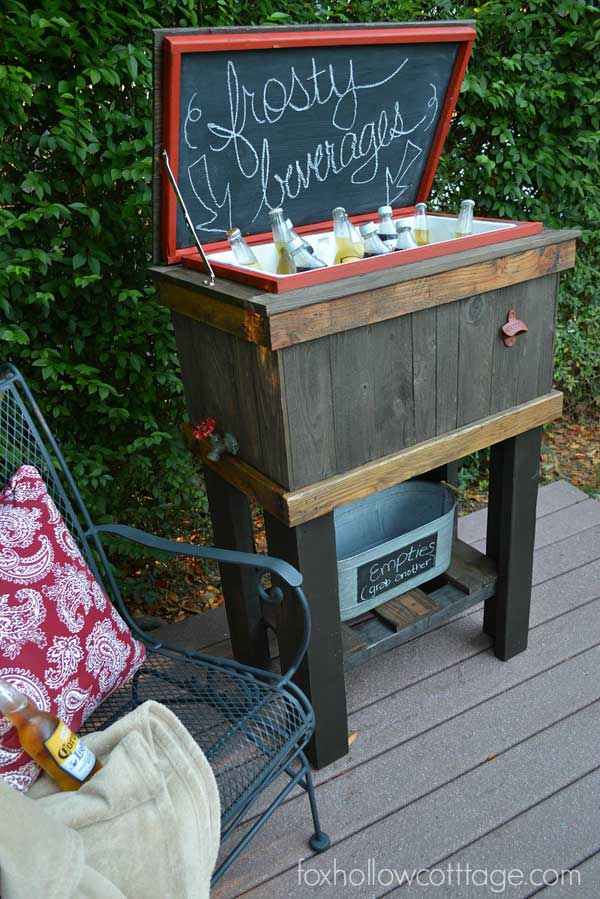 Tutorial: foxhollowcottage.com
10. Want a place near your pool area to enjoy dinner with your friends? A very practical pallet table would be your best choice: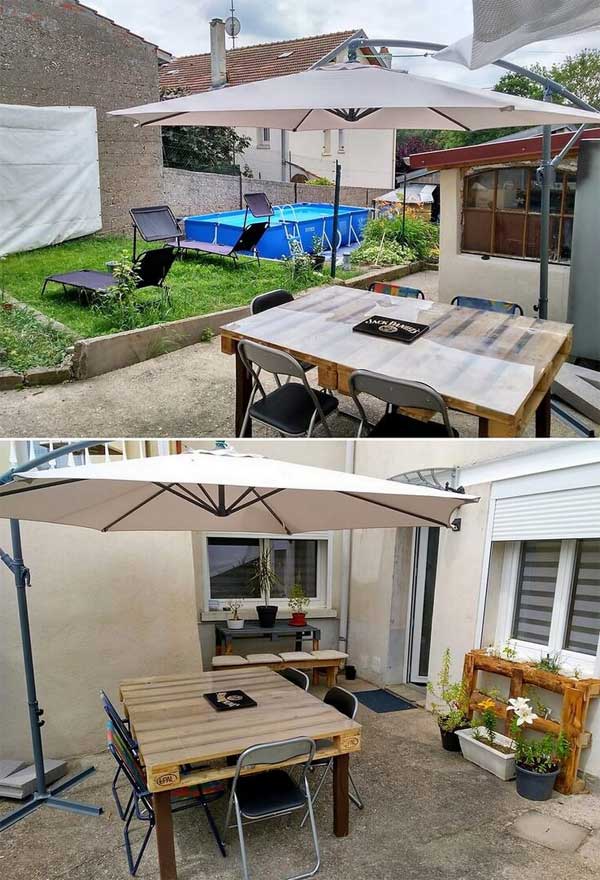 Image via: woodenpalletsideas.com